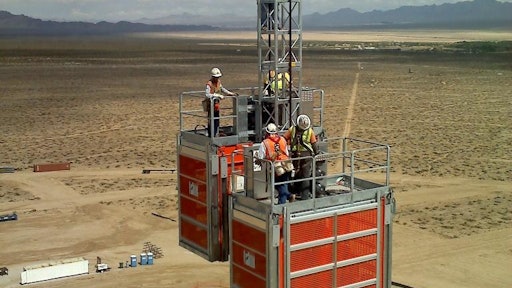 Ivanpah Solar Generating Facility in the Mohave Desert is the world's largest solar thermal power plant currently in operation. The project is located in Ivanpah Dry Lake, CA, on more than 4,000 acres, and will produce 390 megawatts of electricity for more than 140,000 customers of Pacific Gas & Electric Company and Southern California Edison. The station will use more than 173,500 software controlled heliostats (mirrors) that will track the sun in two dimensions and reflect sunlight to the three boilers that sit atop the almost 450-ft.-tall tall towers. High-temperature steam will then be piped from the boilers to a turbine where electricity is generated.
Three Alimak Scando 650 passenger & material hoists with dual hoist cars were utilized during construction of the three 450-ft. solar receivers/boiler towers. With a payload of 7,100 lbs. and a lifting height of 450 ft., the hoists provided efficient vertical access for both personnel and materials.
Alimak Hek, working with Bechtel Power & Bechtel Equipment, performed an engineering evaluation and specified the Alimak Scando 650 FC 32/32 II system for this project. Traveling at 177 fpm, the hoists have a 4' 11" x 10' 6" x 7' 6" car size and a 7,100-lb. capacity, which proved more than sufficient to transport site workers and bulky palletized materials to working height.
The hoists were chosen to support the project because of their proven reliability to operate in harsh environments, removing some of the risk that Bechtel had to manage to install and start up this new technology. The machines were anchored to structural steel at approximately 40-ft. intervals and the mast was allowed to extend above the deck 40 ft. to allow for access when the modular components were hoisted.