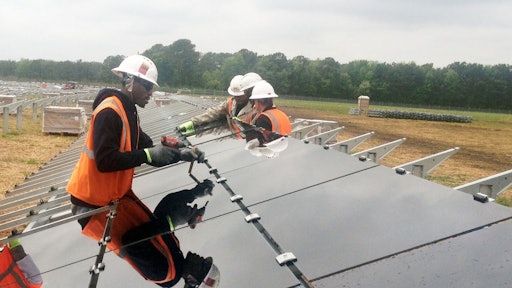 Additional workers are arriving and construction activities are ramping up at three Duke Energy solar facilities – part of the company's $500 million commitment to solar energy in North Carolina.
The previously announced facilities in Bladen, Duplin and Wilson counties are expected to be in service by the end of the year.
At the peak of construction around mid-year, more than 900 workers are expected to be at the three sites. Once completed, the three facilities will have a total capacity of 128 megawatts.
The three projects: 
Warsaw Solar Facility – Located on Penny Branch Road in Warsaw, Duplin County, the 65-megawatt facility will cover 500 acres and have about 850,000 solar panels. It is the largest solar facility under construction in North Carolina. 
Elm City Solar Facility – Located on Haynes Road in Elm City, Wilson County, the 40-megawatt facility will cover 450 acres and have about 500,000 solar panels. 
Fayetteville Solar Facility – Located on N.C. Highway 87 in Bladen County near the Cumberland County line, the 23-megawatt facility will cover 120 acres and have about 105,000 solar panels. 
The Duke Energy-owned facilities are part of the company's continued expansion of renewable energy in North Carolina, including a 13-megawatt solar facility to be built at Marine Corps Base Camp Lejeune in Onslow County. The company is also partnering with solar developers to purchase the electricity output from large solar facilities planned in the state.
Duke Energy currently owns or purchases more than 600 megawatts of solar capacity in North Carolina from more than 600 installations. North Carolina is fourth in the nation for installed solar energy capacity.