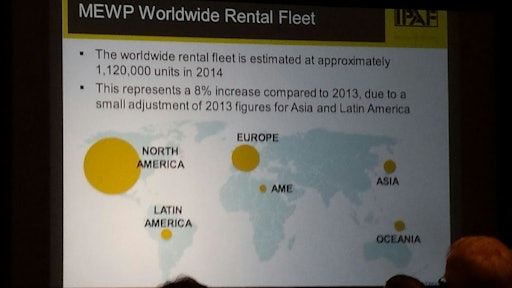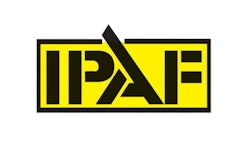 Attendees at the 2015 IPAF Summit in Washington, DC received a preview of the latest results from IPAF's 2015 Powered Access Rental Market Reports, which will be officially available this spring. Audrey Courant, associate principal of Ducker Research, and Joanne Ulnick, CEO and managing principal of Ducker Worldwide, spoke to the crowd of approximately 175 conference delegates on the market dynamics driving rental development and diversification.
Courant reported that the US rental market for mobile elevating work platforms (MEWPs) (formerly referred to as aerial work platforms/AWPs) did very well in 2014, with stable and strong revenue growth of +10 percent, bringing in $7.9 billion in revenue. Similar growth is expected for 2015-16. Growth can be attributed to strong demand coming from nonresidential construction. "Strong [gross domestic product] growth has lead to this positive situation," she said. "Decreasing oil prices have not really impacted the market, except for some rental companies located in specific areas. Overall, strong demand from the construction market has balanced that out." 
Regarding fleet size, Courant reported that the revenue growth of +10 percent in 2014 was driven by both fleet growth/expansion and rental rate improvement. "Fleet size continued to grow in 2014 with +7 percent and should continue, although slightly slower in 2015. The US [MEWP] rental fleet now exceeds 500,000 units; approximately 530,000 units in 2015."
This year's report now offers new data on the average payback period for aerial equipment. According to recent data, the average payback is slightly less than 40 months for aerial equipment. "It's longer for booms," Courant said. "It's 44 months, on average, for booms, and 33-34 months for scissors." 
Looking at rental revenue by activity, construction clearly decreased between 2009-13. "Rental companies in the US reported really trying to maintain a good mix between non-construction and construction equipment to limit risks," Courant said. 
Europe paints quite a different picture. Rental revenue for MEWP rentals in Europe (including 10 major markets) have struggled getting back to good growth trends and in 2014, the revenue increased by 1 percent. Forecasts are currently good, showing 3-percent growth on average between 2015-16. "Revenue should be back to pre-recession levels in 2016," Courant said.
European fleets continued to expand at +2 percent in 2014. They are not yet to pre-recession levels, but are expected to exceed that in 2015. Ducker reports there are 245,000 MEWPs in key European markets; 275,000 units overall in the region. 
China boasts a fast-growing MEWP market with 25-35 percent annual growth over the past two years. The rental fleet for MEWPs is estimated at 9,000 units and should continue to grow at a similar pace in the next couple of years. Chinese fleet is heavily weighted to scissors, which reflect 60 percent of the mix. Rental revenue in China for MEWPs is estimated at $150 million.
According to Ducker research, worldwide AWP fleet in 2014 was at 1.1 million units, reflecting growth of 6-8 percent over the previous year.
"The reports have a good story to tell, particularly in US," says Joanne Ulnick, CEO and managing principal of Ducker Worldwide. "We're seeing strong growth through 2018. Market dynamics are changing, creating opportunities for rental companies to diversify their product portfolios, and the end markets they're serving, in order to pursue revenue and profitability growth."
Ulnick points to GDP and construction value as the main market drivers, supporting strong growth projections through 2018. Forecasts show GDP numbers at 2.5 to 3.5 percent growth through 2018, slowing somewhat in 2019.
Construction value in the US is also experiencing positive growth through 2018, with 8-9 percent annual growth. "If we look at construction segments more relevant to the [MEWP] market, we're seeing nonresidential and nonbuilding segments contributing positively to growth trends. This has tremendous impact on demand for equipment in the rental industry," Ulnick says.
The final version of IPAF's 2015 Powered Access Rental Market Reports were expected to become available in April. They can be ordered online at ipaf.com/reports