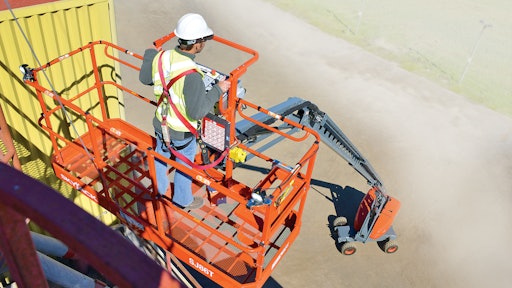 By all accounts, the equipment rental industry - and the aerial market in particular - is in a good place. Several years into a recovery and prospects continue to look bright for years to come, even in the face of uncertain oil and gas prices that have industry leaders on alert, but far from daunted.
"The aerial industry has been strong for the last four to five years and it continues to be strong," says Matt Fearon, president of Terex Aerial Work Platforms. "That strength has been led by North America for the last couple of years, and now Europe - over the last two years in particular - has gotten healthier and they're starting to replace fleet. Asia Pacific and China, the growth there has been really good too. The only place in the world that has slowed down is Brazil."
He continues, "Our long-term focus has been on global growth. The North American market is going to stay strong, but right now there is a bit of uncertainty that didn't exist in the last couple of years and that's due to oil and gas prices. I think everybody is being a little bit cautious this quarter because of the drop in the price of oil over the past several months. I don't think anyone has panicked, but I think everyone is thinking, let's see how this plays out. The good thing is, the underlying nonresidential construction and core infrastructure business is good. We view this as a lumpy start to this year - where people will kind of sit back and see what happens - but as the year progresses, we think there's enough underlying business. Rental companies are smart. They know how to manage their fleets and they're looking at what they need to do." 
Brad Boehler, president of Skyjack, is also watching the oil and gas situation, but remains optimistic. "Some commentators have portrayed oil prices as a cloud on the horizon. Personally I am not sure it's that simple. In certain areas there is no doubt this will have an impact on local economies. In those areas there may well be decreased rental demand, but oil industry facilities, even if run down or closed, will require maintenance. Further, [aerial] equipment is generally not oil patch specific and can be diverted to other markets. Nationally I think the oil issue will be at worst a 'wash' and will likely even give some benefit. Reduced fuel costs will decrease delivery overheads, and also drive consumer confidence and mega construction projects long term, hopefully improving rental revenue and margins. In time that may lead to improved equipment demand for OEMs."
Fortunately, experts are predicting solid growth in residential and nonresidential construction, which should fuel further expansion of aerial rentals for some time, despite any potential resistance from the oil and gas market.
"I see the market still as very vibrant. We have a lot of industry verticals that are very healthy," says Frank Nerenhausen, president of JLG Industries. "I still think we're in the early stages of solid residential recovery, and nonresidential also has runway. I think the only headwind we see right now is in oil and gas. It's not a significant headwind, and right now our view is that the net benefit to general economic recovery is positive long term. Overall, we're still looking at growth, and more rental penetration, as our products see different uses within the market, and I think we will see positive growth beyond 2015." 
Fearon agrees, adding, "There are a lot of positives. When oil and gas prices drop, there's more money in people's hands, and this can lead to more projects and more equipment being rented. Local governments can choose to implement gas taxes and they can invest that money in infrastructure. The cost of money is still low. Steel prices have dropped, so if you're building a building right now, some of your input costs will be lower. There are two sides to it; it's not all doom and gloom. 
On a global scale
North America has been the primary driver of growth in the aerial market for several years, and that isn't expected to change, however, other regions are poised for expansion.
"North America is leading the way right now; it's the strong hold," says Nerenhausen. "There are other significant markets for growth but on a lower scale. We're seeing some nice growth in Southeast Asia, more from an adoption standpoint. China is starting to come online nicely, but again, in relatively small numbers compared to North America. We still expect growth in Europe despite the challenges they're dealing with right now. Probably the most challenged area is Brazil. The fundamentals are there. It will come back, but it's the most challenged."
"In Europe issues in and around Greek debt continue to make waves," Boehler adds. "The exception is the UK where the market is strong and Skyjack has continued to grow. Elsewhere, Australia has come back with a vengeance. Brazil continues to be quiet, but we seem to be more than holding our own in that reduced market."
With regard to Europe, Fearon says it's poised for a solid bounce because fleets are in need of refreshing. "Europe was in a downturn longer than North America, just because of the economic issues they had. The result is that their fleets were aged longer," he explains. "The economy there is still spotty, but it has been getting better. The European sentiment is really positive; customers are feeling good about the next couple of years. If you go beyond Europe to other markets, it's still very much developing, but the acceptance of aerials continues to grow. The largest percentage growth we had in 2014 was in Asia Pacific and China. It's still small, but it's nice to see that continued growth."  
Products in demand
2014 was the year of the big boom, with Genie and JLG both introducing self-propelled booms with reach over 180 feet. This year, the focus is more on scissors and telehandlers, as evidenced by product introductions at The Rental Show in February. 
"It's a very general scenario with fleet growth across classes and types," says Boehler. "From our point of view, rough-terrain scissors seem to have rebounded after some relatively quiet years. Skyjack's launch of the SJ82T and SJ86T at The Rental Show has been very positive, with orders at the show exceeding our expectations."
Other major manufacturers introduced new scissor models at the show as well, such as the Genie GS-4047 electric scissor, JLG 5394RT and the Snorkel family of electric slab scissor lifts including four new models, but there's also quite a bit of buzz about new telehandlers introduced this year. In February, Genie unveiled its GS-1256, completing the company's telehandler lineup, JLG promoted its completely redesigned telehandler line intended to be more comfortable and more serviceable, and Snorkel entered the market with its SR5919, the first model of its new line of rough-terrain telescopic handlers.
Fearon says the buzz around telehandlers stems from increased demand and an industry-wide need to refleet. "There are certain models of telehandlers that are directly linked to oil and gas exploration and that's driven a lot of growth; and also, North American rental companies defleeted telehandlers heavily in the last downturn and they now need to build fleets back up," he explains.
"I also think we're seeing a lot of growth in telehandlers because they don't age like other types of our equipment. They get beat up more than booms or scissor lifts just because of the nature of the work they do. As for Genie, when you look at our telehandler business, it has not been that significant to date. We didn't have a full line, but over the last several years we decided we're going to fill it out. It's a good growth category for us." 
More than any specific type of equipment, manufacturers are aiming to offer products that can help rental companies see a swift return on investment.
"We're totally targeted on products that are robust and give a good return to the rental companies. You'll see that we're going to use that as a competitive advantage," Fearon says. "Our focus is making sure we develop products that can make money for our rental customers, because that's the way they are buying - on the total cost of ownership.
"People focus on the initial acquisition cost but it's not the whole answer. It's definitely a big piece of it - you have to be competitive - but it's what happens between acquisition and disposal. What does the machine cost the rental company from a warranty perspective? In service calls? How much time is spent going out to do some type of maintenance? And what about disposal costs at the end? If you have a good brand and a solid reputation of backing your products, your acquisition cost can actually be higher because your customers know they can sell their machine for 20 percent more than the competitive machine. It comes down to being able to show what it's going to cost to maintain our product, and what it's going to cost for the life of our product."
Nerenhausen echoes that sentiment, noting that JLG is developing products with technology that can help realize profits.  
"We will apply technology wherever it supports our customers' drive for improved ROI. Life cycle cost, utilization, uptime... all these things are where we'll insert technology to the extent that we can do that. There are a lot of things going on in the realm of safety, telematics and performance. There's room for technology and we'll continue to push that into our products."
With product development in mind, this year happens to be a record year for JLG product introductions. "We've got a pretty strong innovative engine powering our strategy," he says. "We've got a good solid foundation of innovative talent and we'll continue in that realm." 
What's on the horizon
Despite the solid growth of demand, one area that has continued to dog rental companies for years are lagging rates. To grow profitability, rates need to increase, a prospect that's difficult for everyone to realize. There is optimism, however.
"In recent months I have been advocating that if rental wants to improve rates there is never a better time than now," says Boehler. "Talking to customers there is confidence in abundance and even some improvement in rental rates, although time will tell. There was also a feeling that rental companies are looking to decrease their fleet age, which of course, from my perspective I would like to see that come to fruition."
Boehler says his outlook for the future is positive, at least for the short term. 
"Two or three months into 2015 its early days. I think confidence is such that 2015 will be at least as good as 2014," Boehler says. "Industry surveys indicate revenue growth is at 8-10 percent and in some cases higher than 2014. So the upside is very positive. Hopefully we'll see more of the same, with continued growth beyond the levels of 2014."
Fearon says it's going to be another good year. "I keep telling people Genie was at its historic highest revenue in 2014, so even if things level out a bit, it's still really, really good," he says. "We still have a couple good years ahead of us in this cycle. The industry has still got a little bit of room to grow and the global market offers opportunities for manufacturers like Genie. 
"If you look at this cycle versus the last one, and you see our compounded annual growth rate in the last cycle, it was phenomenal. We're probably not going to grow at that pace in the next cycle, but having a slower and steadier growth over a longer period of time is actually what we're hoping for - we'll take the tortoise over the hare."
Nerenhausen looks at economic indicators in making his predictions. "If you look at housing starts cresting a million - 1.5 to 1.6 was considered healthy in the last market - demographically, we're growing as a country. There's a need for more housing, and nonresidential construction follows that. The ARA's projections and surveys say their members expect growth in 2015, and many expect double-digit growth. That's going to come from multiple verticals. I do believe we have good fundamentals for that longer runway beyond 2015."