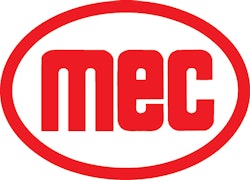 MEC Aerial Work Platforms announces the issuance of U.S. Patent number 8,678,135 for its innovative 'Aerial Work Apparatus with Laterally Offset Work Platform' design, featured on the Crossover 59 series and 69 series scissor lifts. According to the company, the MEC 2659, 3259 and 4069 models are the first in the industry to be designed with an integrated sheet material rack for greater productivity, workability and safety.
Driven to build solutions that solve industry problems, MEC recognized the need by many trades for a means to support sheet type material such as dry wall, plywood and glass on the outside of the scissor lift platform, a company release said. In some instances, trades have attempted to improvise their own attachment device which compromises the stability of the aerial work platform and violates OSHA, ANSI and manufacturer requirements of existing products.
The MEC sheet rack has been designed and tested as an integrated feature to meet or exceed the requirements of applicable standards when materials are placed on the rack outside of the guardrails with persons and tools inside the platform guardrails. This is achieved, in part, by keeping the material rack within the overall width of the machine while offering load capacity of 250 pounds for the 2659 & 3259 and up to 300 lbs on the 4069 models. With this design, trades are able to more safely use the machine to closely position materials, greatly diminish the fatigue from lifting material over guardrails, and reduce the associated risks from handling activities both to personnel safety or injury and materials damage.
Beyond the addition of the material sheet rack, the design puts the rack level with the bottom of the platform and a roller off one end of the sheet rack allows material to be loaded by a single individual with less risk of damage. MEC's innovative scissor linkage already delivers the lowest stowed height in the industry for the elevated platform heights of 26, 32 and 40 feet, which reduces fatigue. This improves efficiency by allowing materials to be loaded more ergonomically at close to waist height. A pair of material retaining devices are adjustable in height to secure the material when the machine is driven or elevated.
With this unique MEC feature, jobsite productivity and safety are mutually improved. It is another example how MEC's close relationship with its customers solved an industry need by building a better solution confirmed by a US patent award. Other foreign patents are still pending.