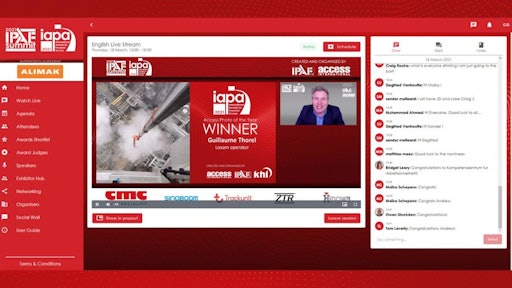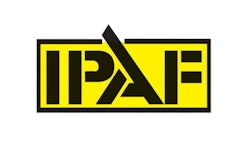 The International Awards for Powered Access (IAPAs) celebrate excellence in the powered access industry. More than 900 industry professionals from no fewer than 66 different countries around the world joined the first ever digital edition, with Summit delegates and IAPAs nominees coming together remotely from around the world. 
The IPAF Summit, originally planned for London in April 2020, was postponed and then moved online due to the ongoing Coronavirus pandemic. It was announced during the event that the 2022 IPAF Summit and IAPAs will return to being held as a physical event, in London, UK.
The 2020/21 IAPA winners and judges' comments were as follows:
IPAF TRAINING CENTER OF THE YEAR: Kompetenzzentrum für Arbeitssicherheit, Switzerland
The judges said the company provided an impressive and consistent increase in the number of trainees. Its focus on the training process has helped substantially grow IPAF training and awareness across the Swiss market.
IPAF TRAINING INSTRUCTOR OF THE YEAR: Andrew Williams – UTN Training
Renowned for his commitment to training, Williams adapts his course delivery methods to meet the needs of individual delegates and has received high praise on his delivery methods, course paperwork, and interaction with IPAF training delegates.
ACCESS PHOTO OF THE YEAR, sponsored by Media Access Solutions (MAS): Guillaume Thorel, truck-mount operator, Loxam Group (PAD)
The winning shot was taken from the basket of a Multitel Pagleiro MJ700 truck-mount at the Port Le Havre petrochemical plant in France. Once the truck mount's outriggers had been safely extended, Thorel had to extend the boom vertically through low-lying cloud to reach the area that required maintenance. The judges said this was a great picture that summed up the day-to-day challenges faced by aerial platform operators in the field.
ACCESS PHOTO OF THE YEAR RUNNER-UP: William Currie, pictured submitted by Access Platform Sales
This picture was taken as Ian McClelland, a Northern Ireland-based tree surgeon, was carrying out work in client Currie's garden using his Hinowa Lightlift 26.14 Performance IIIS tracked platform. The judges said it was a wonderful picture, taken with perfect timing.
CONTRIBUTION TO SAFE WORKING AT HEIGHT: Online Outrigger Pad Calculator from Outriggerpads
The judges commented that this free online device will enhance the safety of those who use it. It's the product of a university research study and has been objectively and scientifically tested, therefore holds huge potential across the access sector.
PRODUCT OF THE YEAR – MAST-CLIMBING WORK PLATFORMS/HOISTS: Scanclimber's Heavy Duty Work Platform
The judges said this is an incredibly innovative product, which is easy to use. Its ability to free stand to 98 feet (30 meters) is amazing, and the fact it can reach 180 feet (55 meters) with only a top tie is impressive.
PRODUCT OF THE YEAR – VEHICLE-MOUNTED PLATFORMS: Steiger TB 300 from Ruthmann
The judges said this product is potentially a market game-changer, with its incredible outreach on a compact base. The technology is ideally suited for access in cities with strict emissions restrictions.
PRODUCT OF THE YEAR – SCISSOR LIFTS & VERTICAL MAST PLATFORMS: Snorkel's S3019E Scissor Lift
The judges appreciated the sunken scissor pack, which means a lower stowed height that leads to greater safety margins, safer loading and unloading, towing, and entry and exit of the basket.
PRODUCT OF THE YEAR – SELF-PROPELLED BOOMS & ATRIUM LIFTS: Niftylft's HR17NE All-electric Drive Boom
The judges said it is a unique product, and the combination of its narrow width, electric power, and outreach, makes it stand out. 
DIGITAL DEVELOPMENT AWARD: Riwal for its range of digital initiatives
The judges were impressed with the rental companies' range of offerings designed to support its customer, especially in augmented reality. These innovations are completely relevant to the industry in every aspect of their business. 
ACCESS RENTAL COMPANY OF THE YEAR: mateco, Germany
The judges said mateco's achievements were impressive across the spectrum, with excellent growth, combined with its expansion into two new markets and its range of digital solutions. With 14,500 operators trained and the integration of the mateco brand across multiple countries, which lead to 12 depots opening in one year, it is a worthy winner.
IAPA INNOVATIVE TECHNOLOGY PRIZE: Hinowa TeleCrawler13
The judges said this world's-first direct-electric-drive tracked platform was outstanding and, combined with a range of other innovative features, made it as close to a perfect machine as possible heading for today's powered access market.
IPAF/ACCESS INTERNATIONAL LIFETIME ACHIEVEMENT AWARD: Roger Wickens, UK, Nationwide Platforms (Loxam Powered Access Division)
Peter Douglas, CEO and managing director of IPAF, spoke about Wickens, who died in 2019 and is the latest recipient of this award in recognition of a lifetime's service to the industry: "In May 2019, the powered access sadly lost an industry veteran and one of life's true gentlemen. He leaves an impressive legacy behind, both within the powered access industry as a whole and to those that were fortunate to know him personally.
"I knew Roger for the whole of my 27 years with Nationwide and would simply say he was a very lucky guy. He spent the whole time I knew him in the perfect role for him – a job he loved in an industry he loved. He made a huge impact not just on Nationwide, but the whole powered access industry."
Wickens' wife, Anne, acknowledged the award, which will be presented in person to her as soon as restrictions allow, adding in a note of thanks: "It is a privilege and an honor to accept this award on Roger's behalf. I thank you from the bottom of my heart. Roger spent his entire working life in the field of engineering, with 30 years or so in the powered access industry. To say he loved his work would be an understatement – it was his passion. I was always amazed at the huge amount of technical knowledge and know-how stored in his mind, which he readily shared with others. Nothing was ever too much trouble for him."
Information provided by IPAF and edited by Alexis Brumm.