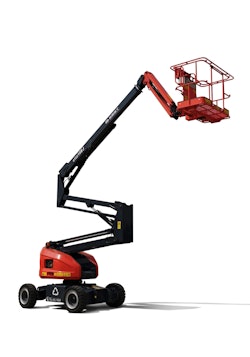 SINOBOOM is offering new and upgraded mobile elevating work platform products to the North American market.
GTBZ28J straight boom has a 97.4-ft. maximum operating height, 65.6-ft. horizontal extension and proportional operation for luffing, slewing, telescoping and walking functions
GTZZ16EJ articulating boom lift offers a 51.5-ft. maximum working height, 30.5-ft. horizontal extension and a 6.2-ft. narrow body with almost zero tail sweep
GTBZ28J and GTZZ16EJ both offer a tilt angle of 5°
GTJZ0608M and GTJZ0407SE scissor lifts feature 507- and 529-lb. platform capacities, while the GTJZ1414E scissors has a 51.8-ft. working height
GTTZ10EJ vertical mast lift has a working height of 33.8 ft.
Request More Information
Fill out the form below to request more information about
Sinoboom Mobile Elevating Work Platforms