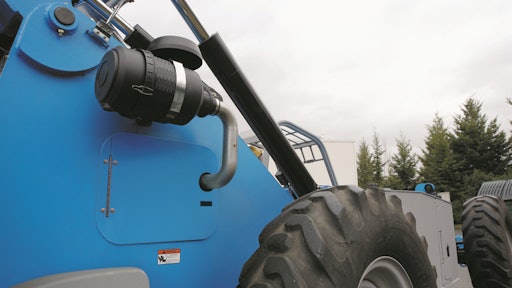 Attachment capability has breathed new life into the telescopic handler industry. Rather than being viewed as specialized tools for periodic use, telehandlers are now being seen as versatile tool carriers with the potential for high utilization on all types of construction projects. Today, they are found in general construction, steel erection, roofing, framing, masonry, demolition, commercial, retail, road and bridge, oil and gas and other applications and industries.
"Instead of buying a straight-mast forklift that goes straight up and down, [users] are buying a telehandler because they're four-wheel drive — they can work in mud up to their tires. They have multiple steering capabilities. They can run multiple attachments. They're definitely Swiss army knives of the trade world," says Heath Watton, regional manager for Southeastern Equipment, an Ohio-based full-line construction equipment dealership whose fleet includes JLG, SkyTrak and Genie telescopic handlers.
As contractors have come to recognize their expanded capabilities, demand for telehandlers has grown, and their capacities along with it. Today's models provide maximum lift capacities spanning roughly 18 to 57 ft. and load capacities ranging anywhere from 5,500 to 20,000 lbs.
Suppliers have pushed the working envelopes of their machines upward to meet changing end-user requirements. "As contractors began to understand the efficiency and versatility of telescopic handlers on their jobsites, they requested products that could place materials where they were working — on four-story rooftops and to the fifth floor of other projects," says Steve Kiskunas, product manager - telescopic handlers, Manitou Americas, parent company of Gehl and Mustang. "Also, jobsite conditions preventing the telescopic handler from being placed close to the landing zone would require long reach to place materials where needed."
Barry Greenaway, product manager, Skyjack Inc., adds, "Telescopic handlers were primarily developed to be a more versatile rough-terrain forklift with variable reach capability. As the category matured, it became less bound by this definition and it was seen that telehandlers that could work on construction of multi-story units would be of great value to the market."
Going to Extremes
Telehandlers rated at 44 ft. and above are classified as high-reach machines. They provide the ability to deliver loads directly to the work area.
"Landing loads on higher sections of scaffolding is certainly a driver for telehandlers with maximum lift heights greater than 45 ft.," says Brian Boeckman, global product director, telehandlers, JLG Industries, Inc. "Each scaffolding section is approximately 6.5 ft. Eight sections of scaffolding drives a platform height of 52 ft. For a telehandler to land a load at 52 ft. and be able to exit that load requires a maximum lift height of at least 54 ft."
But the ability to reach extreme heights is only part of the equation. "The great thing about these telehandlers is the capacity they're able to deliver at lift height," states Chad Hilsop, telehandler product manager, Genie Industries. For instance, out of an 8,000-lb. maximum load capacity, the Genie GTH-844 can deliver 6,000 lbs. to its full lift height of 44 ft. "Our GTH-1056, which is a bigger machine, can pick up 10,000 lbs. and it can deliver 4,000 lbs. all the way up to 56 ft. So when you start talking about delivering material up to the fourth and fifth floor of the jobsite, that's a lot of material they can deliver."
Another driver for longer booms is added reach. "As jobsites become more crowded, a telehandler needs to be able to reach out and over obstacles in order to deliver materials effectively," says Boeckman. He notes that JLG's G10-55A and G12-55A have a 55-ft. maximum lifting height and a maximum reach of 42 ft.
"[Added reach] can be a great benefit to the contractor by increasing the working range of the machine and also providing the ability to reach over obstacles or other materials on the jobsite to pick or place materials," adds Kiskunas.
Delivering Stability
High-reach telehandlers are able to achieve greater lift and load capacities in part due to their increased weight.
"Telescopic handlers capable of lifting materials over 45 ft. high generally have a higher overall machine weight. This is due to the need for a stronger base frame, increased counterweight, front stabilizers and more boom sections to reach higher lifting heights," Kiskunas explains.
The increased weight also facilitates greater forward reach capacity compared to smaller telehandlers. "This forward reach capacity is also increased with the use of front stabilizers," says Kiskunas.
High-reach models typically require front-mounted stabilizers and/or a rear axle stabilization system to ensure stability when lifting materials above 44 ft. "The stabilizers have really been a big deal for the industry as a whole to break past the 44-ft. range and get up to these 55- and 56-ft. [heights]," Hilsop states. "They also give you much more capacity when reaching out."
He notes that the Genie GTH-1056 comes standard with front axle-mounted stabilizers. "Because they're axle mounted, it means that once you set the stabilizers down, you can adjust the sway of the machine without having to adjust the outriggers," he explains. This makes it easier for the operator to get the machine in a stable, level position.
Skyjack has chosen to equip its high-reach models with rear axle stabilization. "The axles on a telehandler can oscillate in order to traverse rough terrain and allow the user to level the frame of the machine when working on uneven surfaces. But this feature can reduce lateral stability when supporting a load at height," Greenaway points out. "The VR and ZB telehandlers have an intelligent rear axle stabilization system that locks the rear axle when the boom is above a specific angle, greatly increasing lateral stability."
The rear axle stabilization system on the VR models allows the user to slowly adjust the frame level angle by up to 4° with the axle locked to assist the user in final placement of the load.
Outriggers are also an important component in maintaining stability. JLG's 55-ft. telehandlers are equipped with outriggers that, when extended, expand the footprint of the machine to enable it to carry higher loads at reach. "In addition, these machines are counterweighted to allow them to achieve their load chart performance," says Boeckman.
Other safety-related features are being built into high-reach models that may limit drive capabilities or lock out the rear axle past a certain angle on the boom. But they are essentially transparent to the operator. "For the most part, we try to make it so that the user doesn't have to think about it," says Hilsop. "If they stay within the load chart, they can operate the machine safely without having to worry about what the machine is doing to help them."
Sizing Things Up
When assessing your requirements for a telehandler — regardless of size class — it's important to start with the basics. "What the user will want to look at first is what do I want to lift? How big is my load? How heavy is my load? And to what height or reach am I trying to get that load?" says Hilsop.
Next, look at the load chart to determine if a particular machine size can meet those requirements. "A load chart is really the key to safe telehandler operation because it tells you what you can lift and where you can lift that particular capacity," Hilsop explains. "If an operator wants to make sure the material or object he's lifting is going to be safe and the telehandler is going to meet his needs, the first place he should look is the load chart."
Oftentimes, a smaller model than anticipated can deliver the required capabilities. "If [a contractor] can do everything they need to do with that machine, that's going to be the best machine for them because it's the most compact and they're going to be able to move around the job more easily," says Hilsop. "They want to match the capacity and capabilities of the machine with the jobsite... The load chart is really the key to that."
Southeastern Equipment tends to err on the side of caution when recommending a size class of machine. "We try to find out what is the heaviest weight you're going to ask the machine to [lift] at the outer most part of the envelope that it's working in," Watton says. Then he typically advises sizing up from there. "I know it makes it harder on the contractor's wallet, but if I know the maximum capacity is 5,500 lbs. out to 42 ft., I'm not recommending a 6,000 pounder. I'm going to recommend an 8,000-lb. lift that does that work comfortably so it gives some flexibility [in case] that 5,500 lbs. becomes 6,200 lbs."
Watton generally advises adding 20% to 30% to the maximum weight you plan to lift. "I think it's very important to have the machine do that job plus," he states. "There are a lot of different variables that take that load center and start decreasing the lift capacity as soon as you start moving that boom.
"It becomes a safety issue," he continues. "There are a lot of variables that you want to make sure that you're covering."
Those variables can include uneven underfoot conditions; overweight, odd-shaped or shifting/twisting loads; and even attachment use. "If all was right with the world, everything would be flat and concrete, and you could take a 6,000-lb. lift and lift 6,000 lbs. because none of the variables below it would ever change," says Watton. "But what ends up happening is those variables can change as soon as you flip the lights on in the morning, and you end up asking the machine to do something that's really going to push its limits."
Obviously, upsizing adds expense. Southeastern Equipment rents a 6,000-lb. telehandler for around $1,500 to $1,800 a month, while an 8,000-lb. unit rents for around $2,100 to $2,500 a month. But that cost difference can be well worth it depending on how you plan to use the machine. "That $300 over 30 days for the capabilities is nominal," says Watton. "Yes, it's more; but it's $300 more safety, $300 more capacity. There's more that can be done [with that machine]."
The Sky's the Limit
The demands of both customers and their jobsites will continue to drive telehandler capacities upward and outward. "There are no limitations to the heights that telehandlers can achieve in future," Boeckman asserts.
Yet, as with any equipment, there are certain trade-offs. "The physical footprint of the telehandler and/or the overall weight of the machine will likely need to increase as manufacturers develop products to reach higher heights or greater amounts of reach," Boeckman states. "The addition of visual aids to increase the operator's vision capabilities will likely also be necessary as heights increase."
Doubtless, manufacturers will rise to the challenge, adapting telescopic handler design and features to ensure they can safely and cost-effectively lift as far as tomorrow's applications dictate. The trick will be how to do so while maintaining the maneuverability and flexibility that has put them in such high demand on today's jobsites.
Companies in this article