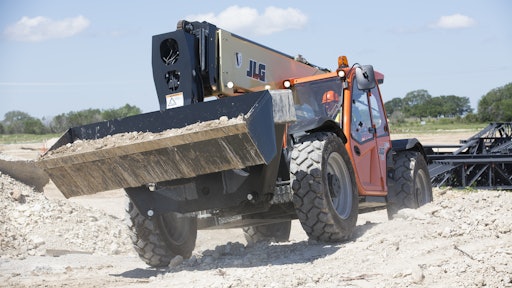 Contractors routinely use telehandlers to lift a load to height, oftentimes when ground conditions are less than ideal. But manufacturers have also built these machines with the ability to swap out the traditional forks for a variety of attachments - including buckets and brooms, work platforms and carriages, as well as other specialized attachments - enhancing their versatility and transforming them beyond a lift and place machine.
"Telehandlers are very versatile machines. Contractors capitalize on that versatility by selecting attachments that best suit their jobsite needs," says Brian Boeckman, global product director for telehandlers, JLG Industries. "In many cases, telehandlers can take the place of multiple machines by simply changing the attachment. Contractors can save money and make more efficient use of their time when they maximize the versatility of the telehandler in this manner."
"We offer a large range of attachments, enabling contractors to customize their equipment to specific applications, which helps to improve productivity and safety on a jobsite," notes Don Ahern, owner, Xtreme Manufacturing. "It can also reduce the need to have multiple pieces of equipment."
Brent Coffey, loader product manager, Wacker Neuson, describes the telehandler as "three machines in one." "It's a telehandler, skid steer and wheel loader… multiple machines in one footprint," he says. "From a cost perspective, your ROI with a telehandler is very high because you don't have to buy multiple machines."
Because of its versatility, a telehander is often the first machine on a jobsite and the last to leave, notes Anders Mantere, telehandler product manager, Genie. This is especially true with smaller models.
"Our smallest telehandler is such a universal tool," says Mantere. "Since it is rough terrain capable, you'll see it on jobsites early on offloading trucks. And because it can utilize so many attachments, it can be used during the course of the entire project from beginning to end for so many tasks… lifting materials, moving loads, running skid-steer attachments such as brushes, brooms, etc.
"The machine's versatile attachment capability also gives customers a way to keep it busier for longer periods of times and in more applications, all while leveraging the investment in attachments across a machine fleet," he adds. "It's like a Swiss Army knife – it can be used for a bit of everything."
Designed-in Versatility
From the start, telehandlers have proven versatile, but engineering advancements continue to up the ante.
For example, JLG now uses a common boom head among all of its telehandler brands. "This allows customers to increase the efficiency of their fleet by allowing them to utilize a single attachment on multiple brands and models," says Boeckman. He adds that the company offers over 24 different attachments and a wide variety of forks, fork extensions and accessories. "We are constantly evaluating our customers' needs and adding to our offering to meet their expectations. Trash hoppers, for example, are one of the newest additions to the JLG lineup."
He indicates some of the most commonly used attachments include standard tilt carriages, as well as buckets, side tilt carriages, truss booms and lifting hooks. "We offer a number of truss booms, truss booms with winches, lifting hooks and material arms, which allow customers to lift suspended loads," he adds.
The company also offers a fork-mounted work platform on both JLG and SkyTrak brands. The 4' x 8' platform can handle capacities up to 1,000 lbs. and features a side entry swing gate and three lanyard attachment points. Operators can also remove the front rail for applications requiring additional access.
When equipped with a universal skid-steer coupler, the telehandlers can also utilize skid-steer attachments. A universal skid-steer adapter allows the additional use of the full suite of JLG attachments. Standard auxiliary hydraulics to the boom head provide the ability to use attachments such as grapple buckets.
Swing and rotating carriages and buckets are popular with Genie customers. "Buckets are a great accessory for picking up loose materials, including dirt," says Mantere. He adds that they are intended to move piles of dirt rather than ground engage into heavy, compacted soil.
A standardized quick-attach system in three sizes for small, mid-size and large telehandlers offers contractors the ability to minimize their attachment investment. "Now they can share attachments between all models in the lineup," says Mantere. Standardized auxiliary hydraulics also make it easier for rental companies to accommodate varying specifications of machines that may move cross country.
Genie has also added a lift shackle underneath its quick attach that allows contractors to sling a load. "We chose to put it underneath to give operators as much flexibility as possible," says Mantere. "It allows an operator to remove the carriage completely and essentially have a miniature boom right away, without having to bring a second attachment with them.
"We also noticed that when people sling materials, they tend to carry the chains with the machine, typically laying them across the chassis," he continues. "That can scratch it so we added a rigging tray at the front of the machine. It keeps everything neat and organized and has been a success from a logistics standpoint."
Accommodating Non-traditional Applications
Popular attachments for Xtreme telehandlers include truss booms and aerial platforms. The company also offers jib attachments in 3-, 12- and 15-ft. configurations. Earth auger attachments are allowed under certain circumstances, and the company will work with customers who want to use attachments requiring the use of a skid-steer quick attach. Auxiliary hydraulic circuits are also standard on all machines.
"Our heavy-duty, rough-terrain telehandler attachments have been developed in response to customer feedback," Ahern states. "We take pride in understanding our customers and helping them to get the most from their equipment, which can involve designing specific attachments."
For example, Xtreme recently introduced a pipe and pole grapple attachment for its XR4030 that can safely lift poles up to 60 in. in diameter and up to 35,000 lbs. in weight. It also developed a fifth-wheel attachment for a Canadian customer so it could use telehandlers to move and transport loads around jobsites. This replaced the usual method of moving loads on trailers attached to a pickup truck, as well as the need for two workers as spotters. The result was the customer was able to free up 30 crew members for other duties.
"The attachment also reduced trailer sway, improving safety as they were moving the loads," says Ahern.
Because its telehandlers have roots in Europe's agriculture industry, Wacker Neuson's North American offering is designed to cover multiple equipment operations. "The European agriculture industry requires feature-rich machines that do more than lift and place," says Coffey. "We designed our machines to be tool carriers, so everything a contractor would want to do with a skid steer or wheel loader they can do with our telehandler."
Wacker Neuson TH522 Ground-engaging Telehandler

A standard skid-steer-style quick attach and a continuous-flow hydraulic block – the same one used on its skid steers and wheel loaders – make that possible. "Contractors are wide open to using whatever attachment they would use with a skid steer, and it's ground engaging because you can dig with it like a wheel loader," says Coffey. "Contractors can take a telehandler along with a bucket, forks and broom to complete a job with one machine. They can move material with the bucket, pick up a pallet and lift it to a second or third floor with the forks, then sweep the sidewalk with the continuous-flow broom."
The telehandlers can be used for snow removal, as well, making them more profitable year round. "When you have a machine that is designed to operate in the same environment as a skid steer, you can get 12 months of use from it. You can use it to blow, stack and dump snow," Coffey says. "Our boom design also absorbs shocks. So if a contractor is moving snow with a blade and clips a manhole cover, for example, the machine is designed to withstand that force."