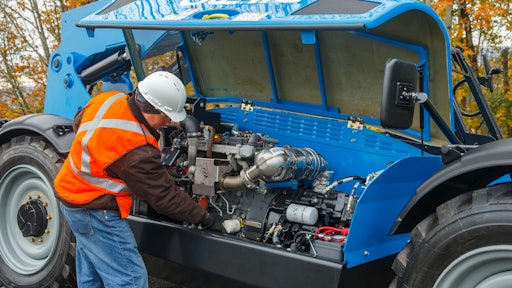 Genie
Telehandlers are one of the most productive pieces of equipment in the industry today. Their ability to lift, move, and place a range of materials and tools help them elevate productivity and efficiency on jobsites everywhere -- both literally and figuratively.
However, just like with any other piece of equipment, maintenance is key. Tasks like checking fluid levels and greasing the machine may seem rudimentary, but the productivity of the machine depends on a solid maintenance program. And while those daily tasks will ultimately help reduce the chance of breakdowns, manufacturer-recommended maintenance tasks that are performed less frequently but are just as important shouldn't be forgotten.
While machine hours and age of the machine determine when certain maintenance tasks need to be performed, there are two types of "daily to do's" that are important for every telehandler: function tests and pre-operation inspections.
Pre-Operation Inspection
A pre-operation inspection is the first step to operating a telehandler safely. This inspection is a visual check of a telehandler performed by the operator before each shift. Doing a pre-operation check allows the operator to see if there's anything outwardly wrong with the machine.
"A best practice for safe use is for the telehandler operator to follow the step-by-step instructions listed in the manufacturer's supplied operator's manual to test all machine functions prior to each shift," says Scott Owyen, director of training at Genie.
Here is an example of a pre-operation inspection checklist that Genie recommends for telehandler operators:
Be sure that the operator's and safety manuals are complete, legible, and in the storage container located inside the operator's cab.
Be sure that all load charts are legible and in place.
Be sure that all decals are legible and in place.
Check for hydraulic oil leaks and proper oil level. Add oil if needed.
Check for battery fluid leaks and proper fluid level. Add distilled water if needed.
Drain the fuel/water separator.
For air-filled tire models, check for proper tire pressure.
Check entire machine for cracks in welds or structural components; dents or damage; or excessive rust, corrosion, or oxidation.
After completing the inspection, operators should make sure that all the machine's guards, screens, and compartment covers are in place and latched. From there, operators can move to the function test.
Function Tests
Function tests are a crucial part of safe work practices, as they're designed to discover malfunctions and errors before the machine is ever put into service. Also, a good thing to remember is function tests should always be performed after the operator has already gone through the pre-operation inspection.
Operator manuals contain specific, detailed instructions on what tests need to be performed and how to perform them. Some examples of function tests include:
Test the ignition system
Test the horn
Test the backup alarm
Test the service brake
Test the joystick controls (raise, lower, extend, retract)
Test the steering modes
Test the attachment
Though pre-operation inspections and function tests are both important, they only touch the surface of the maintenance required to keep your telehandler running smoothly. There are other things to consider, such as annual checks, seasonal maintenance depending on climate, and rental-specific trends. I spoke with Joshua Taylor, product manager at Genie, to learn more.
R: Are there different maintenance items for daily, weekly, monthly, and/or yearly inspections for telehandlers? If so, what are they? 
JT: Pre-operation inspections and function tests should be performed before the telehandler is put in use for the day, every time. Daily maintenance tasks will depend on what is identified during the pre-op inspection, which usually includes things like fluid levels and greasing.
Machine hours will determine when certain maintenance tasks need to be performed, while others will need to be done according to the age of the machine. Genie divides its telehandler schedule into three subsections: Commissioning, Quarterly/Annually, and Programmed maintenance.
Commissioning tasks are a series of required, one-time maintenance procedures that need to be performed at the 50- and 150-hour intervals. These items are outlined in the machine's maintenance manual, but include things like replacing hydraulic filters, tightening belt tension, checking hose clamps, replacing engine oil, axle differential oil, and axle planetary drive oil — all on as-needed basis.
Quarterly maintenance procedures need to be done every three months. It also is recommended to check for manufacturer safety bulletins once a quarter. For Genie telehandlers, owners can enter the machine's serial number at go.genielift.com and then complete maintenance according to any open bulletins that are essential to safe machine operation.
Other items to inspect and repair or replace as-needed include:
Look at the battery — are the connections tight and corrosion-free?
Inspect electrical wiring
Check on the boom wear pads
Look for any loose nuts and bolts on the exhaust system
Inspect the tires, wheels, and lug nut torque
Check the fork level and auxiliary hydraulic hoses tension
Make sure the fuel and hydraulic tank cap venting system is working properly
Visually inspect the hydraulic oil
Make sure the engine air filter is clean
Lubricate the driveshaft
Inspect and lubricate the sequencing chains (only on certain models)
Annually, all the items on the quarterly list should be performed. In addition, replace the hydraulic tank return filter element. A dirty or clogged filter will cause the machine to perform poorly and could lead to component damage. Also, replace the cab air intake filter element if equipped.
Programmed procedures need to be done based on the machine's operating hours. Simple tasks, like changing the engine oil and fuel filters at the proper intervals, will go a long way in preventing potential problems. Other examples include lubricating the boom, engine and transmission maintenance, and axle maintenance.
R: What about seasonal maintenance? Are there special seasonal checks/maintenance tests that should be performed depending on weather conditions? 
JT: Seasonal maintenance may be required in some climates. In cold climates, fuel filters should be changed prior to the start of the cold season and the fuel may be switched to a winter blend. Cold weather can cause waxing of diesel fuel inside the filters, which can restrict fuel flow and make starting difficult. A new filter is often a quick and inexpensive fix.
In extreme cold climates, it may be advantageous to change other fluids like hydraulic oil or coolant to a season-specific blend. In hot climates, grease can degrade more quickly and UV exposure can embrittle hydraulic hoses, so inspection and maintenance of those items also becomes critical.
R: Are there particular things that rental business owners should pay attention to or consider when it comes to maintenance of their telehandlers? Are there specific notes that would be important for them to pass on to their customers? 
JT: There is an old saying, "An ounce of prevention is worth a pound of cure." This is certainly true of equipment. Keeping a maintenance schedule, performing regular inspections, and intervening early when an issue is discovered are all critical to maintaining a low cost of ownership and preventing larger problems down the road.
R: How can rental businesses owners properly train their employees in terms of inspections, maintenance, and tests? 
JT: Genie provides operation, maintenance, and service parts manuals for every telehandler, and all the information necessary for a successful maintenance program is contained in these manuals. Familiarizing employees with the maintenance tables contained in the manuals provides a foundation to building and maintaining a successful maintenance program. Genie also offers machine-specific and in-depth training to dealers and users to build service and maintenance capability.
R: Are there any post-operation inspections required? 
JT: There is no post-operation inspection required. However, it may be advantageous to do a brief walk-around on the machine to make a note of any changes in the machine between the start and end of shift. This allows planning for maintenance farther in advance and may catch an issue that would take the machine out of service if not discovered until the next pre-shift inspection.