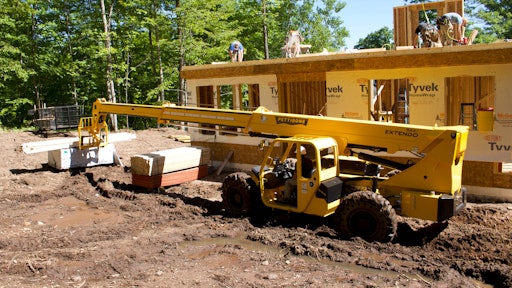 Pettibone
It's hard to go anywhere where new construction is happening and not see a telehandler at work. Telehandlers are incredibly versatile pieces of equipment, popular for their ability to place palletized loads and other materials at height, along with tackling additional jobsite tasks.  
Telehandlers are also powerful and heavy machines that require safe operation at all times. Safety is often even more critical in the rental market, where operators can find themselves operating an unfamiliar machine.  
Many factors contribute to safe telehandler use by rental customers, including the design of the machine, choosing a model with ample capacity, proper operator training, and maintenance. 
Operator Confidence and Visibility
Telehandlers have been around for more than 50 years, and their design has gradually evolved to keep improving safety, productivity, and uptime.  
Today's leading telehandlers are developed to give the operator full confidence in the machine. Manufacturers like Pettibone are known for providing smooth hydraulic controls to eliminate jerky movements when lifting and landing loads. Another factor is the stability of the machine and the resulting "pants in the seat" feel that allows the operator to feel secure even when pushing the telehandler to its top reach or full load capacities. Precision engineering is critical to providing peace of mind to rental houses and end users alike. 
Visibility is another key component for operator comfort. The main blind spot for a telehandler operator is typically when looking back toward the curbside; in turn, the best designed machines are optimized to dramatically increase visibility in that particular area. 
While it's true that back-up cameras and object detection sensors are becoming more common, it's still important to allow the operator to see firsthand when maneuvering. Having clear sightlines around the machine makes a world of difference in confidence and productivity. 
Efficient Load Landing
Today's telehandlers trend toward simple, intuitive designs that help operators of any experience level become proficient in a short time period. Nevertheless, proper training is important for everyone on your team, from account managers to service technicians, so that renters can be given proper instruction for both using the machine and maintaining it. 
Much like with any piece of equipment, there are caveats to efficiently operating a telehandler, and certain styles of machines can prove more advantageous for the user than others. Long-time users of popular Lull telehandlers are familiar with the concept of the horizontal traversing boom, a feature now only offered to the market on Pettibone Traverse telehandlers.  
Unlike a traditional fixed boom telehandler, the tower portion to which the boom is attached slides forward on a Traverse model. The traversing carriage is mounted to the chassis with a series of slide pads and pulled forward with a hydraulic cylinder. 
With this traversing capability, an operator can simply and safely place a load on the target landing, release the contact of the forks, and traverse the carriage backward to disengage the forks. With a fixed boom, the operator must coordinate several motions of the controls to withdraw the forks from the payload, leading to intermittent contact with the load or the landing.  
The practical result of this is that a traditional machine actually loses about 3 feet of its specified lift height, whereas a traversing machine is capable of landing a load at the telehandler's maximum lift height. 
Renting the Right Machine
Helping a customer choose the right tool for the job at hand, especially making sure they have the proper size machine, is a critical step in renting out a telehandler. 
Consider the application. While some users may not be planning to lift extremely heavy loads, it's important to consult a machine's lift chart to ensure there is ample capacity available to safely handle the anticipated loads as the telehandlers is boomed farther up and out. 
A 9,000-pound-capacity telehandler with 44-foot lift height may be capable of tackling most rental jobs. However, if the customer is working at increased heights or needs extra reach to operate from a street-side position, they may need a 10,000- or 12,000-pound machine and/or a higher-reaching 56- or 58-foot unit to accommodate the de-rating of the boom as it extends. 
Telehandler Maintenance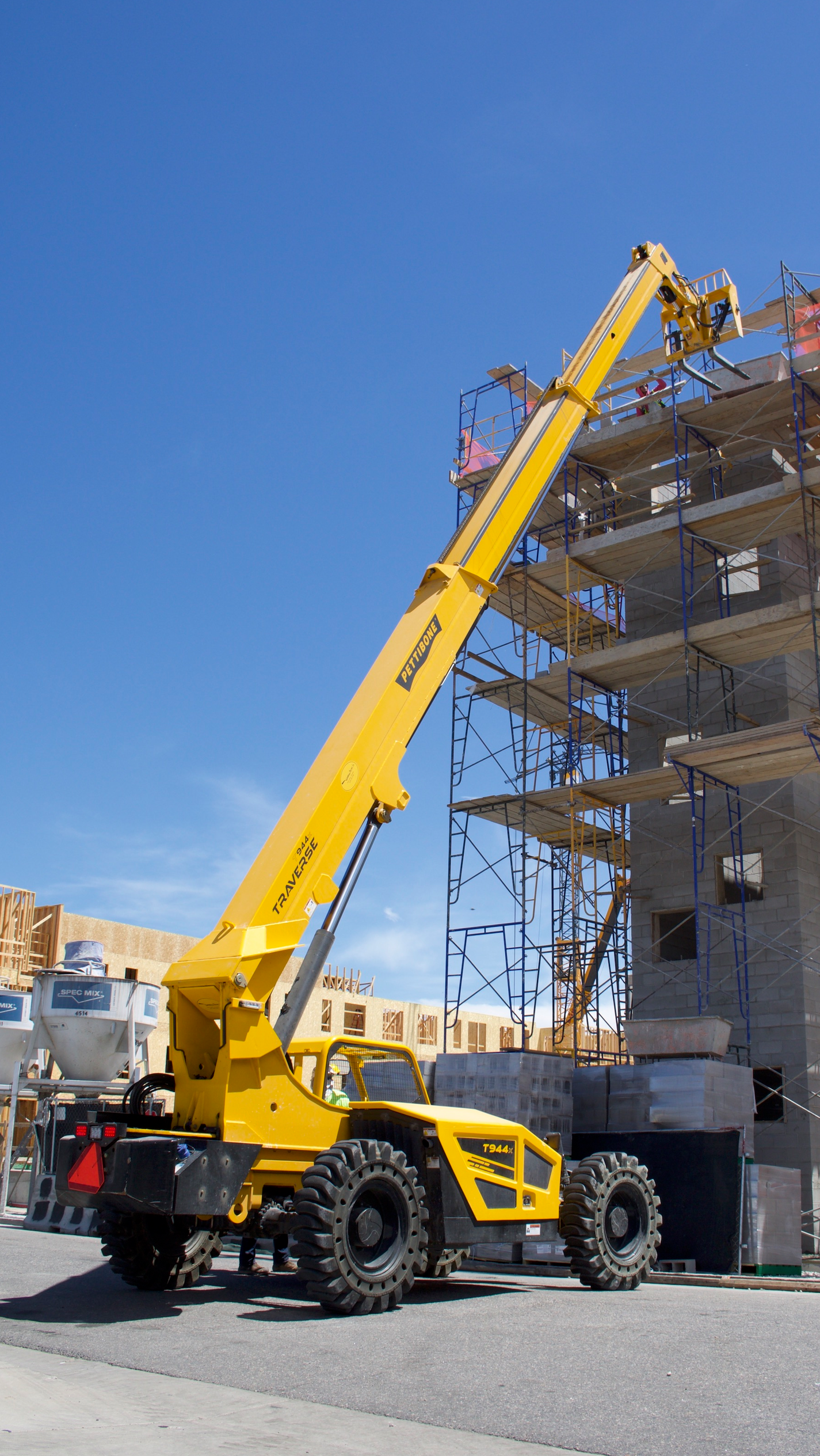 PettiboneWhile it may seem obvious, it's always worth stressing the importance of telehandler service to rental customers. Simple daily procedures like checking engine oil, transmission fluid, air filters, tire pressure, and keeping the machine greased all greatly help ensure the longevity of the machine and avoid more serious and costly repairs.
When the telehandler returns from the jobsite, perform regular maintenance and simple visual inspections. Make sure the wear pads are in the correct spec to ensure smooth boom travel. Check hydraulic hoses for leaks. Maximize your investment and ensure it's always safe to use by keeping it in good working order. 
Many telehandler manufacturers have done their part to improve serviceability. New boom designs allow faster changing of wear pads and service hoses. Grease points and filters are more accessible. When a machine comes off rent, it can be serviced and turned around faster to help keep utilization rates high. 
Like it has within many equipment categories, telematics has emerged as a key technology for telehandlers. This is an important development for rental fleets, in particular, because it allows rental centers to monitor anything service-related on the machine. With real-time access to the status of a telehandler, many potential issues can be caught and avoided before they happen. Maintenance alerts can cover anything from checking battery voltage, to getting warnings for low DEF levels, to remotely diagnosing an engine error code. 
Elevating loads to the height and distance that telehandlers can attain requires an observant operator and a machine in proper operating condition. Take the time to instruct customers on following the manufacturer's safe operating guidelines to ensure productivity and safety for all involved.