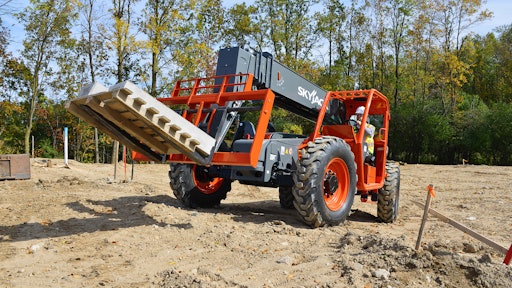 Skyjack publicly debuted its new TH Series telehandlers at World of Concrete, Feb. 2-5 in Las Vegas, showcasing a line of machines designed from the ground up to meet the needs of the construction professionals that use them and the rental companies that own them.
"We are excited to launch the new TH range of telehandlers at World of Concrete, especially since they have been developed as a competitively priced range with strong performance and many unique features – making them ideal for applications in the concrete and masonry construction industries," said Malcolm Early, vice president of marketing, Skyjack.
Skyjack President Brad Boehler spoke at the company's press conference at WOC, reminding attendees that the company celebrated its 30th anniversary in 2015.
"We conducted a customer satisfaction survey and I am proud to say that our reputation for simple reliability, both in product terms and in our approach to customers, was clearly recognized," Boehler said. "Looking to the future we remain committed to the rental industry as we aim to become a $1-billion organization in the near future."
He said there are three core elements to this plan:
• To maintain and defend the company's scissor share globally, through additional product and an increase in our geographic presence.
• To grow boom products to become a full-line boom supplier. Skyjack has launched three new booms in last three years and will launch three new booms in next 18 months.
• To develop the telehandler offering.
"That brings us back to World of Concrete," Boehler said. "This week we are showing off our new TH-series telehandlers for the first time. If I can be frank, our previous models enjoyed a good reputation, but struggled in terms of competitiveness. As we faced Tier IV Final we decided to redesign our VR range so that we could offer a competitively priced range with strong performance that the rental industry demands. An important part of the redesign was the inclusion of Skyjack's core values - the aim to produce a simply reliable range with ease of maintenance and maximum return on investment for the customer. Thus, for the first time we have a true Skyjack telehandler range and to mark that we moved from VR series to the TH series.
"Although this is our first public showing we did conduct a series of customer reviews towards the end of 2015 and I am pleased to say the response was positive and in fact better than we had ever hoped," he said.
About the TH Series
Skyjack Telehandler Product Manager Brad Greenway said Skyjack has consistently approached the issue of emission compliance with the knowledge that rental rates don't just go up with emissions standards cost increases.
"To this end we developed SMARTORQUE. The all-new Skyjack TH range is engineered to require NO DPF, NO DEF and NO other active exhaust after treatment on standard engines for Tier IV Final," he said. "By utilizing improved gearing, high-torque engines and a simplified, high efficiency hydraulics package, the TH range is able to employ 74-p engines to deliver the same on-site job performance as higher power units.
However, the range still packs fully loaded potential grade abilities of 50 percent for SJ1056 TH to 63 percent for SJ843 TH and no increase in hydraulic function times."
The SJ TH range delivers all the jobsite functionality expected of a rough-terrain telehandler, requiring only a trade off in third gear travel performance on 10K models, Greenway said. Those with a need for speed can select the optional 107-hp power plant which uses only a DEF after treatment system with no DPF requirement for SJ1044 TH and SJ1056 TH.
The TH range also features READYHOOK. A yoke-mounted lifting hook is fitted as standard. With capacities that match the maximum lift capability of the telehandler the hook allows the safe under-slinging of loads and avoids the practice of using the forks as an underslung lifting device.
FLEXCAB describes an innovative cab design that allows fleet operators to easily convert between open and enclosed cabs with simple hand tools, providing increased flexibility for fleet movement and fast
response to customer demands.
"Finally, the machines feature concepts carried forward from other Skyjack product families such as SKYCODED, a proven and simplistic control systems using Skyjack's color coded and numbered wiring system make our machines the easiest to troubleshoot and repair. 4AXLDRIVE gives positive traction and excellent rough ground 'terrain-ability'," according to Greenway. "This industry leading terrain capability means one can use the Skyjack Telehandlers in the most challenging of conditions."