Magni America LLC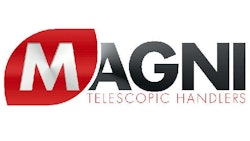 Magni has introduced a completely new design and concept, the TH Range, designed to fulfill the expectations of the industry and building sectors. The overall dimensions of these units are compact, if compared to its lifting capacities — perfect to move freely in every jobsite and condition. The design can easily be traced back to Magni, with its soft lines and red color.
This range is composed of the following units:
5.8 (industry and mining version)
5,5.15
5,5.19
5,5.24
6.10
6.20
All 75 kilowatt and 100 kilowatt models can be used in combination with Magni's platforms. These models comply with the EN1459-1 standard, providing the ability to work at heights safety.
Axles
Multidisc brakes in oil bath ensures, with the 4WD and the 4WS
Leveling system with +/- 8 degree adjustments 

— allows the machine the ability to 

work on irregular terrain
Chassis
Lowered for extra stability when the load is suspended (not applied to the 5, 5.24, and 6.20)
Shifted center of gravity downwards for more stability 

— 

 functions well in off-road conditions
Cabin
Full visibility
FOPS/ROPS
100 percent air filtration
Adjustable steering column
7 inch touchscreen (

available

in 11 languages)
Stabilizers and auto-leveling system
Ability to pivot, deploy quickly, and position
Provides maximum stability because of large contact surface
No protrusion when closed 

—

 used for moving around tight spaces
Deutz Engine
Available in Stage V, IV final or IIIA
No need for conversion kits
The 75 kilowatt version comes with standard air-conditioning, basket predisposition, and possibility to work with suspended loads
The 55 kilowatt version has the ability to add, for now, the air conditioning as options
All models are also available with Stage IV final and IIIA engines
Load-sensing system
Working pressure of 350 bar 
I/s high pressure pump for hydraulic movement
Two electro-proportional joysticks
SIL 2 main safety valve
Hydraulic System
Electronic Management selects the best engine speed for the hydraulic power required
Utilization of pipes

— features 

less oil heating and a tidier installation
Software
Flow share management, provides safety and precision of each hydraulic movement (up to 3/4 movements)
Boom
High-tensile steel, tough but flexible

—

increasing the load capacity.
Automatic attachment system
Side-shift system, designed for the TH 6.20 and TH 5,5.24 models, allows a translation of +/-5 degrees
Four-wheel drive and steering
Maximum stability and freedom of movement in every condition
Three types of steering: concentric, frontal and crab steering
Baskets
Non-slip floor
Anchor eyes
Safety devices
Anchorage eyelets
Electronic safety features for constant monitoring during work at height
Companies in this article
Request More Information
Fill out the form below to request more information about
Magni TH Range Designed to Fulfill Expectations