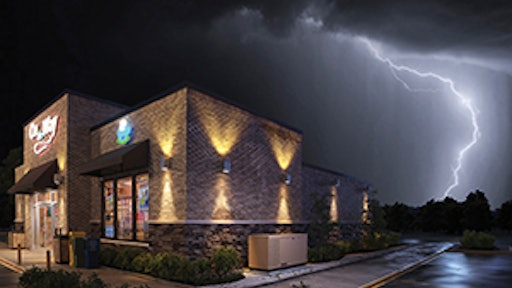 Hurricane Matthew, as it rolled into Florida and North Carolina, provided the owners of gas stations, convenience stores, and grocery stores with yet another reminder that even small businesses today need backup power in the form of onsite gensets.
It's easy to think of sprawling hospital campuses, around-the-clock data centers, and number-crunching financial institutions when picturing businesses that rely on backup gensets to keep their operations running when the public grid fails. But consumers today increasingly expect even small businesses—everything from the local drug store to the gas station—to remain open when the power is out.
And if these business owners fail to live up to those expectations? Their customers won't forget that when a big storm hit, their retail space was closed.
Many communities are considering, researching, or implementing microgrid solutions. The underlying rationale often involves complex business, operational, and economic issues. See our FREE Special Report: 
Understanding Microgrids
. Download it now!
This is the pitch that the manufacturers and distributors have to make to small business owners to remind them of just how important backup gensets are to their businesses, says Todd Howe, manager of global generator products for Doosan Portable Power.
"Small businesses are definitely an important market for gensets," says Howe. "You really see this in times like we faced with Hurricane Matthew. There are a lot of essential services that fall into that small business category, places like gas stations and convenience stores, places like CVS and Walgreens, pharmacy chains, businesses that would not have historically been a big market for onsite power generation. But because those types of businesses are such essential services, when something is going on, a natural disaster or a power outage, those businesses are important to making sure things keep moving."
Melanie Tydrich, senior channel manager with Kohler Generators, says that the benefits to business owners who do invest in backup gensets cannot be measured solely in dollars and cents.