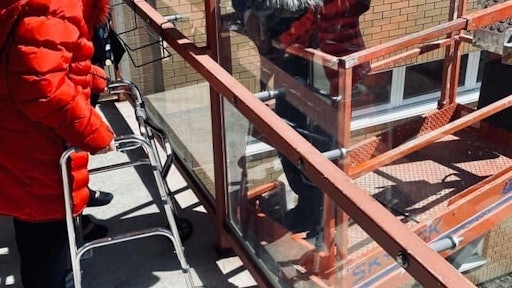 Skyjack
Lou-Tec, a rental company in Alma, Quebec, donated a Skyjack SJIII 3219 to Mr. Racine, a local resident, so he could visit his wife in a long-term care facility.
Racine and his wife have been married for over 50 years. Unfortunately, she was diagnosed with Alzheimer's disease three years ago and is currently hospitalized in a long-term care facility where Racine visits her weekly. Due to COVID-19, the facility was no longer allowing visitors and Racine had to come up with an alternative way to see and communicate with his wife, as he feared she might forget him.
He immediately phoned Lou-Tec to discuss renting a scissor lift to help him reach the balcony where nurses would often take his wife, so they could see each other through the glass window. The local branch manager at Lou-Tec was touched by the story behind the rental and the company decided to offer a Skyjack scissor lift free of charge for 10 days. Additionally, Lou-Tec provided free operator training at their branch as it was Racine's first time using the equipment.
"I am very grateful to Lou-Tec for offering the Skyjack for free, and I felt very comfortable and confident using the Skyjack," says Racine.