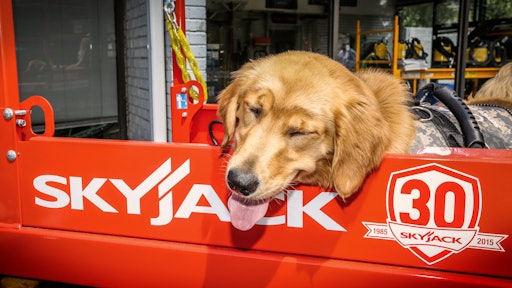 Skyjack recently donated $10,000 to help fund facility expansions for Educated Canines Assisting with Disabilities (ECAD), a nonprofit based in Dobbs Ferry, New York.
"We are really grateful that Skyjack selected ECAD as one of the 30 projects they are supporting to celebrate its 30th business anniversary," said Carrie Picard, director of marketing and communications for ECAD. "The donation will help towards our goal of doubling our facility and dog training capacity by 2020.
Established in 1995, ECAD educates dogs to help with people living with disabilities and has placed 225 assistance dogs in over 20 states. The nonprofit heard about the 30 FOR 30 PARTNERS campaign through long-time Skyjack customer United Rentals, the largest equipment rental company in the world.
"We have partnered with Skyjack for many years and we were happy to help connect them with ECAD, especially when it's for a good cause," said Craig Pintoff, senior vice president - Human Resources for United Rentals headquartered in Stamford, Connecticut.
Growing Need
ECAD's mission is to enable people with disabilities to gain greater independence and mobility through the use of specially educated dogs. Every year, the charity matches around 20 dogs with individuals living with disabilities. Right now, ECAD has 60 dogs in training.
"Currently, there's a two-year wait list for one of our service dogs, which is why we launched a $7 million capital campaign in hopes of expanding our facilities in Torrington in phases," Picard said. "Eventually we hope to have about 20,000 square feet of space to house training and breeding facilities."
Each dog receives 1,500 hours of training over two years before they are placed. All dogs learn a basic routine of 89 commands and then receives specialized training depending on the individual's need. Over the nonprofit's 20-year history, it has educated dogs to assist with over 50 different disabilities.
Customized Care
"We once assisted a wheel-chair bound girl with muscular dystrophy attend college with a little more independence," Picard said. "We educated the dog to pick up, drop and adjust a cell phone's location so she could make calls without needing human assistance."
ECAD has also educated dogs to alert caretakers when medical devices malfunction and need attention.
"We have a 98% success rate when we place the dogs we breed with an individual," Picard said. "We are dealing with people's lives, so it's important that our dogs are the best of the best."
In celebration of 30 successful years in business, Skyjack's 30 FOR 30 PARTNERS campaign is supporting 30 different charitable projects around the world. The campaign is a way to give back to the communities that have supported Skyjack for the past 30 years.