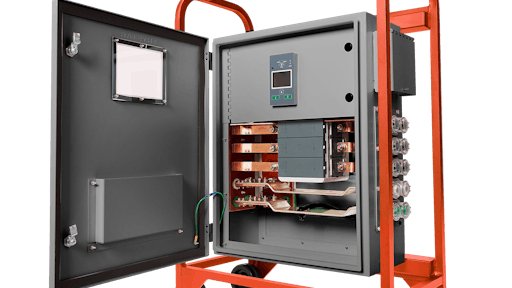 Trystar has introduced a line of compact, portable Automatic Transfer Switches (ATS) with models rated at 200/400/600/800 and 1,200 amps. Designed for applications requiring an automatic transfer of power between mains and backup generators in case of power failure, the Trystar ATS features an advanced design that eliminates nearly all wiring inside the enclosure to improve reliability and reduce maintenance requirements.
"The ATS line uses a proven controller with all internal connections made via a single buss bar," explained Chris Tacheny, regional sales manager for Trystar. "The only exception is the Cat 5 cable connecting the controller to the touch screen."
Footprint is up to 75-percent smaller than competitive ATS units
Features dual 480/208-volt capabilities that can be selected via the touchscreen, giving users the ability to stock a single unit to cover applications for both of the common voltages.
The touchscreen displays event logs including on/off, voltage change, transfers and more.
Monitors KVA and KVAH plus amperage, voltage, and wattage, and has a Modbus interface to enable remote monitoring of the switch.
Can be programmed with pre-set transfer times to switch inputs between multiple generators.
Cam lock input and output connections, and dual inputs with a common output 
Two-wire auto start for portable generators
The heavy-duty aluminum cabinet is housed in a steel cage with lifting eyes and fork pockets. 
Made in the U.S. 
All units are listed to UL Standard 1008 and NEMA 3R.
Request More Information
Fill out the form below to request more information about
Trystar Compact Automatic Transfer Switches