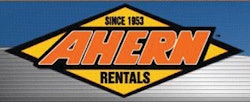 Ahern Rentals Inc. filed a voluntary petition for Chapter 11 reorganization in the U.S. Bankruptcy Court for the District of Nevada in Reno, Nev. The company also announced that it has reached an agreement with existing lenders for debtor-in-possession (DIP) financing with approximately $50 million of availability, pending bankruptcy court approval.
The company filed for Chapter 11 because it was unable to extend the maturity of its revolving credit facility, which had a maturity date of August 21, 2011. Since the maturity, the bank has continued to fund the company and negotiate the extension of the revolving credit facility without the necessity of a bankruptcy filing. While the company's financial performance continues to improve, it has been forced to seek bankruptcy protection to address the maturity of its revolving credit facility, despite the fact that approximately 90% of the company's lenders would have consented to an extension.
The company intends to continue business operations throughout administration of the Chapter 11 and to honor all of its existing customer, vendor and employee commitments. Subject to bankruptcy court approval, the company will use the DIP financing to meet its working capital needs during the reorganization process.
"We anticipate there being no interruption to our operations. With our DIP Facility, we will have sufficient liquidity to meet our commitments to our customers, vendors and employees," said Don Ahern, CEO. "We have been experiencing a significant improvement in our business, with a substantial increase in our utilization levels and improved margins. The company provides a valuable service for its customers, and we do not expect the bankruptcy filing to affect our ability to continue to offer customers highly reliable and quality equipment and service. It is business as usual, and we anticipate no impact to our customers, vendors and employees."
The company has filed a series of motions in bankruptcy court seeking to ensure that it will not have any interruption in maintaining and honoring all of its commitments to its current customers, vendors and employees during the reorganization process. The restructuring plan and related documents and agreements will be subject to approval by the bankruptcy court.
The company's bankruptcy counsel is Gordon Silver and its financial advisors are Oppenheimer & Co. and The Seaport Group.