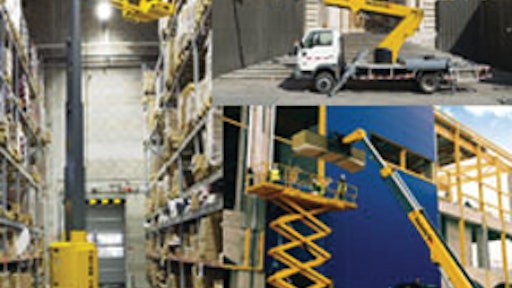 French access-equipment maker Haulotte Group announced 2011 consolidated revenue of € 307 million (about $404 million). The 23% increase over 2010 notwithstanding, 2011 revenue was half of the company's revenues in 2007. All sectors were up, reflecting strong momentum from rental business.
When broken down, equipment sales were up 25% in 2011 over 2010, from € 186.3 million to € 233.1 million. Rental was up 15% for the period, from from € 37.2 million to € 42.7 million, while services increased 17%, from € 26.5 million to € 31.1 million, for a total consolidated revenue increase of 23%.
The company generated fourth-quarter 2011 consolidated sales of € 82.2 million, compared with € 72.5 million in the same period last year, an increase of 13%. Overall, the second half of the year was up 17% over 2010. Business remained relatively strong at the end of the year, despite uncertainties in the macroeconomic environment.
Sales grew in all geographic areas between 2010 and 2011. Latin America experienced sales growth of 77%, and Asia 48%. Europe, which accounts for two thirds of sales, increased by 19%. In the U.S., activity grew by only 5% in a market where the key players have reinvested significantly in 2011. The activity level over the second half of 2011 should allow the Haulotte Group to be above operating breakeven point over this period.
Despite European key players waiting since summer 2011 to place major orders, the need for fleet renewal in Europe and positive signs from emerging markets support the business outlook for 2012 and allow Haulotte Group to forecast double-digit growth in 2012.
Haulotte Group has reached agreement with its bankers to extend the holiday period of certain covenants until June 30, 2012, and early next spring will open discussions with its banking partners to renew the credit facility that expires in July 2013.
Companies in this article