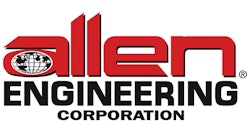 Allen Engineering Corporation (AEC) recently recognized InterConex Inc. (ICX) for being the number one "High Performance Dealer" for AEC in 2011 during the World of Concrete in Las Vegas.
ICX generated the highest sales volume of Allen Equipment among Allen Engineering Dealers worldwide. InterConex is based out of the Miami, FL area and promotes the complete line of Allen Concrete Equipment in southern Florida, Latin America and the Caribbean. ICX has been promoting and selling Allen Equipment for over 17 years.
AEC also recognized the following High Performance Dealers for 2011 during WOC:
HD Supply/Whitecap Construction Supply – Costa Mesa, CA
CMC Construction Services – Houston, TX
Goedecke – St Louis, MO
Admar Supply Company – Rochester, NY
Williams Equipment & Supply – Memphis, TN
Carter Waters Construction Materials – Kansas City, MO
Dunrite Concrete Equipment & Accessories – Calgary, Alberta, Canada
Advance Concrete Technologies – Lancaster, PA
Geroquip, Inc. – Laval, Quebec, Canada
ab Lin-Pro – Gothenburg, Sweden
Ancon Beton Pty. Ltd – Glenside, SA, Australia
Markham Distributing – Hastings, New Zealand
PROMAQ – Monterrey, NL, Mexico
 
Allen Engineering Corporation is headquartered in Paragould, AR. The company designs, engineers, manufactures, and markets equipment for concrete placing, finishing, and paving professionals with a number one goal of Total Customer Satisfaction.
Allen Engineering Corporation is family owned and its Allen Equipment is American-made. Allen Equipment is sold through a network of "concrete-focused" dealers and rental centers around the world. For more information, visit the AEC website at www.alleneng.com.