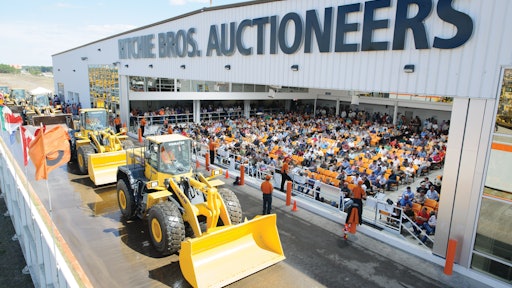 Ritchie Bros. Auctioneers held the world's largest heavy equipment auction in Orlando, Fla., last week (February 13 through 18, 2012) and, in the process, broke multiple Company records. New records were set for gross auction proceeds ($203 million), number of lots sold (more than 10,000), total number of registered bidders (8,670), number of sellers (830), online gross auction proceeds (more than $47 million) and number of online bidders (4,070). Every item in the six-day auction was sold to the highest bidder—regardless of price—without minimum bids or reserve prices.
"In more than 50 years of business we have never held or seen an equipment auction of this magnitude, and we thank our customers and our staff for being part of this historic week," said Peter Blake, Ritchie Bros. CEO. "Our Orlando auction, our third industrial auction of the year, has set the stage for us to continue carrying out our mission."
Bidders from 88 countries, including all 50 U.S. states, all Canadian provinces and two territories, participated both in person and online. More than $160 million (or 79%) was sold to buyers located outside Florida and more than $73 million (or 36%) was sold to buyers outside the U.S. Items were sold for more than 830 sellers from across the United States and around the world. Internet bidders were winner or runner up bidder on 44 percent of the lots available online.
There are more than 120 auctions already listed in the Ritchie Bros. auction calendar. 
Established in 1958, Ritchie Bros. Auctioneers (NYSE and TSX: RBA) is the world's largest industrial auctioneer, selling more equipment to on-site and online bidders than any other company in the world. Ritchie Bros. offers services that enable the world's builders to easily and confidently exchange equipment. The company conducts hundreds of unreserved public auctions each year, selling a broad range of used and unused equipment, trucks and other assets utilized in the construction, transportation, agricultural, material handling, mining, forestry, petroleum and marine industries. Ritchie Bros. has more than 110 locations in more than 25 countries, including 43 auction sites worldwide.
Companies in this article