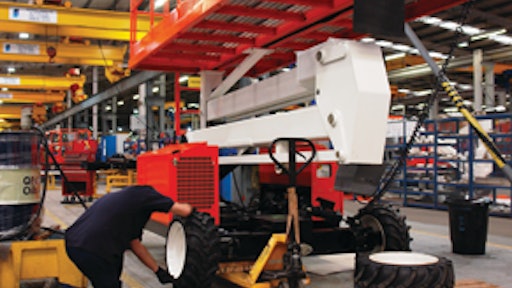 Aerial lift manufacturer Snorkel is once again hiring assembly workers - and expanding its apprentice program - as it emerges from a prolonged downturn in its industry.
Snorkel's parent company, The Tanfield Group Plc, was forced to downsize the workforce at its Vigo Centre headquarters in Tyne & Wear, as the recession severely impacted the powered access industry. With demand once more returning for aerial lifts, the company is recruiting this year.
Brendan Campbell, group operations director, said: "After talking to our key customers, our build plan for 2012 calls for up to a 50-percent growth in our assembly workforce between now and September. This will be a gradual process as we ramp up production in line with demand.
"Principally we will be employing production operatives for our assembly lines, but we are also taking on three new apprentices as we build for the future," he noted.
Snorkel is also expanding the workforce at its production facility in Elwood, KS, by 30 percent this year. Within a week of announcing the U.S. recruitment drive, the company received more than 150 job applications.
Snorkel manufacturers aerial work platforms for a wide range of working at height applications, from major construction projects to facilities maintenance in offices, hotels and public buildings. The company recently announced it was raising an additional £12m from investors, to help increase production capacity in line with surging demand for its products - its order book has swelled by 170 percent in recent months.
The aerial lift industry suffered a sharp downturn in mid-2008, which lasted for the next three years. Snorkel is now seeing resurgent demand from Northern Europe and strong growth in Latin America, driven by its booming mining sector and massive public works projects.
The Vigo Centre factory in Washington exports more than 95 percent of its production to Europe, the Middle East, Africa, Asia and the Pacific Rim. It is also Snorkel's global headquarters - the company has satellite factories in North America, China and New Zealand.
Snorkel used the downturn to cross-train and up-skill its Vigo assembly workers, launched new products and further improved performance on its existing range of lifts.
"Although we had to downsize during the recession, we stuck firmly to a strategy of keeping our core people and enhancing their skill sets," added Campbell. "We are emerging from a tough, prolonged downturn as a much stronger, smarter company and are now ready for the next growth phase."
Companies in this article