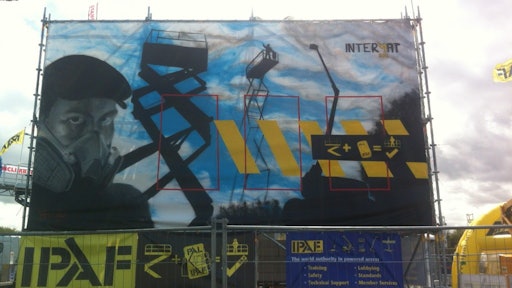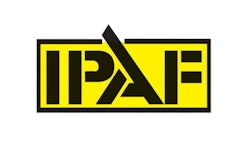 Mr. Shiz and Foundry, two artists from Paris and Brighton, have created two pieces of urban art commissioned by IPAF celebrating aerial platform safety. 
The artists from Wet Paint Productions sprayed two 7m x 4m canvases over six days at the Intermat construction show in Paris, working from a boom and a scissor lift. They were challenged by rain and strong winds during the show, which meant that the work had to be stopped at times and the machines "grounded" for safety reasons. But Mr. Shiz and Foundry are not only skilled graffiti artists. They have also been trained to use aerial platforms safely and effectively at IPAF-approved training centre Facelift near London and both hold IPAF PAL Cards (Powered Access Licences).
Mr. Shiz is a native Parisian who has lived in London for 10 years and has been painting graffiti for over five years. He graduated from art school and is a professional graffiti artist who is just as comfortable painting for diverse clients including Channel 4, Just Beats and UEFA, to body-painting models for film shoots – something he has become renowned for. His style ranges from classic graffiti to impressive photorealism.
Foundry comes from Sheffield and is now based in Brighton. He started drawing at an early age. While he uses a variety of media, he prefers the magical qualities of aerosol, which has no direct contact with the surface, but works well both on microscopic detail and vast areas. Over the last 15 years, Foundry has painted murals and large-scale pieces of work, gravitating towards photorealism. His work can be seen primarily in public spaces, but also in corporate campaigns and international exhibitions.
The two art pieces created by Mr. Shiz and Foundry for IPAF are on display at JLG Italy and at Italian training centre Formamentis. Those interested in engaging Mr. Shiz and Foundry for artistic work done safely at height can do so through Wet Paint Productions.    
Companies in this article