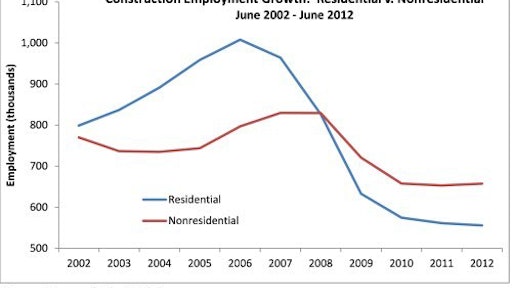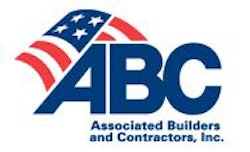 With the addition of 2,000 jobs last month, the nation's construction industry unemployment rate fell to 12.8 percent in June, down from 14.2 percent in May, according to the July 6 employment report by the U.S. Labor Department. One year ago, the construction unemployment rate was 15.6 percent.
The number of unemployed construction workers now stands at 1.04 million, down from 1.32 million a year ago. However, much of this improvement is attributable to a decline in the size of the construction workforce, which now totals 8.12 million people, down from more than 8.44 million people a year ago.
June's construction employment gains were primarily the result of a 10,000 job increase among specialty trades contractors. Employment in the specialty trades contractor segment is up 15,900 jobs, or by 0.5 percent, on a year-over-year basis. Nonresidential specialty trades contractors added 7,600 jobs for the month and have gained 14,100 jobs, or 1 percent, during the past year.
In contrast, nonresidential building construction employment declined by 1,000 last month to 657,500. Employment in this category is still higher relative to a year ago by 4,300 jobs, or 0.7 percent. Heavy and civil engineering construction employment decreased by 2,000 jobs for the month and has fallen by 1,800 jobs, or 0.2 percent, from the same time last year.
Residential building construction employment slipped by 5,900 jobs last month and is down by 5,200 jobs compared to a year ago. Employment in this sector now stands at 556,600.
Overall, the nation added 80,000 jobs in June and 1.8 million jobs during the past 12 months. The private sector added 84,000 jobs, while the government sector lost 4,000 jobs. June represents the 28th consecutive month of private sector job growth in the United States. However, the unemployment rate remained unchanged for the month at 8.2 percent, down from 9.1 percent in June 2011.
"Today's employment report is a bit of good news for the construction industry, but is widely viewed as disappointing," said Associated Builders and Contractors Chief Economist Anirban Basu. "During the first three months of this year, the nation added 226,000 monthly jobs on average. During the past three months, the average monthly gain has been just 75,000 jobs.
"Many economic forecasters expect sluggish job growth during the balance of the summer and into the fall due to ongoing global economic slowing and various sources of uncertainty in the United States, including issues with respect to federal tax and budgetary policy," Basu said.
"The employment expansion in nonresidential construction is, at least in part, a reflection of the way the economy finished last year, which was on a relative strong note," said Basu. "Fourth quarter 2011 GDP growth was 3 percent.
"The associated increase in investor/developer confidence likely pushed many projects ahead, which helps explain the 10,000 increase in jobs among specialty trades contractors in June," Basu said. "The economy today is likely expanding at less than 2 percent, consistent with expectations of flat nonresidential construction spending and suppressed hiring over the near-term.
"Given recent progress in Europe regarding sovereign debt and banking issues, as well as some recent signs of legislative progress in the United States, the level of economic uncertainty may abate somewhat over the near-term," said Basu. "That would help reignite nonresidential construction's recovery, though improvement in industry fortunes is unlikely to be immediate."
View the May employment report.
Companies in this article