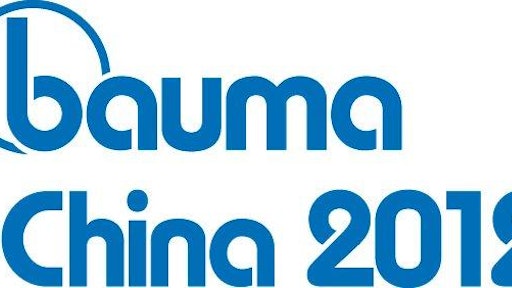 bauma China, the International Trade Fair for Construction Machinery, Building Material Machines, Construction Vehicles and Equipment will be taking place from Nov. 27-30, 2012 in the Shanghai New International Expo Centre (SNIEC). With a total of 2,500 exhibitors by the middle of July, the show is already setting a new exhibitor record. Not only does this figure exceed the figure of 1,892 exhibitors at the last bauma China in 2010, but the organizers also had to add eight halls to the original nine to accommodate the surplus.
With 300,000 square meters of exhibition space, bauma China is Asia's largest and most important industry event. Collin Davis, exhibition group director at Messe München International, is upbeat: "It was our aim to offer our exhibitors improved conditions for their presentations in the halls. And, as we have eight more halls available for this year's event, we have been much better able to meet their space requirements."
Demand for the open-air site fair currently exceeds the space available. Important key players, however, are making use of the additional hall space. In total, 300,000 square meters of space are available for bauma China 2012. Austria, Finland, Germany, Great Britain, Italy, Korea, Spain and the US will each have their own pavilion on site. bauma China will certainly need all of this space, as the Asian construction machinery markets will again be putting in a very strong showing at the fair.
Since 2010, the world's largest domestic market in the construction sector has been in China. And, according to estimates by the German foreign trade organization, Germany Trade & Invest (GTAI), in the coming years the People's Republic is set to further extend its lead over the second-largest domestic market, the United States. After all, the Chinese government is again undertaking gigantic infrastructure projects in its current five-year plan, running from 2011 to 2015.
When looking at construction activity in China, media attention focuses on two large-scale projects. One is the diversion of water from the Yangtze and its tributaries in the south to the Yellow and Huai rivers and hence to Beijing and Tianjin in the north, an undertaking second to none worldwide. This mega project, which consists of multiple sections of open canals, is due for completion by 2050. When planning started, the investment costs for this venture were put at an equivalent of around 57 billion euros.
Another prime project is the Hong Kong-Zhuhai-Macao Bridge. This symbolizes the great technological expertise in the construction industry in the country, and the integration in the region. The various offshore wind-energy parks currently being planned or built also have high prestige value.