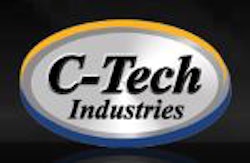 C-Tech Industries, LLC, a leading manufacturer of joysticks and control boxes for aerial equipment, is now selling refurbished scissor lifts with C-Tech components.
C-Tech introduced refurbished scissor lifts at The Rental Show in Orlando, FL. The company is offering Genie, JLG, and SkyJack 19- and 26-foot narrow scissors. The lifts will include a new control box, new battery charger, new batteries with connections, new decals, and new paint in the factory colors. New non marking tires are also an option for an additional cost. Each machine comes with a certified annual inspection.
C-Tech is also including warranties on the scissor lifts; 30-day complete machine, parts only warranty, a one year warranty on the control box and joystick, cables, and batteries, and a two year warranty on the battery charger. All of these listed parts being put on the equipment are manufactured by C-Tech Industries.
Companies in this article