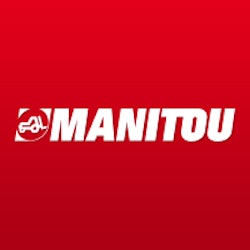 Michel Denis, president & CEO, presented a new roadmap for Manitou Group, transforming the company to take full advantage of opportunities for future success of the group, which will be organized into three divisions: two product divisions and a service division.
"This strategy will firmly focus on the value provided to our customers, while strengthening our leadership, growth and profitability," Denis said. "The new
organization will offer a positive operating impact while benefiting our customers with a less complex as well as a more responsive organization."
The Group will be structured with the following divisions:
The MHA - Material Handling and Access product division manages the French and Italian production sites manufacturing telehandlers, rough-terrain and industrial forklifts, truck-mounted forklifts and aerial working platforms. Its mission is to optimize the development and production of this equipment branded Manitou.
The CE - Compact Equipment product division optimizes the development and production of skid-steer loaders, track loaders, articulated loaders and telehandlers branded Gehl and Mustang.
The S&S - Services & Solutions division includes service activities to support sales (financing approaches, warranty contracts, maintenance contracts, full service, fleet management, etc.), after-sales (parts, technical training, warranty management, fleet management, etc.) and services to end users (geo-location, user training, advice, etc.). The mission of the division is to develop service offers to meet the needs of each of customers in the company's value chain and to increase resilient sales revenue for the Group.
The three divisions design and assemble products and services which are distributed by the sales and marketing organization to dealers and key accounts in 120 countries. The new business strategy will be deployed by products, by regions, by integrating service offerings.
The new organization project presented to the Works Council will be implemented at the beginning of July and will follow a 10-month deployment process.
The strategic objectives, the tactical approach and the operational plan will be presented in more detail at the annual feneral meeting scheduled on June 5, 2014.
The company's board has also re-appointed Dominique Bamas as independent director, replacing former CEO Joël Goulet who resigned Manitou's interim president. Mr Bamas had been A Director of Manitou since 2009 resigning from the position to act as interim president and CEO for nine months in 2013.
Marcel Braud, chairman of the board said Mr Bamas' experience and knowledge would be a great asset to the company. "The board members have unanimously expressed their gratitude to Mr Goulet who resigns after 20 years of collaboration with Manitou, being successively been CEO of the group and afterwards independent director and supporting the establishment of the new ambitions of Manitou".