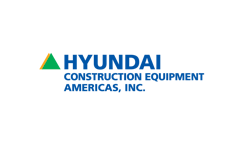 Hyundai Construction Equipment Americas Inc. has appointed Lyle Machinery to its rapidly growing dealer network. Lyle Machinery will provide sales and service of Hyundai equipment from its two dealership locations in Pensacola, FL and Mobile, AL.
"Lyle Machinery makes it their job to take care of their customers and fulfill their every want and need," states Kirk Gillette, vice president of CE sales at Hyundai Construction Equipment. "This quality makes them an ideal fit for our dealer network and we're glad to have them on board."
Lyle Machinery will now carry Hyundai's line of quality construction equipment including wheel loaders and crawler and wheeled excavators. The full stock of Hyundai equipment will be readily available for sale or rent.
"After exploring several well-known brands to bring into our dealerships, Hyundai became a standout," states James Lyle, executive vice president of Lyle Machinery. "An excellent product firmly backed by the manufacturer is what we were searching for and we found that with Hyundai.  We're looking forward to a great future together."
Lyle Machinery sales staff has been fully trained in the application, sales, parts and service of Hyundai Construction Equipment products and offers prompt and professional parts and service support to its customers.