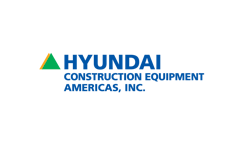 Hyundai Construction Equipment Americas Inc., a leading earth moving and material handling equipment manufacturer, announces the appointment of Martin Implement Sales to its rapidly growing dealer network. Martin Implement will provide sales and service of Hyundai equipment from their dealership locations in Orland Park, South Elgin and Wauconda, Illinois.
"Martin Implement is a long standing and highly regarded, family-owned dealership well-known for its personable customer service," states Kirk Gillette, general manager of Hyundai Construction Equipment. "With an admirable business model, Martin Implement is an exemplary addition to our dealer network."
Martin Implement will now carry Hyundai's full line of quality construction equipment, which includes wheel loaders, crawler and wheeled excavators and mini-excavators. The full stock of Hyundai equipment will be readily available for sale or rent.
"We are excited to have the opportunity to represent the Hyundai Construction Equipment line," states Tom Novak, president of Martin Implement Sales. "We are certain our customers will love the combination of world class productivity and exceptional pricing that Hyundai brings to the market as well as the impressive list of standard features Hyundai equipment has to offer.  We're confident that Hyundai will help take our dealership to the next level."
Martin Implement sales staff has been fully trained in the application, sales, parts and service of Hyundai Construction Equipment products and offers prompt and professional parts and service support to its customers. 
For more information or a demonstration of Hyundai products, please contact Martin Implement at 708-349-8430 (Orland Park), 630-883-3320 (South Elgin) or 847-469-0120 (Wauconda) or visit www.martinimplement.com.