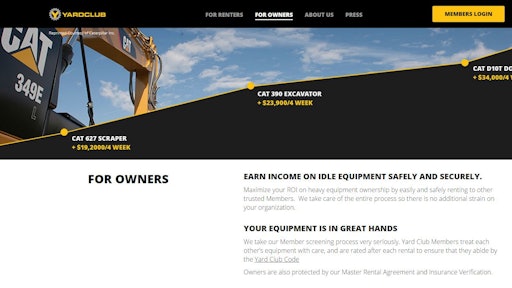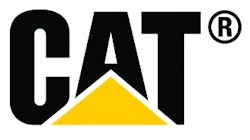 Caterpillar is investing in peer-to-peer equipment-rental startup Yard Club and will launch the online ordering platform in specific metropolitan markets in conjunction with U.S. and Canadian Caterpillar dealers.
Since its founding in 2013, Yard Club has focused on serving construction contractors in the San Francisco area, providing an online platform that allows them to rent idle equipment to each other. Yard Club screens members and provides a rating system for renters and equipment suppliers to help ensure that equipment and transactions are handled with professional care.
With Caterpillar's investment, Yard Club will further develop the platform and expand club member coverage. The peer-to-peer rental platform will continue to include both Cat products and non-Cat branded products.
"Peer-to-peer technology has changed other industries like transportation (Lyft.com) and lodging (AirBnB.com), and Yard Club has developed an innovative solution initially for the construction equipment industry," said Phil Kelliher, Caterpillar's vice president with responsibility for Americas Distribution Services Division. "Using this platform, a contractor can rent an excavator that's in between jobs to another contractor who needs that machine. The Cat dealer will use this tool as another avenue to strengthen customer relationships by increasing the utilization rates of heavy equipment and lowering the total cost of equipment ownership."
"The sharing economy is changing the way entire industries operate," said Colin Evran, founder and CEO of Yard Club. "Our platform is at the forefront of that innovation in the equipment rental industry. Customers can access rental equipment with ease on the web and through mobile devices, while enabling fleet owners to earn income on idle equipment through peer-to-peer rentals. Caterpillar has certainly reinforced its commitment to helping its customers succeed with this relationship."
"This illustrates what our newly formed Analytics & Innovation Division is charged with: creating and investing in emerging technologies that can further enhance Caterpillar's product and service development and our customers' experience," said Greg Folley, Caterpillar vice president with responsibility for the Analytics & Innovation Division. "With all of the advances in peer-to-peer technology going on around us, we asked ourselves, why shouldn't our customers have the ability to share assets to increase efficiency and lower the cost of ownership? Our agreement with Yard Club will help make this a reality."
Yard Club expects to have dealer and customer fleets installed on the platform and ready for rental mid-year 2015.