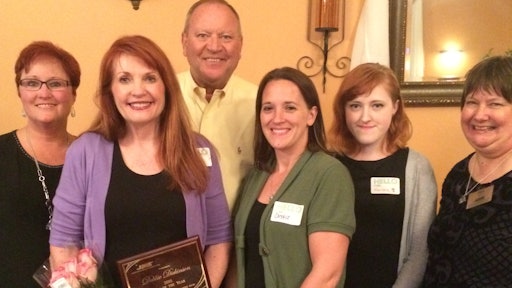 Crane Industry Services recently received certification from the National Women Business Owners Corporation (NWBOC) as a Woman Business Enterprise (WBE). Debbie Dickinson, CEO of Crane Industry Services, is majority owner of the training, equipment inspection, and consulting firm, which is operated in partnership with Cliff Dickinson, President.
WBE status is achieved only after filing legal paperwork establishing majority ownership of a company to a female. However, earning WBE Certification provides additional credibility, as it is a third-party verification of being a woman-owned business. WBE certification from NWBOC requires a thorough application process and an in-person site visit.
"Crane Industry Services went the extra step to achieve WBE Certification as an added assurance to businesses and government agencies that Crane Industry Services is accurately representing itself as a woman-owned business," said Debbie Dickinson. As CEO, Debbie Dickinson leads new business development initiatives for Crane Industry Services. She also oversees training assessments and is an expert in employee qualification.  Dickinson has worked in the crane and rigging industry for more than 20 years while also holding positions in Ford's XL2000 program and with Disney's business benchmarking programs.  She has designed programs for entry-level to senior executives related to assessment and development. 
Dickinson has a keen understanding of EHS issues. She recently spoke at the 2015 Indiana Safety and Health Conference about bridging the gap in EHS management between senior execs and workers.
"EHS professionals face many hurdles, but from a management perspective, they are often caught in the middle between leadership and the rest of the company. To be effective, EHS managers must first identify which departments in their organization have clear responsibility for safety and health matters, then determine the financial priority those departments place on safety," she said.  Dickinson uses the company mission statement, Centered on Safety, to help companies be more productive and efficient while working safely. 
Dickinson Recognized as "Boss of the Year"
In other news, Dickinson was honored in April 2015 by the Douglas County, Georgia Charter Chapter of the American Business Women's Association as the 2015 Boss of the Year. She was nominated by a co- worker, who said of Dickinson, "She encourages everyone's input and always looks for the positive in situations."
Crane Industry Services LLC, based in the Atlanta, GA area, was established in 2008 and provides crane operator and rigger training, nationally accredited certifications, equipment inspections, expert witness services and consulting to the lifting industry. Crane Industry Services is centered on safety and known for creating innovative and affordable solutions for the crane and rigging industry.  www.craneindustryservices.com