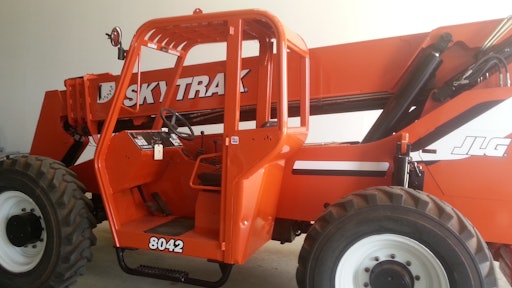 US Markets Inc., (USM) a wholesale lifting equipment rental, sales and reconditioning specialist, has expanded its repair and reconditioning services with the opening last month of new USM Restoration facility in Cleburne, TX. It joins two other USM Restoration locations in Gallatin, TN, and Port St. Lucie, FL.
The Cleburne facility provides reconditioning of boom lifts, scissor lifts, telescopic handlers, and carry deck cranes, as well as heavy repairs for many other types of general construction equipment commonly found in national rental fleets. The reconditioning process includes complete dismantling, replacement of hydraulic and electrical systems, evaluations of the engine, and other updates specific to the type of equipment. For example wear pads are replaced on boom lifts and drive motors are replaced on scissor lifts. A Certificate of Reconditioning and standard warranty is provided with all reconditioned equipment.
"Reconditioning is an economical option for many fleet owners. At a fraction of the cost of buying new, the life of older lifting equipment can often be extended by as much as five years," said Mike Ferguson, Cleburne facility manager.
The 50,000 sq. ft. facility on 14 acres was designed using 5S workplace organizational methods for continuous improvement and lean manufacturing processes. It features a 70'x20'x20' semi down draft paint booth, which provides efficient painting of larger equipment or longer booms without the need to turn the machine around. High quality industrial paint is used in the booth.
The current facility only encompasses one-eighth of the entire under roof space available at the industrial complex. "We are positioned for growth and have the capability of adding more service bays, use parts sales and distribution, and other services," said Ferguson. USM is currently seeking additional technicians. Qualified applicants should contact Mike Ferguson at mferguson@us-markets.com.
Benefits of a balanced fleet
USM offers an interactive decision tool on its website to help fleet owners evaluate the cost benefits of reconditioning equipment. Using a 60-foot straight boom lift purchased for $100,000 as an example, consider the savings that can be achieved by reconditioning.
If a fleet owner uses that machine for seven years then replaces it three more times every seven years, the average cost per year of operation is $19,448.79. In contrast, if that same boom lift is reconditioned for a cost of $30,000, which extends its life by another three years, before a new replacement is purchased after 10 years, the average cost per year of operation is $15,770.50.
"In this example, the annual savings per machine by reconditioning is $3,678.29," says Chad Cochrane, general manager. The numbers in this example can vary widely in direct correlation to the specific equipment, condition of the machine, and work environment, etc. Contact a USM sales representative for a personal cost-benefit evaluation.