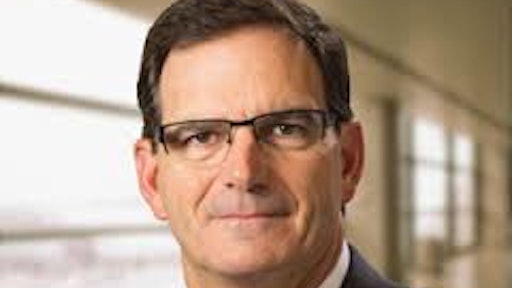 Oshkosh Corporation announced Charles L. (Charlie) Szews, chief executive officer (CEO), has decided to retire, effective December 31, 2015. Consistent with the Company's long-range succession plan, the Oshkosh Corporation Board of Directors elected Wilson R. Jones as chief executive officer, effective January 1, 2016. Jones has been with the Company since 2005 and is currently Oshkosh Corporation president and chief operating officer (COO).
Szews, who has served as CEO for five years, will also retire from the Company's Board of Directors on which he has served since 2007. He joined Oshkosh in 1996 as chief financial officer and served as president and COO from 2007 to 2011, when he was appointed CEO. Jones will replace Szews on the Company's Board.
"The Board of Directors is very grateful for the strong leadership demonstrated by Charlie Szews through the last five years as he led the Company to successfully overcome significant U.S. Department of Defense (DoD) spending reductions and the lingering effects of the Great Recession," said Richard M. Donnelly, chairman of the Oshkosh Corporation Board of Directors. "During his career, Charlie led our Company through numerous historical milestones and contributed to the Company's growth from $400 million in sales in 1996 to more than $6 billion expected in 2015. Most recently, he and the entire Oshkosh team worked fervently to win the revolutionary DoD Joint Light Tactical Vehicle contract.
"We expect the transition of Wilson Jones to CEO to be seamless as Charlie and the Board have been preparing for this for several years. Wilson has been with the Company for a decade, gaining greater leadership and business responsibilities, as well as successfully serving as president for two of Oshkosh's business segments prior to his August 2012 appointment to president and COO."
Szews said, "I have been honored to lead this great Company and our employees in providing vehicles and equipment that make a difference in our communities by saving lives and protecting people and property at work around the world. It has been a tremendous experience, and I have confidence that Wilson Jones will lead this Company to higher levels of shareholder performance and customer satisfaction."
Wilson Jones – Biography
Wilson R. Jones is the president and chief operating officer (COO) of Oshkosh Corporation, a position he was appointed to in August 2012. Most recently, Jones served as executive vice president and president, Access Equipment where he drove domestic and international growth, customer experiences with access products and strategically developed the segment's global position. Prior to joining the Access Equipment segment, Jones was executive vice president and president, Fire & Emergency, a position which he was promoted to in September 2008. Jones was also the president of Pierce Manufacturing Inc.; he was appointed to this position in July 2007.
In addition, Jones has served as vice president of sales and marketing for the Fire & Emergency segment. Jones joined Oshkosh Corporation in 2005, as the vice president and general manager of the Airport Products Business Unit, where he led a strategic international initiative for the company.
Jones has been in specialty vehicle manufacturing for more than 25 years. He serves on the Board of Directors for Thor Industries Inc., one of the world's largest manufacturers of recreational vehicles and the Association of Equipment Manufacturers. He has also served on the Board of Directors for the Fire Apparatus Manufacturers' Association and the American Ambulance Association. Jones holds a bachelor's of business administration degree from the University of North Texas.