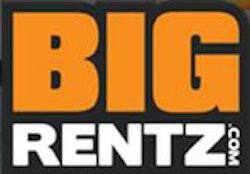 BigRentz, the world's largest online equipment rental network, announced its partnership and technology integration with Solar Technology, Inc. (SolarTech) a leading manufacturer of telematics fleet management services. This partnership provides BigRentz's network (over 7,000 construction equipment yards across the United States and Canada) with advanced GPS tracking using the SolarTrak telematics fleet management solution, allowing them to track, monitor and manage their fleet.
The BigRentz and SolarTech integration delivers a seamless management and security solution for construction equipment owners. The solution utilizes SolarTrak, an active mobile unit providing fleet managers with accurate satellite GPS data on location of their equipment in the field. In addition to location, the unit records engine hours for efficient billing and maintenance purposes, offers Geofencing capabilities, and battery voltage monitoring, all of which managers can easily and securely access from their desktop or smartphone.
"Partnering with SolarTech is the first step in bringing industry-changing technology to equipment rental," said Dallas Imbimbo, co-founder and CEO of BigRentz. "We believe this integration is a perfect fit for our network because it offers our suppliers a state-of-the-art way to manage their fleet as business with BigRentz increases their rentals."
BigRentz is leading the rental industry into the future by bringing innovative solutions to the company's twelve hundred plus equipment suppliers. A "one-stop shop" for construction equipment rentals, BigRentz's nationwide network of partners allows them to source and deliver the equipment you need, wherever you need it.
"Solar Technology is excited to partner with BigRentz, providing them our efficiency boosting technology to better serve their customers and supplier partners," said Ed O'Donnell, VP of Sales and Business Development for SolarTrak.  "The SolarTrak solution will allow the many BigRentz supplier partners (construction equipment rental yards) across the country to more effectively manage their fleets of equipment while increasing their business opportunities from BigRentz."
For more information on BigRentz, call (855)-999-LIFT (5438), or visit: www.BigRentz.com.
For more information on SolarTrak call (800)-475-5442, or visit: www.Solar-Trak.com.