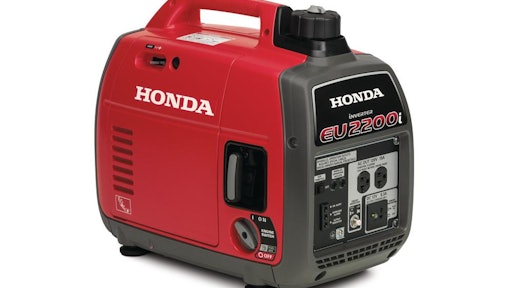 Honda
The "Portable Generator Market by Fuel (Gasoline, Diesel, Gas), Application (Emergency, Prime/Continuous), Power Rating (below 5 kW, 5-10 kW, 10-20 kW), End-User (Residential, Commercial, Industrial), and Region - Global Forecast to 2024" report found that the global portable generator market size is estimated to be USD 2.0 billion in 2019 and projected to reach USD 2.5 billion by 2024, at a CAGR of 4.1% from 2019 to 2024.
Developing nations are increasing the investments for infrastructure developments for an economic boost. The industrial and manufacturing sectors require a continuous and reliable power supply, and the growth of these sectors is expected to shape the future dynamics. Thus, the growing need for an uninterrupted power supply is expected to drive the portable generator market during the forecast period. The increasing adoption of energy storage technologies and the rising demand for fuel cell generators can act as restraints for the market development.
Portable generators are small power generation equipment. Portable generators are mainly used to run small- and medium-sized loads, including household appliances and small- to medium-sized industrial machinery, such as air compressors, drills, vibrators, and agricultural equipment. They are widely preferred due to their light weight and easy-moving capabilities.
The increasing number of weather-related and nonweather-related power outages, due to aging grids, are creating problems for small- and medium-scale businesses. Frequent power outages due to weather and aging grids are the main driver for the portable generator market.The portable generator market is segmented by fuel, power rating, application, end-user, and region. The study covers the major regions, such as Asia Pacific, North America, Europe, the Middle East & Africa, and South America. 
North America dominated the portable generator market in 2018 owing to the rising concerns over power stability for uninterrupted business operations during natural calamities. Markets in the US and Mexico are expected to grow at a fast pace during the forecast period.
The leading players in the portable generator market are Generac, Briggs & Stratton, Caterpillar, Yamaha, Atlas Copco, Honda, Kohler, Cummins, and Champion.