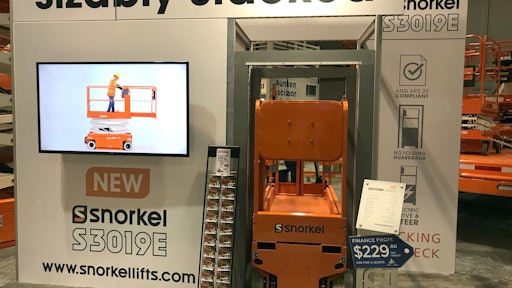 At The ARA Show 2020, Snorkel is unveiling two brand new options for existing lifts, as well as showcasing the new Snorkel S3019E electric scissor lift to ARA members for the first time. 
The Snorkel S3019E, which was globally launched at Bauma 2019, makes its ARA debut today. Featuring a patented, industry-first design with a sunken scissor stack that stows entirely inside the chassis, the S3019E has a low step-in height of 22 in. (0.55m) and a flush-mounted two-rung ladder, which helps to reduce the risk of trips and falls, as well as reducing operator fatigue. Delivering a maximum working height of 25 ft., (7.79m) the S3019E boasts a maximum lift capacity of 550 lbs. (250kg) and an overall machine weight of 3,485 lbs. (1,581kg).
Now available to order, the Snorkel S3019E complies with the new ANSI/SIA A92.20 standards, which will increase the minimum requirement for handrail height from 39 in. (0.99m) to 43.3 in. (1.09m). Its low stowed height of just 69.1 in. (1.76m) can pass through standard doorways without the need for folding guardrails. The S3019E has already attracted much praise and interest, and has won two leading industry awards in 2019 from Access, Lift & Handlers, and Lift & Access.
Another award-winning Snorkel innovation on display at The ARA Show for the first-time, is the new optional Snorkel Pressure Washer Package. Developed exclusively by Snorkel for the Snorkel 600S and 660SJ telescopic boom models in April 2019, the ground-up, factory-installed option includes a specialized generator outfitted with a durable pressure washer.
The industrial pressure washer allows operators to wash large surfaces where there is limited or no access to a water supply source. This safe, portable add-on for Snorkel 600S and 660SJ telescopic booms is completely self-contained, saving time and increasing productivity by providing a ready supply of water where needed, such as underground warehouses, construction sites and building maintenance.
Large water tanks mounted on both sides of the chassis hold up to 400 gallons of water. A fully rebuildable commercial system pump is powered by a robust, three-phase 10kW generator.
Equipped with a 3500 psi pressure washer, a high-pressure, 20 ft. (6.0m) hose reel is mounted onto the basket. The pressure washer can be operated while the telescopic boom lift is at maximum platform height, providing impressive reach. This design offers limited non-continuous 360 degree rotation for maximum wand movement and maneuverability in confined spaces.
The new option, which is now available to order in North America, on ANSI-compliant Snorkel 600S and 660SJ telescopic boom lifts, expands the capabilities of the lift, without the need for additional specialty equipment on the job. The Snorkel Pressure Washer Package was awarded Silver in the Lift & Access 2019 LLEAP Awards for Aftermarket Support Products or Services.
Visitors to The ARA Show 2020 will also see the debut of a new Kubota engine option for the Snorkel 400S and 460SJ mid-size telescopic boom lifts. Currently, the 400S and 460SJ are offered with a Deutz 2.9L 49hp (36.5kW) Tier 4 Final diesel engine as standard, however, the new option enables customers to select a simpler engine without compromising performance.
The Kubota V1505 24.9hp (18.6kW) four cylinder naturally aspirated diesel engine has been chosen as it falls under the 25hp emissions regulations, reducing complexity and maintenance requirements, as well as reducing noise.
To accommodate the smaller engine, the hydraulic system has been updated and is common with the hydraulic system and engine utilized on the Snorkel A46JRT articulated boom lift. With the Kubota engine, the 400S and 460SJ still achieves 50% gradeability, has a stowed drive speed of 4.25mph (6.8km/h), and equivalent function and control speeds as the Deutz version.
Alongside the new products and options, Snorkel will be utilizing its enlarged 50' (15.2m) x 80' (24.3m) booth space to showcase more than 20 popular Snorkel lifts, including a bi-energy version of its narrow S2755RT rough terrain scissor lift that made its ARA Show debut in 2019.
For more information, please visit Snorkel at Booth #5416 in the Construction Hall at the Orange County Convention Center in Orlando, Florida from February 10-12, 2020, or visit Snorkel online.