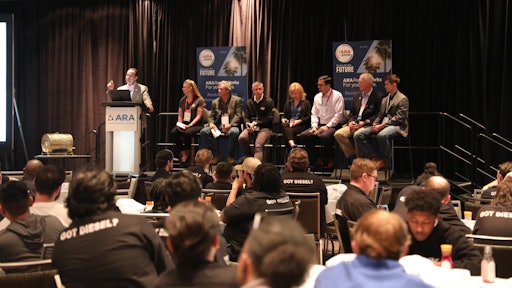 In the midst of a significant skilled labor shortage impacting Orlando and the entire U.S., the American Rental Association (ARA) hosted ARARentalWorks Day on Feb. 12 at The ARA Show in Orlando, Florida. The event at the Orange County Convention Center educated hundreds of local trade and technical students about service technician careers in the rental industry — a fast-growing, dynamic and environmentally friendly sector. 
During ARARentalWorks Day, students from Orlando's Universal Technical Institute, Osceola Technical College and Orange Technical College heard from rental business owners and managers regarding the size and scope of the rental industry and specifics about service technician jobs. To get a first-hand look at the booming industry, they also toured the floor of The ARA Show — the world's largest equipment rental-specific convention and trade show. Held Feb. 9-12, The ARA Show featured more than 700 exhibitors across the construction/industrial, general tool/light construction and party/special event rental segments.
No two days are the same for rental industry service technicians, who have a unique skill set that merges mechanical knowledge, organizational skills, customer service and physical capabilities. Service technicians help customers with equipment maintenance and repair, selection, proper usage, loading and unloading, and cleaning returned equipment — all of which are instrumental in a great customer experience. The average national hourly wage for highly skilled service technicians in rental is $23.73 an hour.
"ARA is dedicated to raising awareness of careers in rental to ensure a qualified and sustainable workforce for rental business owners," said Tony Conant, ARA CEO. "ARARentalWorks Day was an exciting way to help Orlando students discover exciting, good-paying and rewarding opportunities down a non-traditional and lesser-known career path in the rental industry."
The equipment and event rental industry is one of America's fastest-growing business sectors and is expected to reach $65 billion in revenue by 2022. Rental businesses create a positive influence on communities and contribute to economic expansion by providing the tools and equipment needed to build a stronger economic base for the community.
Rental is an original sharing economy — a concept that includes newer companies like Uber and Airbnb. Long before sustainable practices like ride-sharing and home-sharing went mainstream, there was renting of equipment. Renting is one of the original eco-friendly habits, because sharing items through rental enables people to get exactly what they need for their project or event while minimizing consumption and waste.
Service technician is one of many opportunities available to students, young professionals, members of the military, and others seeking meaningful career paths. Other jobs include tent technician, warehouse associate and counter associate.
"From constructing the next neighborhood park, to putting on a memorable event, to working at a store that rents out the equipment and party supplies — the equipment and event rental industry has numerous rewarding careers to consider," Conant said.
Companies in this article