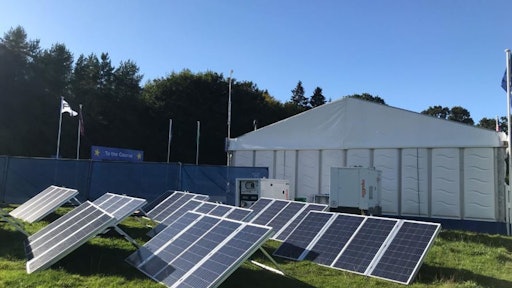 Aggreko
Aggreko will power the 2020 Aberdeen Standard Investments Ladies Scottish Open, which teed off on Aug. 13, at The Renaissance Club in North Berwick, Scotland.
Aggreko is providing supplementary power to the three-day event, which features 156 players competing for a share of the $1.5 million prize fund. The services that Aggreko provides will support the smooth running of the event, powering critical services including the broadcast compound, which will transmit the event to fans around the world who can't attend in person because of coronavirus-related restrictions.
The tournament, which is part of both the Ladies' European Tour and the LPGA, marks the return of professional women's golf to Scotland for the first time since Europe's win in the 2019 Solheim Cup last September, at which Aggreko provided a hybrid power solution that integrated solar panels into the event's power mix for the first time in history.
It also comes ahead of the AIG Women's Open on Aug. 20-23, which is taking place at The Royal Troon Golf Club in Troon, Scotland. Aggreko will again provide power solutions to the broadcast compound,  championship office, and on-course screens, among other facilities.
At both events, Aggreko will be deploying rental equipment, including generators, distribution boards, and cables, all backed by the Aggreko Events Services team. The company's solutions are designed to integrate seamlessly with existing mains power provision to the golf clubs, and will be focused on efficiency, with the Aggreko Events Services team managing systems that include synchronized generators that cycle on and off as power demand fluctuates to provide optimal power supply constantly.
Six-time winner in the Ladies' European Tour and Aggreko ambassador Mel Reid will be competing in the AIG Women's Open as she seeks to add to her winning record. Reid was a vice-captain on the European team that won last year's Solheim Cup.
"The work that Aggreko does is critical in making these events run smoothly, and the facilities that they power allow us to perform to our best," Reid said. "And of course, Aggreko's help is vital to the broadcasters that will allow fans around the world to view these closed-door events."
"It's great to see women's professional golf returning to Scotland's courses, and at Aggreko, we're proud to be doing our bit to support these events for the players and fans at home," said Robert Wells, managing director of Aggreko Events Services. "Our team will be working around the clock to make sure that these events have the power they need, and I'm grateful to them for all that they do."