Makinex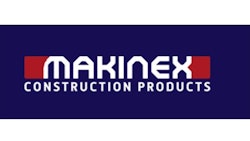 John Hendry has joined Makinex as the new national account manager, aiming to strengthen partnerships with key national accounts. The announcement builds on Makinex's pioneering mission to make inefficiencies extinct.
With an emphasis on overall operational-efficiency and safety, alongside providing high return on investment (ROI) products, the goals set to be accomplished are top-tier corporate support and ground-level daily support. Hendry's 30-plus years of industry experience in conjunction with his extensive proven record of establishing long-term successes between partners are a sure-fit ticket to scaling partnerships to the next level.
"His tenacity in building strong, loyal, successful partnerships is unmatched. And although 2020 has taken all of us for a wild ride, we have an extremely positive outlook for 2021 and the years to come. We're looking forward to John helping us sustain the coming growth not only for Makinex but for our partners," said Peter Maginnis, general manager.
Companies in this article