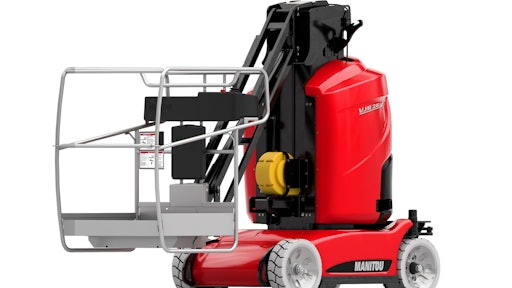 Manitou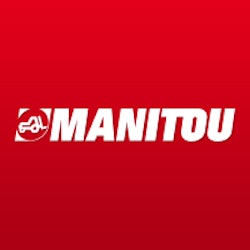 Manitou has added the new VJR 26 vertical mast platform to its elevated work platform product line up for the North America market.
The Manitou VJR 26 vertical mast platform, built for the rental market, incorporates innovation and technology into its design to focus on safety, performance, and low cost maintenance. 
Compact and maneuverable, this model consists of a vertical telescopic mast, electric travel motor, and a perforated steel basket. With a 350° turret rotation, it offers operators greater flexibility and access with minimal repositioning. The compactness of the VJR 26 work platform allows operators to pass through most industrial doors, accessing work heights up to 32-ft. with an impressive reach of 10 ft., 4 in.
The VJR 26 vertical mast design ensures great stability thanks to its center of gravity located in the lower area of the chassis. The telescopic mast technology delivers a compact structure, which increases visibility of the machine and the work environment during operations by the operator in the basket. The controls in the Manitou VJR 26 are simple and intuitive for quick start. They are equipped with safety features including load and tilt sensors as well as an anti-entrapment system for additional safety.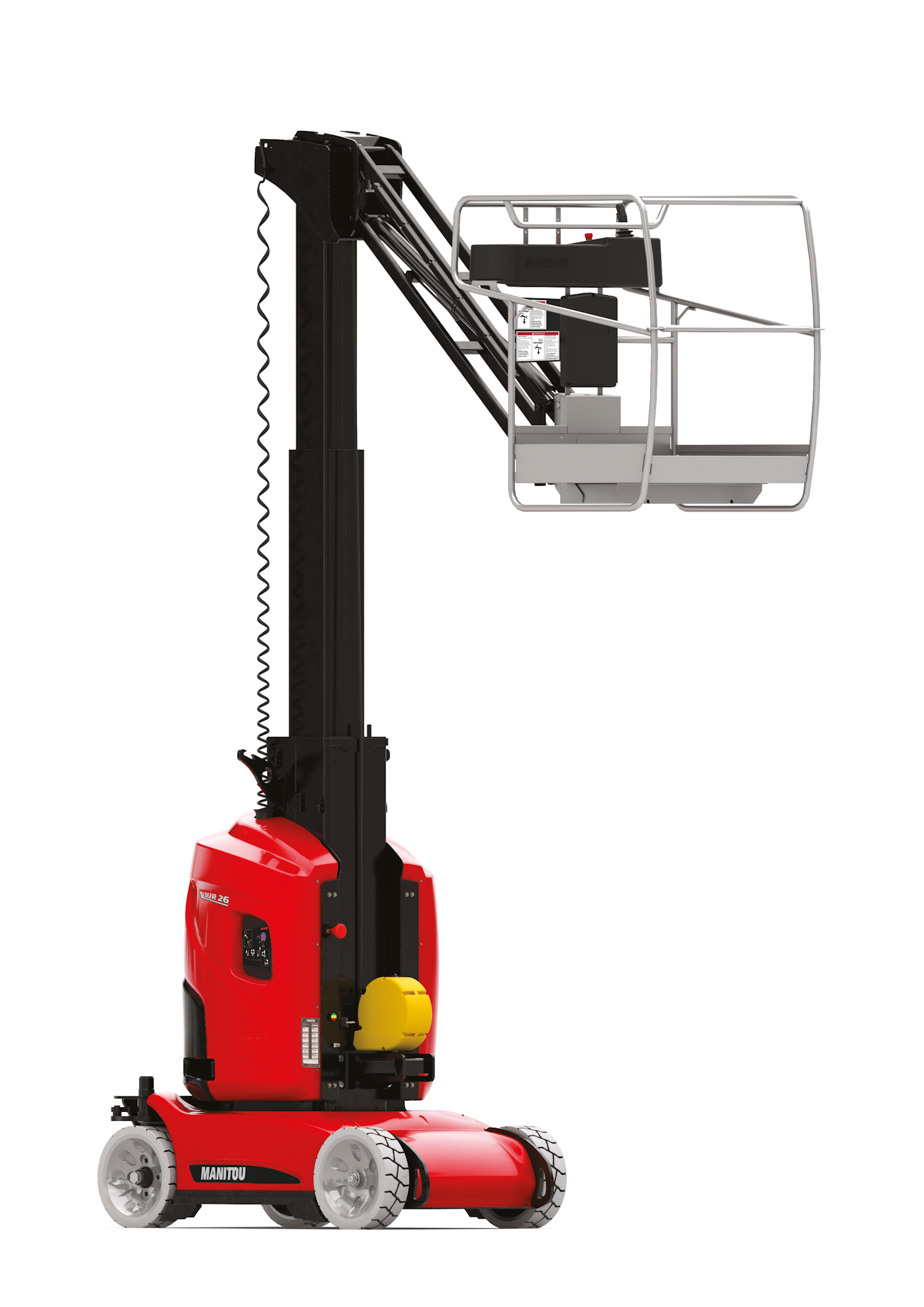 "The new VJR 26 vertical mast platform is engineered with the customer in mind, incorporating new innovative features in safety and performance," said Francois Desbriere, global product line manager for MEWPs, Manitou Group. "The VJR 26 can quickly make multiple movements at the same time, from changing the platform direction to lifting the boom and rotating the machine, making it one of the most efficient in the industry."
Standard with a 24V battery, the VJR 26 offers enough autonomy for a complete day of work and ensures many years of service life. The lifting structure using telescopic booms reduces the maintenance thanks to the reduction of moving parts. The operator can easily access the battery and hydraulic components by unlocking the latches of the turret cover.
An added benefit to the VJR 26 is the ease and safety of transportation of the vertical mast platform. Two forks pockets are located on the platform to allow a forklift to load and transport the machine sideways. This allows loading of the machine top of a trailer faster and safer.
Machine maintenance is simplified with a self-diagnostic panel at ground level to quickly detect fault codes. Manitou's telematics system gives the ability to manage the unit's location, maintenance cycles, and service warnings, and comes with a two-year/2,000-hour warranty. 
These machines are fully supported and available at Manitou dealerships across the United States and Canada.
Request More Information
Fill out the form below to request more information about
Manitou Adds VJR 26 Vertical Mast MEWP to Offering