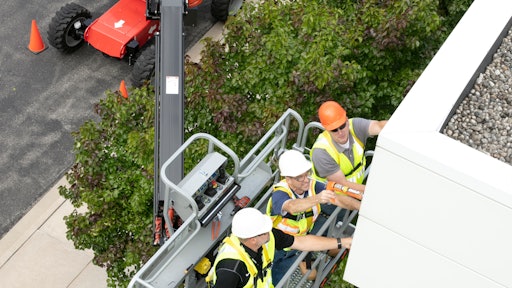 Manitou is lifting its presence in the mobile elevating work platform (MEWP) sector with the launch of a full line of boom lifts in North America, a $30 million investment in its production operations in Cande, France, and a commitment to global training, service and support.
Manitou first began selling MEWPS in Europe in 1993 with the launch of its first electric articulated platforms. It continued to expand the range through 2018, when it officially launched its first products in North America.
The company is now expanding its North American lineup to include a full spectrum of boom lift models, seeing future opportunity in market growth despite the current downturn reported in the North American MEWPs market (- 14%). The company cited the American Rental Association's forecast that the market will surpass $71 billion in 2023. With 95% of the machines sold to rental locations, the MEWP rental market alone is expected to exceed $24 billion by 2024.
Consequently, Manitou is offering a full range of models, as well as expanded product support that encompasses field service training, expanded service parts availability and technical phone support.
Full MEWP Product Offering Available
The Group's product lineup in North America now includes four articulated diesel, two articulated electric and four straight boom models.
The newest diesel-powered articulated boom MEWP is the ATJ 60, which delivers a platform height of 59 ft. 11 in., platform capacity of 500 lbs. unrestricted and a horizontal outreach of 39 ft. 4 in. Learn more about this new model via the link below.
Manitou Expands Diesel Articulated Boom Lifts with ATJ 60
Manitou also marked the debut of its straight boom models to the North American market. These models offer platform heights ranging from 64 ft. 9 in. to 84 ft. 6 in., platform capacities from 500 to 900 lbs. unrestricted and horizontal outreach from 57 ft. 10 in. to 70 ft. 4 in. All four models are designed with customer benefits in mind, with features such as smooth platform operation, four simultaneous movements, constant rotation control, four-wheel drive, three steering modes and more.
Learn more about these new machines via the link below.
Manitou Debuts Straight Boom MEWPs to North American Market
Increased Production Capacity Ahead
The Manitou Group started construction in September on a new factory in Cande that will be dedicated to aerial work platforms. This new industrial facility will allow the Group to respond to market growth in Europe and beyond, particularly in the United States, where the Group began distributing its products at the end of 2018.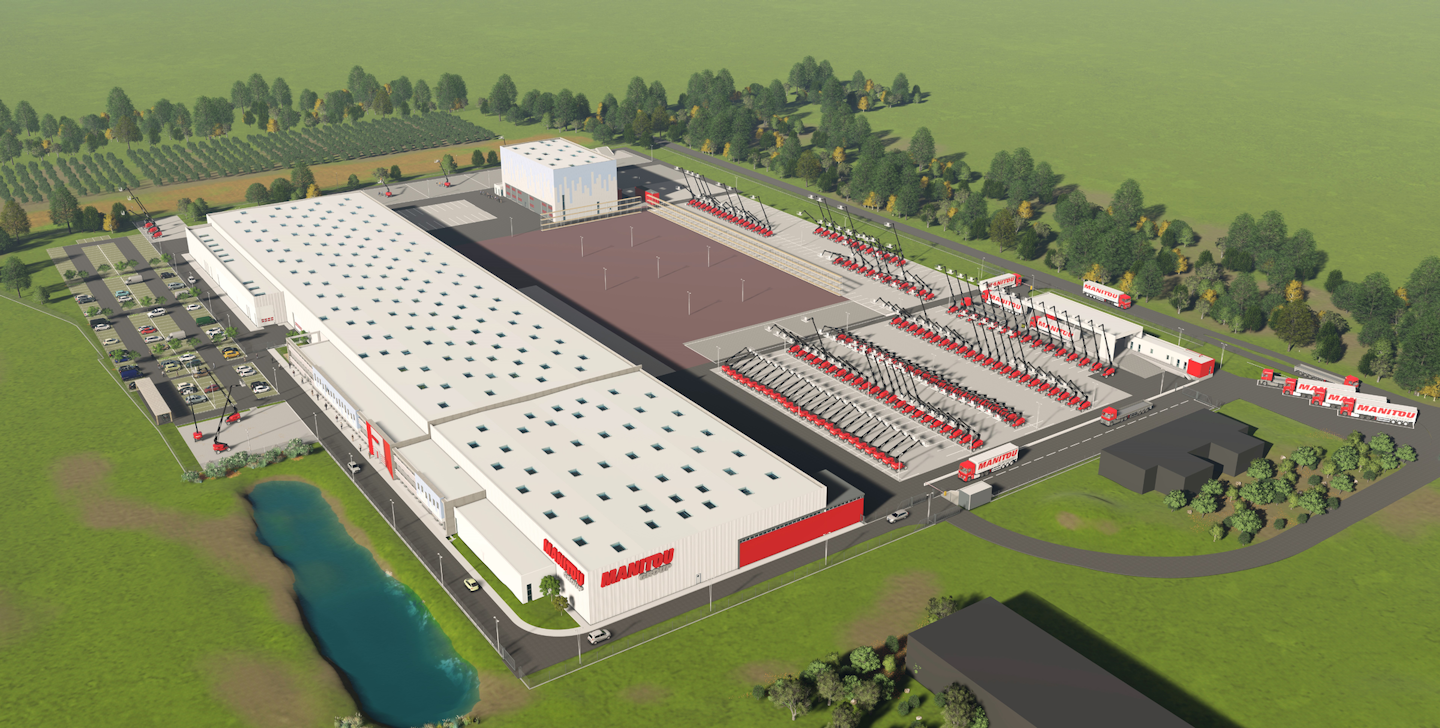 Rendering of new production facility in Cande, FranceThe new plant will have a surface area of 80,000 m² and 18,000 m² of industrial area and will be dedicated to production of rough-terrain MEWPS. An existing facility in the area will continue to produce industrial MEWPs.
Manitou also plans to open a new training center at its Ancenis headquarters by the end of 2019, and a customer center and showroom in 2020. Plans are also in place to open a new headquarters by the end of 2021, with continued global investments anticipated.