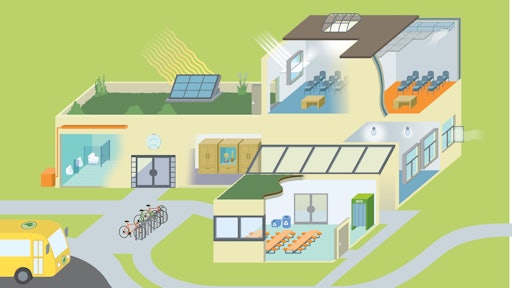 The Green Building Certification Institute (GBCI), the certification body for the U.S. Green Building Council's (USGBC) LEED green building program, and Bureau Veritas have signed a Memorandum of Understanding to facilitate the LEED program. LEED is the world's foremost program for the certification of design, construction, maintenance and operations of green buildings.
As part of the agreement, Bureau Veritas shall perform certification review for LEED projects internationally on behalf of GBCI. The partnership furthers the GBCI's commitment to a transparent, independent and professional certification process and shall leverage the global presence of Bureau Veritas.
The green building market is expected to grow by 780% reaching 5.3bn sqm of certified space worldwide by 2020. This massive trend is driven by growing expectations for improved performance of buildings worldwide and the health and well-being of building occupants. Buildings and infrastructure represent approximately 40% of global energy consumption and the green building movement has the potential to significantly reduce this environmental impact. Green buildings are quickly becoming the norm with massive growth expected in the world's leading construction markets such as China, India and Brazil.
Studies have shown that LEED buildings offer occupants a better working environment leading to an increase in overall productivity. Other benefits include higher asset value, better energy performance and lower operating costs.
"Partnering with the GBCI and USGBC, places Bureau Veritas at the forefront of this growing market", specifies Didier Michaud-Daniel, CEO Bureau Veritas. "Our teams are dedicated to helping our clients improve people's daily lives the world over through the implementation of the LEED standard".
"Entering into an agreement with Bureau Veritas will enable USGBC to provide consistent quality of service globally," said Rick Fedrizzi, president, CEO & founding chair, USGBC. "Our new strategic partnership will enable both parties to address the expanding green building market with the high levels of quality the market demands."
The Agreement was signed between the two parties on 24th July and will go into effect immediately with a global reach. The first buildings to be certified by Bureau Veritas within this partnership are due to be delivered later in 2015.