AeroAggregates, the first vertically-integrated manufacturer in North America to produce ultra-lightweight, closed cell foamed glass aggregates (FGA), has completed installation and is now operational on its second kiln, doubling production capacity to meet growing U.S. demand.
The kilns at AeroAggregates use 100% post-consumer recycled glass to produce a building aggregate that is lightweight, non-combustible, insulating, free-draining, non-absorbent and resistant to chemicals, rot and acid. This makes FGA superior for construction, lightweight embankments, load distribution platforms and insulating subgrade, as well as lateral load reduction behind retaining walls and structures. Foamed glass aggregates also possess a highly frictional surface which makes it ideal as a lightweight backfill.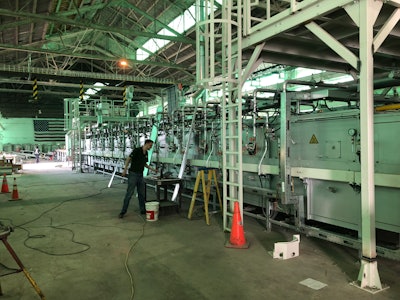 "Our ultra-lightweight FGA can solve the challenges of today's infrastructure projects, especially for those that require fill to be placed over soft compressible materials, weight-bearing structures or over areas with sensitive underground infrastructure," explained Archie Filshill, CEO and Co-Founder of AeroAggregates. "We're excited to fire up our second kiln in order to meet increased demand from the civil engineering and construction markets that require sustainable, lightweight materials due to specialized design and constructability requirements."

With the addition of the new AeroAggregates kiln, the equivalent of more than 140 million recycled curbside glass bottles (or 32,000 tons) will be diverted each year, bringing relief to municipal recycling operations. According to a recent study, municipal recycling programs spend approximately $150 million annually to dispose of unwanted glass. The FGA manufacturing process employed by AeroAggregates can utilize mixed color glass and, due to its advanced cleaning system, is unaffected by small amounts of residual paper and other contaminates.
The new 60-foot foamed glass kiln was imported from Europe where, for many years, FGA technology and manufacturing have been used heavily by the civil engineering market. A recent report by market research firm BauInfoConsult found that the European architects they surveyed intend to use more natural insulating materials (wood wool, hemp, cork and granules such as FGA) in upcoming residential and commercial construction projects reducing their use of polystyrene, polyurethane and polyisocyanurate. Unlike the non-combustible nature of FGA, materials like expanded and extruded polystyrene, commonly used when lightweight construction materials are specified, are falling out of favor in the industry due to their flammability.

The company's unique FGA manufacturing process, obtained through an exclusive license from a Europe-based firm, starts with curbside recycled glass powder which is then mixed with a foaming agent. The mixed powder is sent through a kiln and softened by temperatures reaching 1,800°Fahrenheit. During this process, the foaming agent creates bubbles within the softened glass, which ultimately creates foamed glass aggregates. The output produced is a remarkable material that creates a superior building product offering many sustainability benefits.
AeroAggregates is the first vertically-integrated company in North America to produce ultra-lightweight closed cell FGA from 100% recycled glass. The company's manufacturing capabilities include the ability to make several types of foamed glass including both open and closed cell aggregates. The founders of AeroAggregates realized the need for a sustainable solution for lightweight construction materials due to increased design or constructability requirements. Today's civil engineering challenges include construction on soft soils, lateral load reduction behind retaining walls and structures, insulating subgrade and backfill, and the protection of underground utilities. AeroAggregates provides an answer to many of these challenges by supplying a lightweight material with a high friction angle that is also insulating, free-draining, non-absorbent, non-combustible, and resistant to chemicals, rot and acid. Its manufacturing plant is located in Eddystone, PA, a brownfield redevelopment site that was formerly the location of Baldwin Locomotive Works.