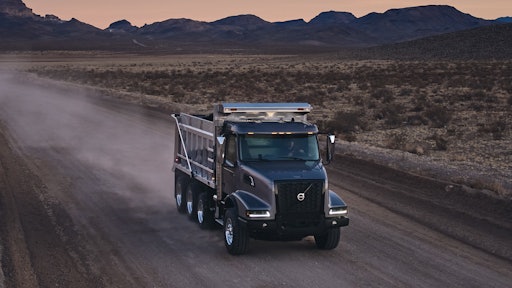 Volvo Trucks
The time frame from January through March is typically a busy one for commercial truck announcements. Major trade shows including World of Concrete, the NTEA Work Truck Show and CONEXPO-CON/AGG provide the forum for manufacturers to display their latest wares.
Usually, there are one or two major announcements that dominate the headlines. This year, however, there was a rapid succession of products and options being introduced that have the potential to shake up the commercial truck market.
Mack Re-enters Medium-duty Segment
Mack Trucks is entering the Class 6 and 7 medium-duty truck market with the MD6 and MD7 models. The MD6, a Class 6 model, has a gross vehicle weight rating (GVWR) of 25,995 lbs., while the MD7, a Class 7 model, has a GVWR of 33,000 lbs.
Available in 4x2 configurations, the MD6 and MD7 feature a sharp wheel cut for enhanced maneuverability in crowded urban settings. The MD Series cab design features a short bumper-to-back-of-cab (BBC) measurement of 103 in. Mack matched the exterior bold look and styling of the Mack Anthem, Mack's highway model, as a basis for the grille and hood design found on the MD Series.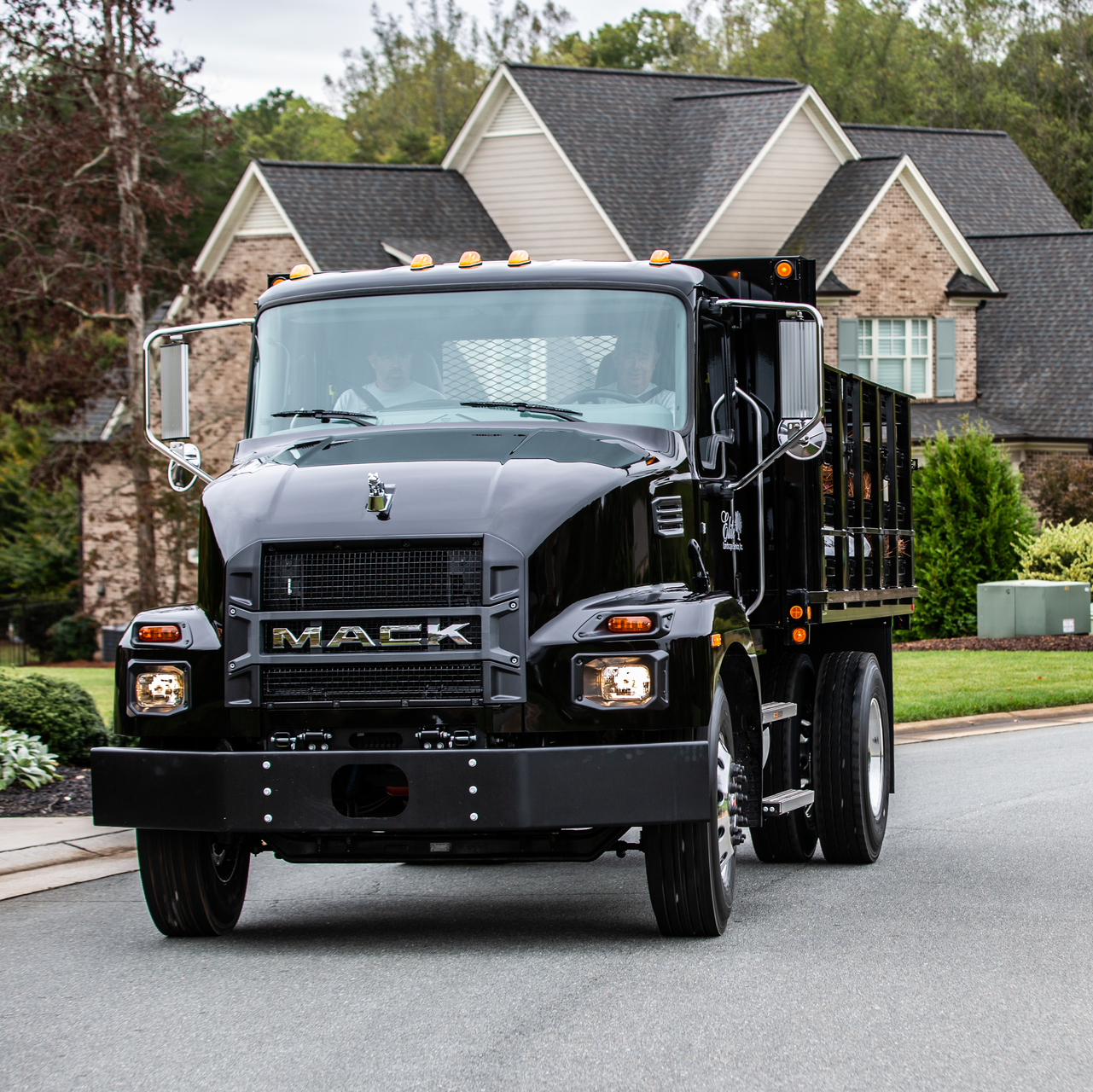 Available in 4x2 configurations, the MD6 and MD7 models feature a sharp wheel cut for enhanced maneuverability for crowded urban settings. The MD Series cab design features a short bumper-to-back-of-cab (BBC) measurement of 103 in.Mack Trucks
The new trucks are offered with the Cummins B6.7 L engine with 220 to 330 hp and 560 to 660 lbs.-ft. of torque. Allison automatic transmissions are utilized, with the 2500 HS standard and the RDS an available option. Both the front and rear axles are from Meritor.
[VIDEO] Mack Reveals Key Features of its New Medium Duty Class 6 and 7 Trucks
"We're now absolutely able to provide a single-source solution for all of our customers with the addition of the medium-duty [truck]," says Jonathan Randall, senior vice president, North American Sales and Marketing, Mack Trucks.
The company is also working to reduce the effects of the rigorous demands of the jobsite by bringing its Mack Command Steer active steering system to the Granite axle-back models. Mack Command Steer reduces driver fatigue and can help cut muscle strain up to 30% by combining an electric motor with the existing hydraulic steering. Mack Command Steer for the Granite axle-back models will be available for order in the third quarter.
"With the added steering assist from Mack Command Steer, we are able to reduce driver effort by 85% and significantly improve driver productivity and jobsite safety," says Roy Horton, Mack Trucks director of product strategy.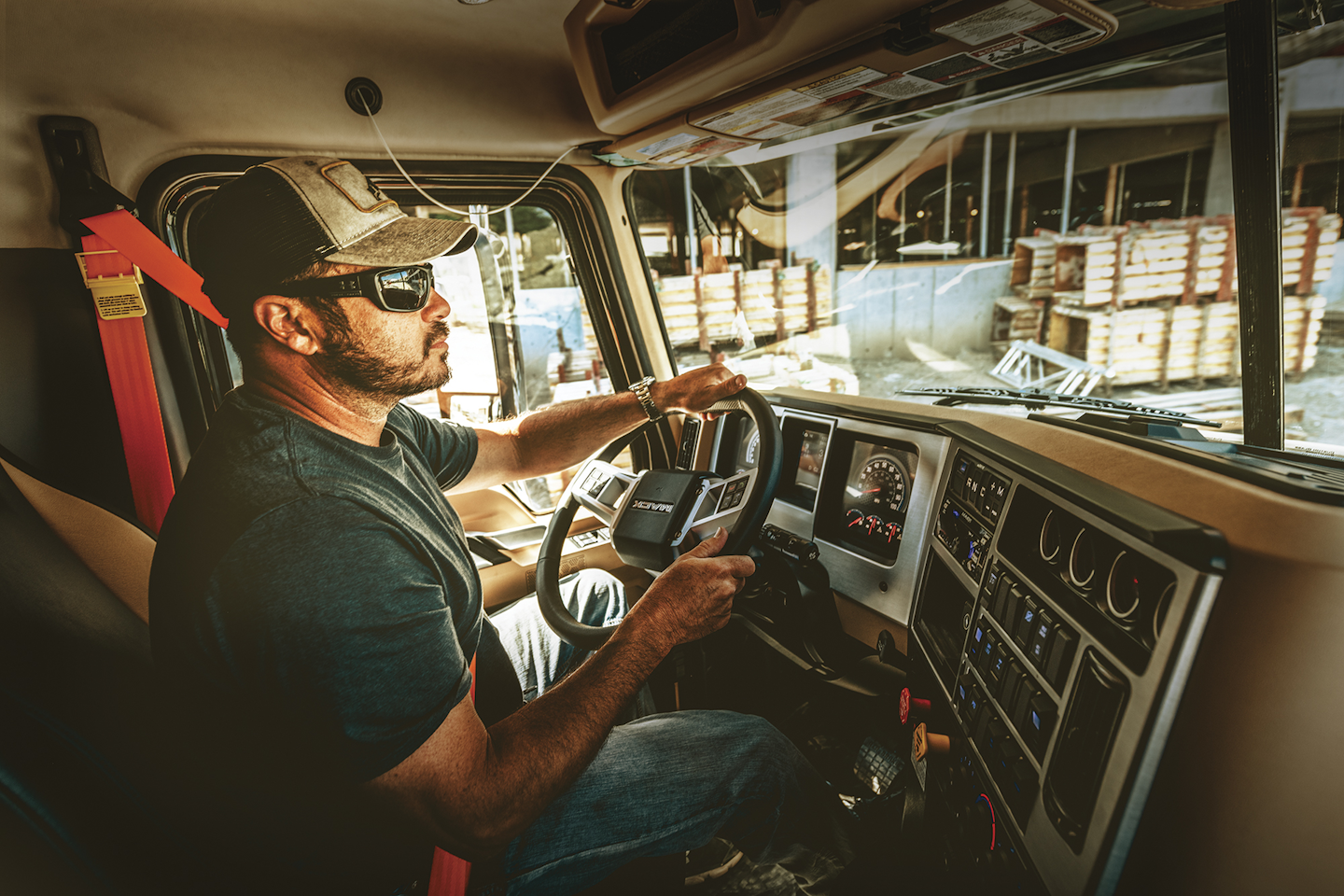 Mack Command Steer, we are able to reduce driver effort by 85 percent and significantly improve driver productivity and jobsite safetyMack TrucksThe active steering system monitors terrain, driver inputs and environmental elements more than 2,000 times per second through sensors found throughout the truck. Based on that input, the system provides variable steering effort through its electric motor, which applies additional torque as needed to the steering.
In addition to significantly reduced steering effort at slow speeds, the system also helps filter out uneven terrain such as the holes, dips and ruts common to most jobsites. When such an irregularity is detected, the system reacts to counter the steering force, smoothing steering feedback and reducing the possibility of steering wheel "kicks."
"While drivers will experience a significant reduction in steering effort, particularly on uneven jobsite surfaces, Mack Command Steer brings many benefits to on-road driving, as well," Horton says. "The system will also compensate for situations, like strong winds and crowned roads, helping drivers maintain greater control so they can focus on the task at hand."
The system also features a return-to-zero capability that automatically returns the steering wheel to the zero or center position in forward and reverse. This helps simplify tight maneuvers such as backing a trailer or positioning a dump or mixer to unload.
Volvo Redesigns VHD
Volvo Trucks North America made the most significant evolution of its VHD vocational offering in decades. The new VHD provides a number of notable upgrades, including:
An updated exterior gives a modern look. The VHD has a new grille design, as well as new LED high/low beam headlights. The fully sealed headlamp component offers a brighter, more focused beam for increased visibility. An available de-icing feature burns through ice and snow that accumulates on headlamps in colder weather.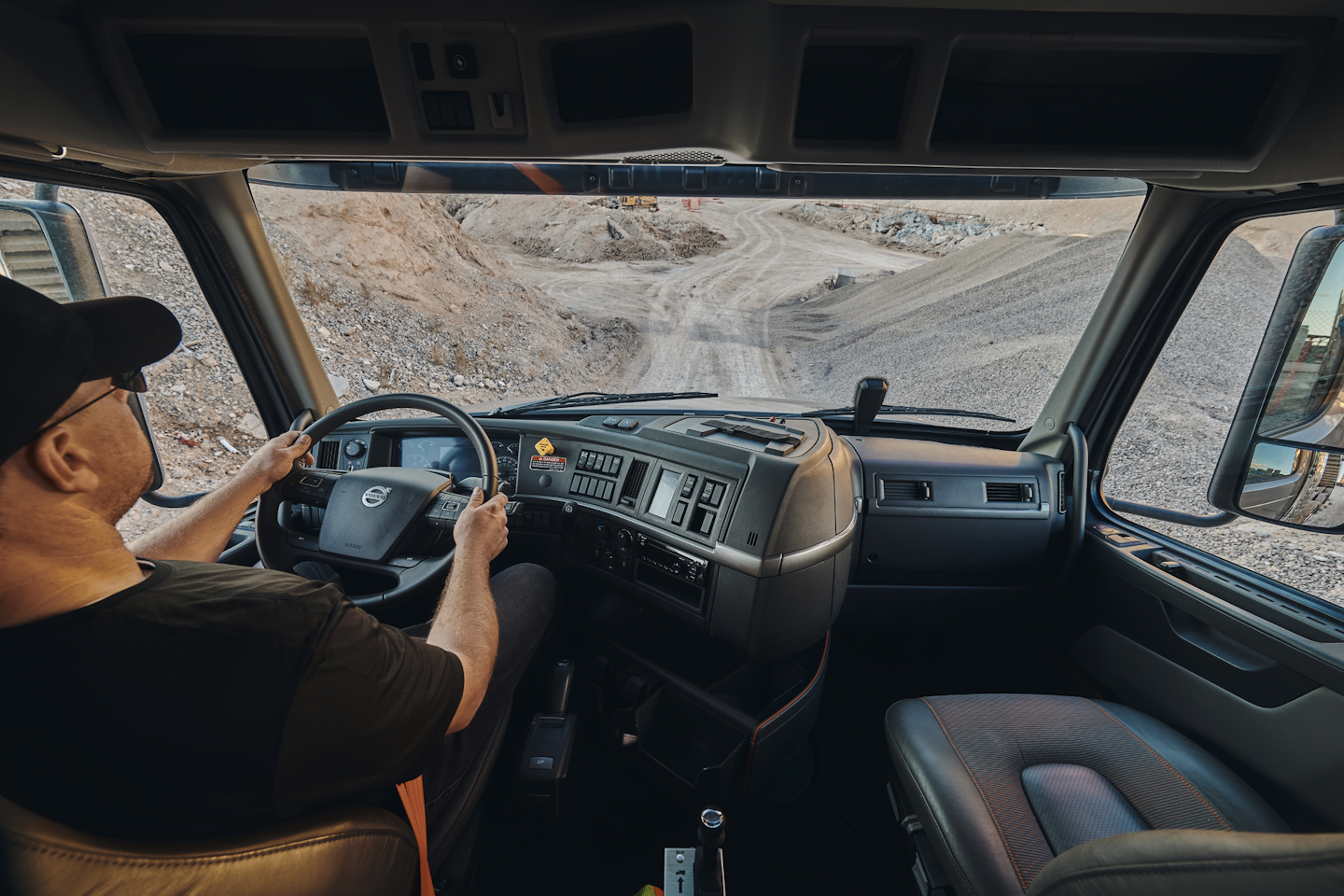 The Volvo VHD features Volvo Dynamic Steering (VDS) and the next generation of Volvo Active Driver Assist (VADA).Volvo Trucks North AmericaSafety and productivity features for the vocational industry include Volvo Dynamic Steering (VDS) and the next generation of Volvo Active Driver Assist (VADA). The VDS system delivers a safer, more comfortable driver experience by adding torque to reduce steering strain at low speeds and remove vibrations caused by rough terrain. The next-generation VADA provides integrated radar/camera capabilities, automatic emergency braking, highway departure warnings, adaptive cruise control and more.
A new VHD bumper features a 45-mm tow pin rated for a full 80,000 lbs. Responding to customer requests, the tow pin allows for a quick pull out of sticky situations, thereby increasing uptime and drivers' peace of mind.
A redesigned interior offers improved driver comfort and productivity. The truck's ignition has been moved to the lower left-hand side of the dash, while the steering wheel buttons are more touch-friendly and clustered intuitively to help drivers feel more confident.
The Volvo I-Shift transmission with crawler gears adds one or two gears to the 12-speed I-Shift transmission, enabling the VHD to start on steep grades, provide low-speed control and reach maximum highway speeds with faster rear axle ratios.
Volvo T-Ride suspension applies constant pressure on the wheels to create sure-footed traction. It also offers a new ride stiffness option for mixers and trucks with wing plows.
The latest in connectivity solutions such as Remote Programming and Remote Diagnostics allow customers to use real data insights to make the right decisions for increased safety and productivity.
Western Star Teases New Truck
Western Star provided a sneak peek of its newest model in its vocational truck product portfolio. The truck was scheduled to be fully unveiled in summer 2020.
The new Western Star truck is part of parent company Daimler Trucks North America's (DTNA) recently announced segment strategy to deepen its focus on segment-specific needs. The newly unveiled structure strengthens DTNA's customer- and application-focused commitment to vocational customers, while the new truck leverages all of the global design and engineering resources of Daimler.
In 2019, Western Star introduced an enhanced version of its best-selling truck model, the 4700, which includes updates such as a refreshed interior, more powertrain options, additional truck equipment manufacturer-friendly features, and new active safety features. The newest truck will continue the company's emphasis on productivity, driver comfort and safety while retaining the distinctive styling of a Western Star truck.
International Introduces Lightweight Mixer Spec
International Truck introduced a lightweight spec for its HV Series. The HV50B mixer package removes over 1,000 lbs. of weight from the vehicle, with engineering optimizations that allow drivers to haul up to 9.75 cu. yds. of concrete while staying under 66,000 lbs. GVW. The result of these changes means that customers currently only able to legally carry 9 cu. yds. of concrete will be able to increase their revenue by $750 per truck per day. The spec also includes fringe benefits such as enhanced safety due to improved line of sight for the driver.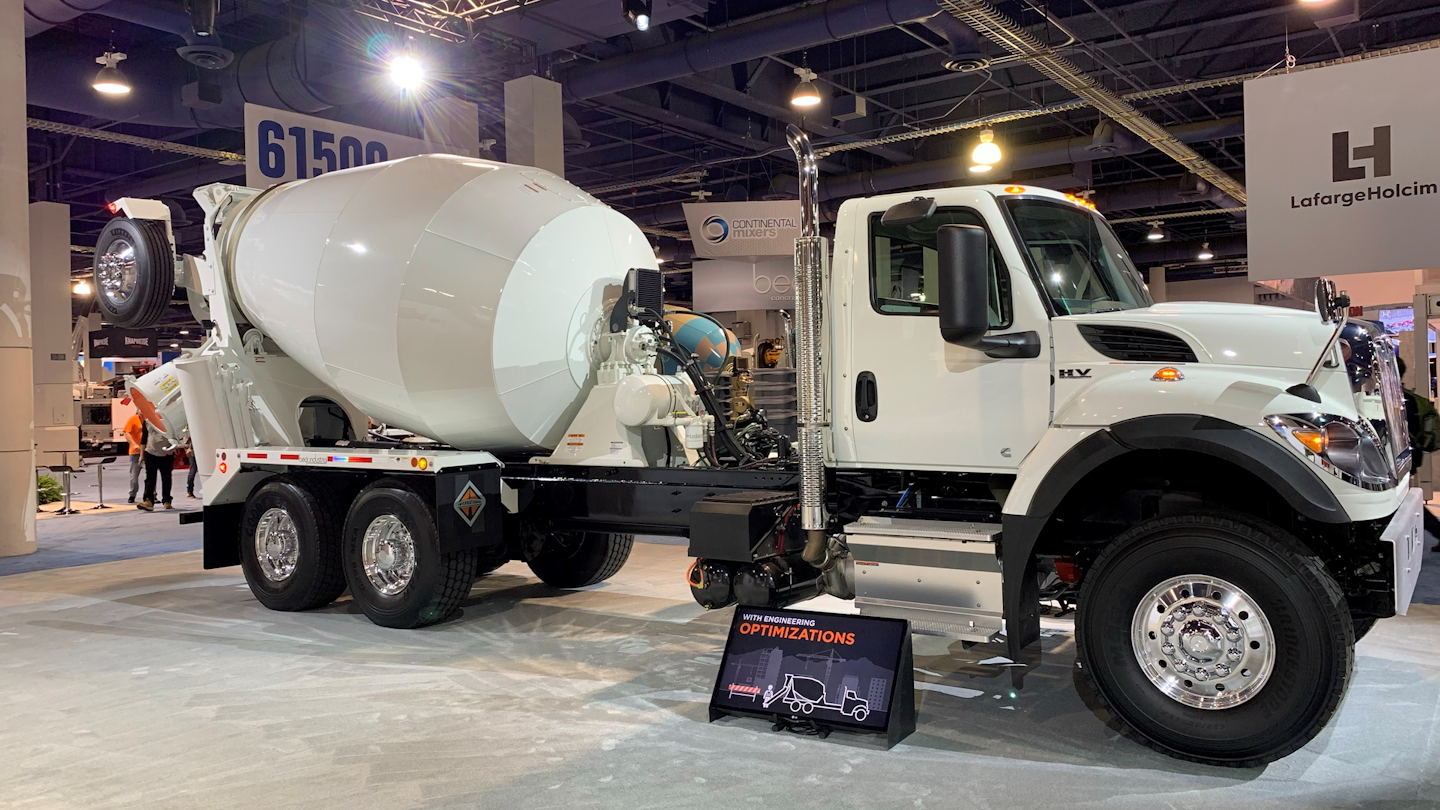 The International HV50B mixer package removes over 1,000 lbs. of weight from the vehicle, with engineering optimizations that allow drivers to haul up to 9.75 cu. yds. of concrete while staying under 66,000 lbs. GVW.NavistarThe idea stemmed from a conversation between the company and a potential customer. "A major concrete producer was excited about our HV series but had some constructive feedback regarding the chassis weight and line of sight for their application," says Mark Stasell, vice president, Vocational Truck Business, Navistar.
The spec is designed specifically for saving pounds that don't affect the integrity of the vehicle. It features a lightweight aluminum bumper that is used on the International HX series. The team also optimized the front suspension components, allowing for a lower hood height, increasing visibility for the driver and improving safety on the work site.
The fuel water separator and air dryer have been mounted on the same bracket, saving the weight of multiple brackets and getting out of the way for concrete mixer hydraulics. In addition, the team optimized crossmember locations, further reducing the weight of the chassis. This leads to less cost for the customer, as truck equipment manufacturers do not need to relocate crossmembers.
Kenworth with Bendix Wingman Fusion System
The Bendix Wingman Fusion advanced driver assistance system with an enhanced feature set is now available on select new Kenworth heavy- and medium-duty trucks. The system is standard for the on-highway flagship Kenworth T680 and optional for the T880 vocational and T270 and T370 conventional medium-duty models.
Kenworth customers will benefit from the new Highway Departure Braking (HDB) and Multi-Lane Autonomous Emergency Braking (MLAEB) features available in the latest Bendix Wingman Fusion.
HDB builds upon Bendix Wingman Fusion's existing lane-departure warning capability. It provides auditory and visual alerts to the driver and, if necessary, applies the foundation brakes to reduce vehicle speed if the system determines the vehicle has left the roadway unintentionally.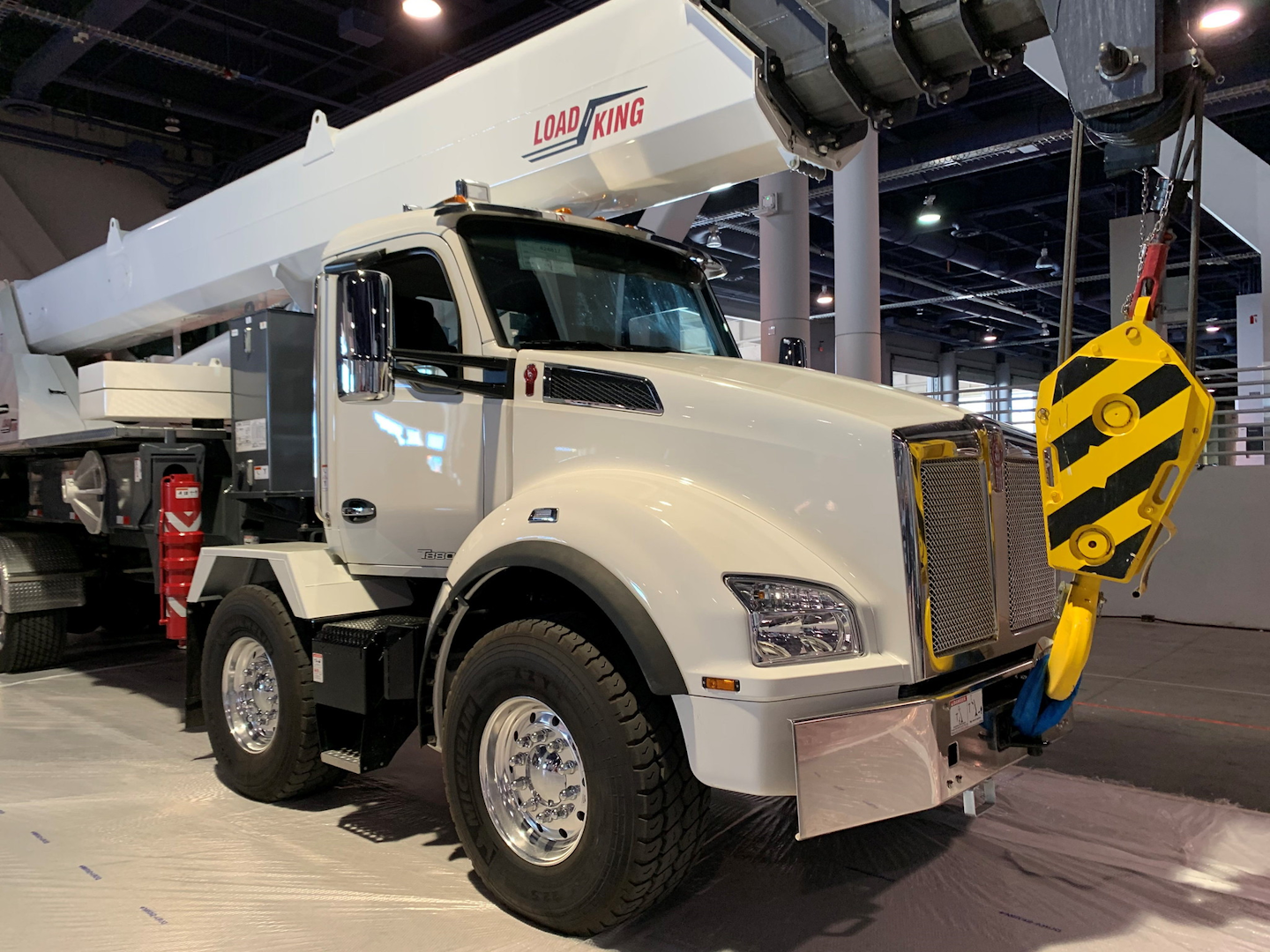 The Kenworth T880 Twin Steer with set-back front axles is ideal for crane, mixer and other vocational applications that require 86-in. axle spacing to meet local bridge laws and enhance overall load carrying capacity.KenworthMLAEB can help the driver mitigate the first, and potentially, second, collision situation when more than one highway lane is blocked. Once a collision-mitigation braking event begins and the driver steers into an adjacent lane to avoid the forward vehicle, Bendix Wingman Fusion's new MLAEB feature continues to apply the brakes, if needed, when it detects another forward vehicle blocking the path in the new traffic lane.
In addition, Kenworth has introduced an optional diesel exhaust fluid (DEF) tank with integrated steps designed for the T680 and T880. With this option, the access steps to the deck plate are mounted directly over the DEF tank without requiring additional frame space. The placement of the steps can free up as much of 16 in. of valuable frame space. The resulting shorter wheelbase can further enhance the maneuverability, especially in tight urban areas or jobsites.
The option is available with Kenworth's 21-gal. medium-size aerodynamic DEF tanks. It is not available with full or partial chassis fairings.
A factory-installed twin steer configuration is also available for the T880. Available as a day cab, the T880 Twin Steer with setback front axles is suited for crane, mixer and other vocational applications that require 86-in. axle spacing to meet local bridge laws and enhance overall load carrying capacity.
The T880 Twin Steer provides 40,000-lb. rated front axles, springs and steering gears. The front suspension is equalized between the front and rear steer axles for greater driver comfort and payload distribution. The vehicle is standard with a 116.7-in. BBC short hood optimized for the PACCAR MX engine family. The 122.6-in. standard BBC hood is an option for the MX-13 and the optional Cummins X15 engine.
A T880S Twin Steer model with set-forward front axles and 61-in. axle spread was introduced in 2018.
American Eagle Clean Power Service Truck Solution
American Eagle, a division of Stellar Industries, introduced the Hybrid Power Source (HPS), a self-contained hydraulic power source that utilizes automotive-grade lithium ion technology to provide a system that is low-voltage, anti-idle compliant and quiet during operation. The HPS allows companies to operate hydraulic equipment without the use of the chassis engine.
Using the reliability of Volta lithium ion technology, the HPS offers up to eight hours of run time and more than 10 years of life. With 13.5 kWh of output, operators will have plenty of available power to meet their equipment needs.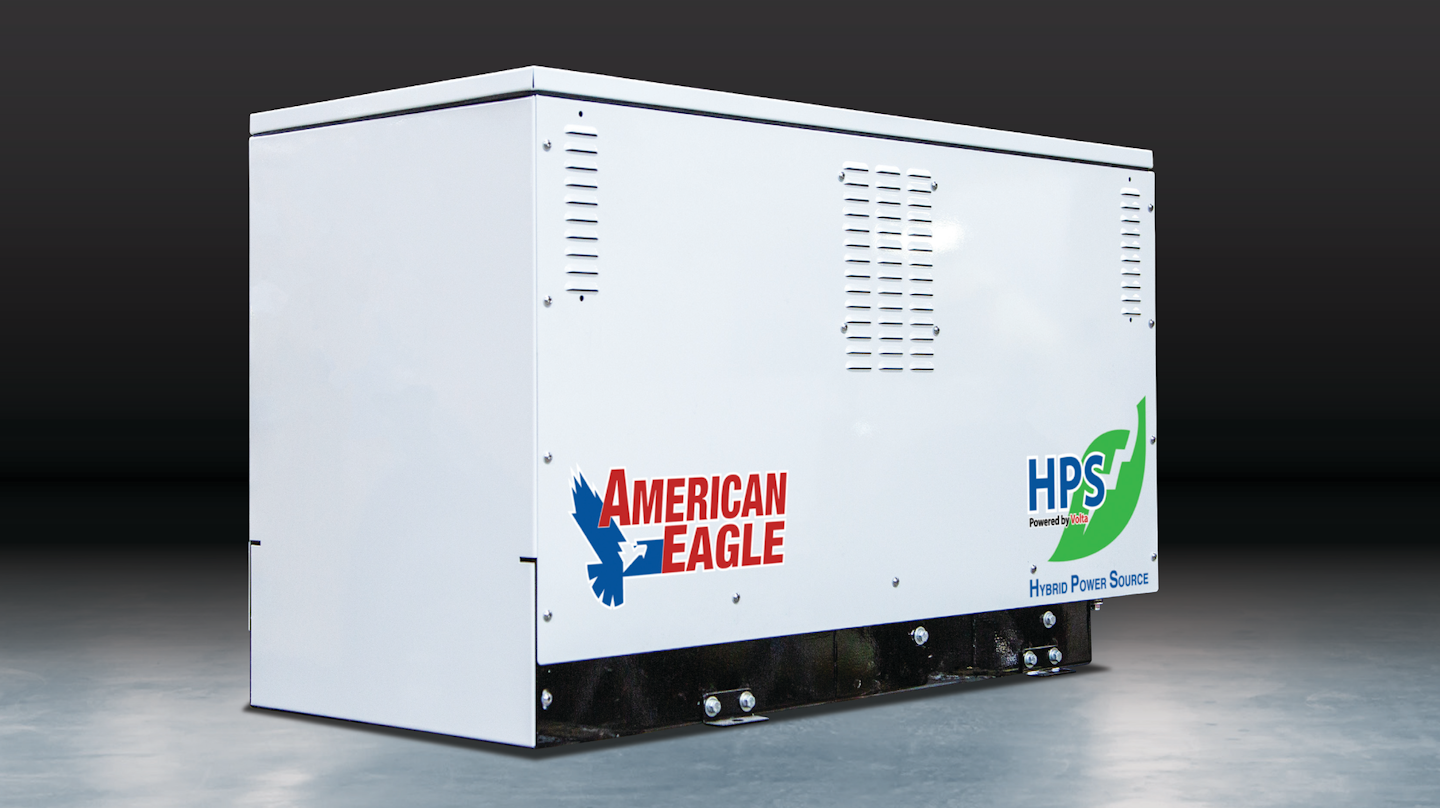 The HPS offers multiple options to keep the unit charged. It comes equipped with an integrated 48V chassis alternator, allowing the system to be charged from the chassis on site or while driving to the next jobsite. Shore power charging is also an option with a standard 120V, 15-amp connection to enable the unit to slow charge while parked for the night or when chassis engine charging is unavailable.
When using the HPS, the system allows for 100% emissions-free operation, reduced fuel consumption, decreased engine maintenance costs, quiet operation and compliance with idle mitigation requirements because the chassis engine is no longer needed during equipment operation.
The utilization of a 48V system enables the entire unit to qualify as low-voltage, removing the need for compliance with high-voltage placarding.
The HPS is prepared for multiple climates with internal thermal protection to protect the energy packs' core temperature in extreme heat or cold. The system also comes equipped with a heating system that will automatically activate to keep the unit's core temperature above the minimum for charging.
Simplicity in upfitting a fleet is made easy when it comes to the fully self-contained HPS unit. Weighing only 790 lbs. and measuring 47 in. long x 21 in. wide x 28 in. high, the system can be sidepack-mounted or mounted in the load bed lengthwise.
IMT Develops Lightweight Service Truck
Iowa Mold Tooling Co., Inc. (IMT) introduced its IMT 6000 series hydraulic telescopic crane and Dominator I mechanics truck package.
Designed to reduce weight and offer the ability to carry more payload without sacrificing performance, the 6000 series crane is 30% lighter than before. The redesigned crane lifts a maximum of 6,000 lbs., and features corrosion-resistant components to mitigate rust. A newly redesigned boom tip offers precision and maneuverability.
The crane was built to mount on a newly enhanced IMT Dominator I service truck. The new Dominator package comes with payload-increasing options such as a compact work bench bumper and a redesigned lightweight customizable bolt bin offering. It's also available with the new CAS40PL air compressor. The new compressor features an aluminum canopy, which reduces its weight more than 40% over the previous model.
The combined result is even greater functionality. "These innovative product enhancements increase the payload capability of our Dominator I mechanics truck package by approximately 1,000 lbs., while providing our customers with more options to meet their field service needs," says Justin Anderson, IMT marketing representative.
VMAC To Release HVAC Cooling System For The Multifunction
VMAC plans to release its new HVAC Cooling System for the VMAC Multifunction in time for summer 2020, enabling its 6-in-1 multi-power system with Cat Power or Kubota engine to provide truck cab cooling.
The HVAC Cooling System is designed to help reduce idling and provide operators with relief from high temperatures. Simply turn on the air conditioning when it's hot — without running the truck's engine — and enjoy the comforts of a climate-controlled cab.
"While VMAC's Multifunction system is designed to reduce idling, many end users still idle their vehicles on hot days so they can use their cab's air conditioning," says Mike Pettigrew, VMAC's marketing manager. "The new HVAC Cooling System allows operators to use their VMAC Multifunction and turn off their truck engines in hot weather, without compromising on personal comfort."
[VIDEO] VMAC Auxiliary HVAC System Cuts Vehicle Wear while Keeping Cabs Cool
The HVAC Cooling System is designed to integrate seamlessly with VMAC's Multifunction Power System, a 6-in-1 multi-power system that includes a rotary screw air compressor, generator, welder, battery booster/charger, PTO with optional hydraulic pump and integrated cold climate kit.
Some additional benefits of Multifunction with HVAC Cooling System include:
Reduced fuel consumption—potentially saving over $6,000 per year in fuel and maintenance costs
Reduced operating costs and improved truck life with lower engine operating hours and engine wear
Eliminates noisy idling on the jobsite
Minimizes environmental impact and decreases carbon footprint
The Multifunction with the HVAC Cooling System was expected to be released by Summer 2020.