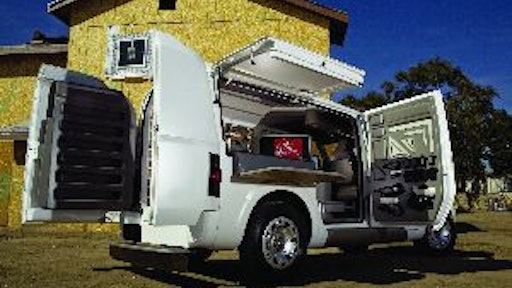 More than 8,400 industry professionals attended The Work Truck Show 2009 and 45th Annual National Truck Equipment Association Convention, held March 3 to 6 in Chicago. This represents an increase of 18.5% over the previous year, and is the second largest turnout in the event's 10-year history.
At the show, 490 exhibitors filled the exhibit hall, covering nearly 500,000 sq. ft. with new vocational trucks, components and equipment. Following is a glimpse of some of the major product announcements. For more details on these products, turn to the reader service card following page 10. For more show highlights and photos, visit NTEA.com.
A "rolling idea lab"
The Nissan NV2500 Concept van proved to be one of the most unique rollouts at the show. In addition to being an original take on Commercial Vehicle (CV) design, it offers a preview of the company's pending entry into the North American CV market in 2010.
The NV2500 is built on a modified Titan full-size pickup all-steel, fully boxed ladder frame. It has a 147.6-in. wheelbase and measures 19.5 ft. bumper-to-bumper. It can carry objects up to 10.5 ft. long with the passenger seat moved out of the way.
The Concept version has a wraparound-style windshield/front door windows, lower door-glass cutouts and an oversized, fixed-glass roof panel with integrated solar panel technology to power interior equipment, lights and accessories. It also includes large, retractable outside mirrors, motorized flip-down AMP Research side and rear door steps, LED headlights and taillights and dual-purpose tow hooks in the grille.
On the driver's side, the Titan King Cab-style Wide Open Door offers easy access to the front of the vehicle, with integrated storage compartments. In the rear are vertical 60/40 split cargo access "barn" doors with additional storage compartments and a power rear step.
The rear passenger side has a 90° opening vertical door and an awning-style clamshell panel that hinges upward and locks in place, creating a protected, standing workshop table on the outside and an open "picture window" view from the fold-down interior work desk.
The 3-Zone interior includes a Driver and Passenger Zone with customizable navigation/audio system/HVAC display; a Work/Design Station Zone with oversized monitor and laser-projected, easy-clean keyboard; and Conference Center/Cargo Bay Zone with fold-down conference table and ceiling-mounted overhead laser blueprint printer.
Other features include a multi-position Utili-track cargo tie-down channel system, built-in shop vacuum with air hoses, sustainable wood slats for tying down or securing cargo, moving front passenger seat and 110/220V power outlets.
A heavy-duty new crew and more
Dodge chose The Work Truck Show to announce continued refinements to its Ram Heavy-Duty pickup truck lineup.
The 2010 Dodge Ram Heavy Duty is available for the first time in a crew-size cab model. The Crew Cab with 6-ft. 4-in. box replaces the Quad Cab to meet Heavy-Duty customer needs and focus on overall vehicle refinement and ride comfort.
In addition, the Gross Vehicle Weight Rating (GVWR) has been increased on 2500 4x4 crew cab diesel models from 9,000 to 9,600 lbs. The Gross Combined Weight Rating (GCWR) has increased from 24,000 to 25,400 lbs. on 3500 dually models with diesel, auto transmission and 4.10 rear axle, while the GCWR on 3500 4x2 models has risen from 23,000 to 24,000 lbs. Front Gross Axle Weight Ratings have been enhanced from 5,200 to 5,500 lbs. on diesel 4x4 pickups, and from 4,700 to 5,000 lbs. on diesel 4x2 pickups.
For enhanced towing capabilities, a standard exhaust brake is included on diesel-equipped models. An available integrated trailer brake control provides better driver control in towing situations. Trailer brake control information is displayed in the Electronic Vehicle Information Center (EVIC), which is standard on diesel models and available on gas SLT, TRX and Laramie models.
New 2010 Dodge Ram transmissions include Electronic Range Select, which enables the driver to manually limit the highest available transmission gear, allowing manual upshifts and downshifts based on road speed and engine speed. Tow/haul mode is available on five- and six-speed automatic transmissions. Other tow-friendly features include improved trailer-tow mirrors with integrated turn signals, memory function and puddle lamps.
The 2010 Ram Heavy Duty comes standard with a redesigned 5.7-liter HEMI V-8 gasoline engine delivering 383 hp at 5,600 rpm and 400 lb.-ft. of torque at 4,000 rpm. Also available is the 6.7-liter Cummins Turbo Diesel engine, which produces 350 hp at 3,000 rpm and 650 lb.-ft. of torque at 1,500 rpm.
Solutions for your mobile office
Ford further expands its "smart" features for truck customers with a collection of technologies for F-Series trucks and commercial E-Series vans. Ford Work Solutions delivers four innovative features:
An in-dash computer - developed with Magneti Marelli and powered by Microsoft Auto - provides full high-speed Internet access via the Sprint Mobile Broadband Network, Bluetooth-enabled Hands Free Calling and navigation by Garmin. It allows users to print invoices, check inventories and access documents stored on home or office computer networks, right on the jobsite.
Tool Link is a Radio-Frequency Identification (RFID) asset tracking system developed with DeWALT and ThingMagic. It enables customers to maintain a detailed real-time inventory of the tools or equipment stored in the pickup box.
Crew Chief is a fleet telematics and diagnostics system that allows small fleet owners to efficiently manage vehicles, quickly dispatch workers to jobsites, monitor driver performance and keep detailed vehicle maintenance records.
Cable Lock security system was developed in partnership with Master Lock to discourage theft of tools too large to fit in the cab.
All four technologies are currently available on the 2009 Ford F-150 XL, STX and XLT trucks; F-Series Super Duty XL, XLT and FX4 trucks; and 2009 E-Series vans. Several of the features will be available at a later date for dealer installation to upgrade vehicles already in service.
A Selection of Service Bodies
Reading Truck Body expands its service vehicle lineup with the introduction of several new models:
Aluminum Classic Service Van (CSV) - The CSV features a nearly 45% weight savings, a larger payload and increased standard features, including master locking, a translucent roof, LED lights, cargo tiedowns and a complete powder coat finish paint.
Aluminum Service Bodies - These rugged, green-friendly bodies are now available in 8-ft. single wheel and 9-ft. dual wheel models. Built with recyclable materials, they offer increased fuel efficiency, better payload capacity and less wear and tear on chassis components.
SL Spacemaker Service Body - Available in 8-ft. single wheel and 9-ft. dual wheel models, these units include all-aluminum, top-opening lids for the integral storage at the top of each compartment. They also include a heavy-duty understructure, Dual-Pro seal system, stainless steel T-handle latches and galvanneal treadplate floor.
Drop-Side Dump Body - The quick, one-handed release lever drops either side of this steel body for quick loading and unloading. Models are offered in sizes from 8 to 11 ft., and include a heavy-duty interlaced understructure, double-walled sides and a double-acting Reading hoist.
Companies in this article