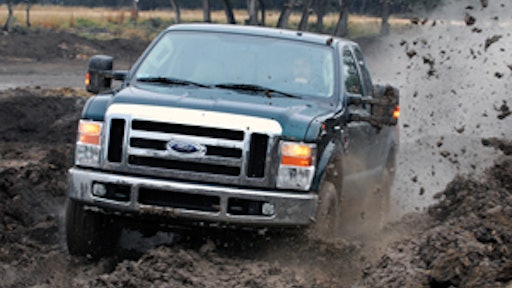 Although many pickups and chassis cabs look similar sitting on the dealership lot, there are a lot of "hidden" options that can enhance their performance in your operations.
For instance, consider the variations in the General Motors offerings. "GM offers Chevrolet Silverado and Avalanche and GMC Sierra full-size pickups in variations to meet almost any customer's needs," says Dan Tigges, commercial product manager, full size trucks. "We offer three to four trim levels, three cabs, three drive types (2WD, 4WD and AWD), five light-duty engines and three box lengths. All of this adds up to over 280 combinations."
Likewise, Ford offers many variants. "We offer more than 60 configurations of the F-150, and even more combinations of the Super Duty with F-250 to F-450 pickups and F-250 to F-550 chassis cabs," says Tom Aubrey, marketing manager, F-Series Super Duty.
But not every option adds value in every situation. "The most important options are the ones that conform to the kinds of duties that the pickup will carry out," says Kevin Mets, senior manager - vehicle development, heavy-duty Ram trucks & chassis cab programs, Chrysler LLC.
Considerations might include:
the size and weight of payloads, or trailers to be towed (powertrain, gear ratios, dual wheels, etc.);
conditions on the jobsite, including potential traction issues (drive systems, axles, etc.);
how many people or how much gear needs to be transported (cab configurations, box length, etc.);
and whether the truck will be used uptown, as well as on the jobsite (interior amenities).
Engine options
Selecting the correct power train is one of the most crucial decisions. At the top of this list is the engine size and type.
"It all depends on the intended usage," says Mets. "For example, if hauling significant loads or frequent towing activities are part of the regular duty cycle, a larger engine helps provide more capability. Conversely, if heavy hauling and towing aren't a big part of what the truck is used for, perhaps a small V-8 engine would be a better choice. Considerations for choosing any engine include horsepower and torque requirements, fuel and maintenance costs, purchase price and potential resale value."
Tigges agrees, noting, "Key engine selection criteria include performance, fuel economy, price and resale value. Obviously, all four criteria need to be considered. Great fuel economy or great price are not enough if the engine does not have the performance to pull your trailer the way you want."
When you get into the 3/4-ton trucks and larger, you have a choice between gas and diesel engines. "Selection of a gas vs. diesel engine will depend on how the customer uses the truck, what loads they pull or carry, how many miles they drive, how long they intend to own the vehicle, etc.," says Tigges. "Typically, the higher the mileage and the greater the loads tend to favor the diesel. But each individual circumstance needs to be evaluated on its own."
Commercial customers tend to purchase pickups based on overall cost of ownership factored for the life of the vehicle, rather than monthly payments, Aubrey points out. "They choose engines based on the amount of work they can get done, and generally buy the larger engines that allow them to do more work more efficiently," he adds. "Most Super Duty customers purchase diesels (approximately 70%) because they are more capable and efficient than comparable gas engines."
Power to the ground
The vast majority of trucks utilize automatic transmissions, although there are manual options on some diesel engine models. "Manual transmissions are more cost-efficient, but automatic transmissions offer lower maintenance costs - due to reduced driveline wear and less clutch repair - and greater fuel economy due to overdrives," says Jeff Hallam, product manager, Sterling Trucks.
The trade-offs between 2WD and 4WD must be weighed against the terrain and weather conditions in your local area. "Upfront costs will run about $3,000 higher for a 4WD on a comparable model," says Tigges. "Typically, a 2WD model will have higher fuel economy and lower maintenance costs than a 4WD."
There is no single right answer. "A contractor should evaluate what kind of conditions he or she is likely to deal with on the jobsite and make a determination from there," says Mets. "For example, conditions with limited traction, such as deep mud or snow, may make 4WD a better choice. Generally, 4WD pickups have better resale value. MSRP on a 2008 Dodge Ram 1500 SLT Quad Cab long-wheelbase 4x2 is $31,350; for a Ram 1500 SLT Quad Cab long wheelbase 4x4, MSRP is $34,770."
Other traction-enhancing options include limited-slip differentials and differential locks. "Limited-slip differentials split the torque at the rear axle to both rear wheels. It's the same as an open differential, but a limited slip adds some friction to try and keep the wheels turning at the same speed," says Harry Rawlins, Ford Truck towing and 4x4 engineering manager. "There are many types of limited-slip differentials, and some work better than others.
"The advantages of limited slip," he adds, "are the vehicle is less likely to spin an inside wheel in a turn, or get stuck at the side of the road."
The locking differentials physically lock both axle shafts together so they spin at the same speed. "It transfers the full axle torque to each wheel," says Rawlins. "They don't allow slipping between the wheels on an axle. So in conditions where you don't want a wheel to slip, like off-roading, they won't."
It's also important to choose the best rear-end ratio for your application. "Fuel economy and performance will be affected by the choice of gear ratio; however, it cannot be looked at alone," says Tigges. "Transmission gearing and engine performance also play a significant role. A deeper gear ratio (i.e., 4.10:1) will typically provide a better launch and higher towing ratings than a higher ratio (i.e., 3.73:1). However, a higher gear ratio will not always provide the best fuel economy. Heavy loads, a lot of stop-and-go driving and hilly or mountainous conditions may make deeper gears a better choice."
"In general, the lower gear ratio (4.10:1) is preferable for heavier payloads and towing," Mets adds. "The 3.73 is a higher ratio and is more suitable for light loads and applications where higher average speeds will be the norm. Lower gear ratios can result in lower fuel economy, depending on load and average speed. In general, lower gear ratios can provide more low-speed power for moving heavy loads, while higher ratios provide higher speeds with less engine RPM - at the cost of towing/hauling capability."
Another consideration is wheel size. "There are many factors for wheels and tires, including size," says Aubrey. "All other things being equal, larger tires/wheels are a bit heavier but improve handling.
Also factor in how wheel size will impact the tire dimensions. "The larger-diameter wheels generally come equipped with tires with a smaller aspect ratio - in other words, the sidewall is shallower," says Mets. "This can have an effect on ride and handling because there is less sidewall to flex. More sidewall flex may be desirable in off-road applications. Less flex may be more desirable in street applications where higher performance handling is the goal."
Built to tow
"A factory-installed towing package has the advantage of being developed specifically for a particular vehicle, taking into account the optimum combination of safety and capability," says Mets. "These packages also may include components not found in an aftermarket setup, such as a transmission cooler, higher-amp battery and integrated wiring connections. Plus, it comes factory installed, so there's no need to spend an afternoon at a shop to have a hitch added."
A towing package also makes it easier to properly equip the truck. "These packages generally include trailer wiring, a hitch platform, engine and/or transmission coolers, etc.," Tigges notes. "A customer should talk to his dealer about what he plans to tow to get recommendations on what optional equipment may be necessary."
According to Aubrey, technologies such as integrated brake controllers help give drivers confidence while towing by helping them control a trailer. Mirrors that power fold and power telescope offer convenience and add safety by helping drivers see around trailers when fully extended.
If you frequently tow heavy trailers, a dual rear wheel configuration might make sense. "Dual rear wheels require a 1-ton truck from any manufacturer," says Tigges. "Dual rear wheel trucks can generally carry heavy loads and pull heavier trailers. They also offer additional stability. The downside includes cost and maneuverability (due to the wider rear width)."
Mets agrees, adding, "Pros include increased payload capability and better stability during towing. Cons include impact on fuel economy in some circumstances, and a wider vehicle track."
Dual rear wheel trucks can often provide the necessary towing capacity without having to jump up a size class. "Most people would prefer the smaller truck that is more efficient, fits in most garages and still gets the jobs done," says Aubrey.
Other off-road considerations
If your jobsites require you to traverse rough terrain, you need to carefully examine options that will make the truck more capable in this environment.
There is a variety of equipment that may be useful, including skid plates, locking differentials, trailering/handling or off-road suspensions, recovery hooks, heavy-duty air cleaners, etc. "Options that can increase capability in various conditions are also available, including anti-spin differentials, heavy-duty cooling systems and four-wheel-drive systems," says Mets.
There are also many electronic technologies that deserve a closer look. These include hands-free communication systems using Bluetooth technology, DVD-based navigation systems and power adjustable seats.
A backup camera system can also be a useful feature. "This is helpful for backing up in tight parking lots and for lining up the truck to hitch a trailer," says Aubrey.
Sterling Targets Vocational Market
Sterling Trucks is targeting its Bullet chassis cab trucks (see cover image) for buyers who want the level of service that a commercial truck dealer can provide.

"The Sterling Bullet focuses more on the vocational truck buyer," says Jeff Hallam, product manager. "That's why it comes standard with a power take-off (PTO) prep package, air conditioning and cruise control. Adjustable idle control is a requirement for PTO hydraulic pump applications. Without using a PTO, however, it can be used to help the engine warm up faster."

With this truck, the combined weight rating is the same for all models. "It boasts a gross combined weight rating (GCWR) of 26,000 lbs.," says Hallam. "There are 48 different variations of the Bullet available when taking transmissions, wheelbases, 2WD vs. 4WD, and regular cab vs. Quad Cab into account."
Plan Ahead for Resale
If you frequently turn your vehicle fleet, you need to factor resale value into the ownership cost. "According to ALG, the company that helps establish residual values on vehicles for OEMs and banks, options that add to resale value include automatic transmissions, anti-lock brakes, air conditioning, power accessories, sunroofs, leather interiors and entertainment systems, such as DVD players, satellite navigation and high-performance audio systems," says Kevin Mets, Chrysler LLC.
"One option that definitely increases resale value is an automatic transmission," adds Jeff Hallam, Sterling Trucks. He also notes, "While an upgraded trim level may not 'pay for itself' at retail, it does provide drivers with a more comfortable work environment, reducing fatigue and making for a happier employee."
Dan Tigges, General Motors, believes almost any option can add resale value. "But it is the amount of value added vs. the cost that matters," he states. "Options that have broad appeal are most likely to raise resale value. Some big options, like air conditioning or automatic transmissions, are critical to high resale value. Common options, like power door locks and power windows, are more likely to add value than things fewer buyers order."
Other options can be more regional in their appeal. "Resale value for a 4WD truck vs. a 2WD will vary depending upon the region of the country and the local terrain/conditions," says Tigges.