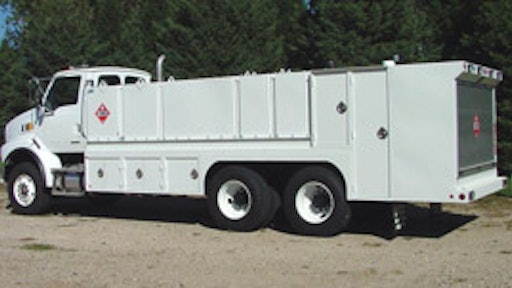 Service Trucks Eagle Pro Lube Bodies
Eagle Pro Lube bodies feature modular construction that allows different tank sizes and/or combinations to be utilized on the same body base, as well as easy walk-up accessibility.
Lube, fuel/lube and lube/service combinations
11-gauge A60 galvanneal construction
Spring-mounted frame and tanks
Integrated spill basin
Electric over air or hydraulic controls
Pneumatic and hydraulic fluid pumping systems
Feterl Model 8000 Crane Body
The Model 8000 heavy-duty crane body features an 8,000-lb. crane with a 1/4-in. crane tower that is 100% welded to the overall substructure.
Pressurized compartments with automotive weather stripping
Gang Lock used on all models
24,000- to 33,000-lb. GVW truck recommended with a clear 84-in. CA
50-in. deck area with 1/8-in. tread plate throughout
Stainless steel door hinges
Maintainer Corp. Signature Series
The Signature Series includes a 6000 Series tall tower crane on an 11-ft. body, a 10000 Series tall tower crane on an 11-ft. body, a 12000 Series tall tower crane on a 14-ft. body and a 2-ton lube body.
12-gauge galvannealed A60 steel
3/16-in. single-piece aluminum doors
Line-X protective spray covering
Interior strip and exterior flood lighting
Hydraulic air compressors
Auto Crane Titan 70 Crane Service Body
The Titan 70 has the capacity to support up to a 70,000-ft.-lb. crane.
One-piece side pack features corrosion-resistant, 10-gauge galvanneal steel construction and an internal hinge design
Standard LED lights, advanced T-handle door latches and slammable tailgate
Designed to match up with the 14,005H telescoping crane
Stellar 6628 Crane
The 6628 telescopic crane offers 28 ft. of hydraulic reach.
38,000-ft.-lb. capacity with maximum lifting capacity of 6,000 lbs. at 6 ft. and 1,350 lbs. at 28 ft.
Planetary winch system with hydraulic/mechanical brake system
Hexagonal tube boom construction eliminates boom flex and side-to-side movement
IMT Dominator IV Mechanics Truck
The enhanced Dominator IV mechanics truck gives operators more comfort and mobility around the vehicle.
80,000-ft.-lb. 8025 crane
Inverted A-frame floor structure reduces weight of the body
Three-point door latches
Single-hand tailgate operation
Improved tools and parts access
Unique shelf hanger bracket system allows quicker adjustment of shelf layout
Rain eaves over compartment doors
Stahl Service Trailer
The Stahl Service Trailer (SST) combines the organized side compartment storage of a service body with the full-height interior storage of a trailer.
Exterior doors allow access to lower compartments
Large, walk-in interior storage area features open floor storage and adjustable side shelving
Tools can be positioned where needed
Available in 12- and 16-ft. models
Optional features include compartment lighting and ladder racks
BrandFX Fibre Body
The Fibre Body Service Bodies weigh 40% less than comparable steel bodies.
Haul more tools and equipment with a given GVW rating
Rust proof
Factory-installed weather sealing for all exterior lights
Gel coat finish
Bodies assembled with Huck LockBolts
One-piece doors
Automotive-grade weather seals
H&H Service/Installation Truck Body
The Model 96-168 service/installation truck body offers the power and benefits of all-hydraulic crane operation with the convenience of an electric lift gate power source.
Model 6406H Auto Crane offers a 38,000-ft.-lb. lifting capacity at 10 ft. and a 1,900-lb. capacity at a hydraulic reach of 20 ft.
1,600-lb.-capacity Thieman model TT-16 lift gate
14-ft.-long by 8-ft.-wide body
Aluminum or galvannealed steel toolboxes available
Companies in this article