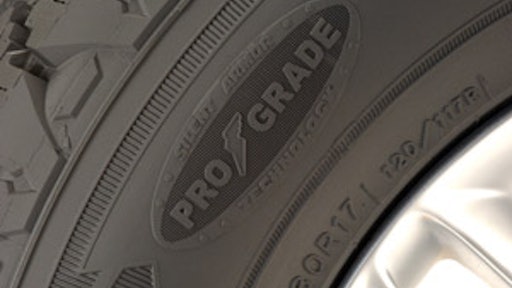 Goodyear Wrangler Pro-Grade Tires
Wrangler features SilentArmor Technology Pro-Grade with a tread compound suited for pickup trucks regularly used to haul or tow heavy loads.
Chip- and chunk-resistant tread compound
Two high-tensile steel belts and a layer of DuPont KEVLAR help absorb road noise and provide a smooth ride
Enhanced Rim Lock and Rugged Rim Guard
Unique traction ridges within tread for enhanced traction in wet or muddy conditions
A.R.E. LSII Tonneau Cover
The LSII fiberglass tonneau cover is available for the 2007 Chevrolet Silverado and GMC Sierra.
Custom molded to compliment various design elements of the new Silverado/Sierra
Patented lift-assist system and palm handle
Modular rail
Composite clamp technology
DuPont Chroma Premier automotive paint
Remote keyless entry
Mack TerraPro Cabover
The TerraPro Cabover has been optimized for construction applications, including concrete pumping.
Steering column positioned for ample belly room
Ergonomic seats with integrated armrest
Accelerator and brake pedals suspended above cab floor and mounted in line to reduce driver effort
Cab lighting controls reachable from the ground
HVAC climate control system
TELC Hide-A-Hitch Lock
The Hide-A-Hitch Lock anti-theft device from The Equipment Lock Co. (TELC) provides truck and SUV owners with the ability to store and secure trailer hitches out of the way.
Stows hitch away in seconds directly below the bumper
Locks into place with existing locking pin
Made from hardened steel and powder coated for a durable finish
Holland PH-30RP41 Pintle Hook
The Holland Group offers the PH-30RP41, a rigid-mount pintle hook designed for over-the-road and off-road towing.
Equipped with FastLatch one-handed latch
Automatic secondary lock eliminates need for chains or cotter pins
NoLube technology eliminates lubrication
6,000-lb. maximum vertical load
30,000-lb. gross trailer weight
Rhino Linings
These sprayed-on polyurethane linings protect construction vehicles and equipment from damage caused by tough working environments and extreme weather conditions.
Highly resistant to most chemicals and fuels
Prolong life of virtually any vehicle or equipment
Reduce maintenance time and repair costs
Airtight and watertight
IMT Dominator IV
The Dominator IV mechanics truck can accommodate an 80,000-ft.-lb. crane.
Improved tools and parts access
Inverted A-frame floor structure reduces weight
Three-point door latches
Single-hand tailgate operation
Unique shelf hanger bracket system allows quicker adjustment of shelf layout
DiamondBack SE Truck Cover
The Standard Edition (SE) truck cover has a three-panel design that allows for access to both ends of the truck bed.
Weighs 70 to 90 lbs.
Load-bearing surface capable of carrying up to 400 lbs. of cargo
Center-panel water channels
Full compression seal
Manufactured of .08-in.-thick 3003 alloy-brite aluminum tread plate
No drilling or installation of tracks required
Stabilus EZDOWN Drop-Gate Damper
The EZDOWN drop-gate damper allows controlled vehicle tailgate opening.
Installs in minutes
Provides precise control and a smoother opening of the tailgate
Quick-disconnect feature
Includes all parts and tools necessary for installation
Monroe Suspension Modification
The MTE So-Low front and rear suspension modification for the GMC Topkick/Chevrolet Kodiak C4500/5500 reduces overall vehicle height.
Reduces front suspension height by 2 in. and rear body height by 4 in.
Includes a rear axle air suspension system
Kneeling function incorporated into the air suspension allows an additional 2 in. of rear body height reduction