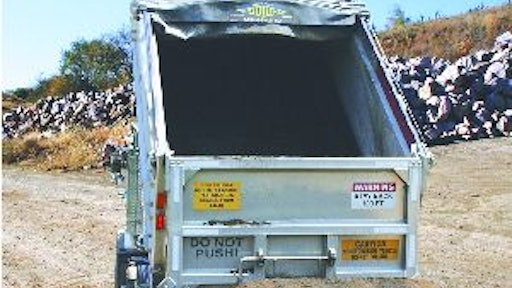 Shur-Co Shur-Trak II Tarp System
The Shur-Trak II front-to-back cable tarp system is designed to get the bows out of the way for a maximum loading area.
Manual crank or electric motor
Tarp-over-rail design fully covers the load
Twist-Lok Bow shanks allow easy bow removal for repairs with no need to remove the whole tarp system or all the bows
Rear bow stabilizer reduces tarp wear
Hendrickson PARALIFT lift axle
The upgraded 20,000-lb.-capacity PARALIFT steerable truck lift axle system features a new lift spring design and repositioned stabilizer that increases wheel cut from 18° to more than 25°.
1,465-lb. system weight
Zero-torsion, trailing-arm bushings help eliminate bushing wind-up
Offers 12 in. total travel with 9 in. of lift and ride heights from 9 to 13.5 in. in a 28-in. package space
Auto Crane Three-section Sliding Top
A three-section sliding top, available for the Titan service bodies, is designed to maximize cargo space while providing added security to the bed area.
Constructed of 14-gauge galvanneal
Utilizes stainless steel roller bearings for easy operation
Primed and painted to the same standards as the Titan crane body
Can be retrofitted
IMT Dominator IV Mechanics Truck
The enhanced Dominator IV mechanics truck gives operators more comfort and mobility around the vehicle.
80,000-ft.-lb. 8025 crane
Inverted A-frame floor structure reduces weight of the body
Three-point door latches
Single-hand tailgate operation
Improved tools and parts access
Unique shelf hanger bracket system allows quicker adjustment of shelf layout
Roll-Rite TaskMaster Power Kit
The TaskMaster power kit converts a hand crank cable-style tarp system to a direct-drive electric system.
Designed to accommodate a 1-in. cross shaft
Can typically be mounted in less than four hours with no coupling or cutting required
Operated via in-cab rocker switch
Can be mounted anywhere on the front cross shaft
Trail King Hydraulic Sliding Tail Trailer
The TK70HST Hydraulic Sliding Tail (HST) trailer combines the movable wheel area of a sliding axle trailer with the tail of a hydraulic tail trailer to deliver both a low load angle and "scale-abilty."
Can be lowered to a low 10° load angle
Allows the main hydraulic cylinder to be in the closed position when the trailer is traveling down the road
Steel I-beams constructed of one-piece web and flange material and welded on all four sides to seal and protect the seams from rust
Towmaster T-50 Deck-Over Trailer
The T-50 trailer is designed for hauling larger heavy equipment.
One-piece formed main frame and tongue with junior I-beam crossmembers
2-in. nominal white oak deck
Hutchens 9700 adjustable suspension
Dexter axles
Oil-bath bearings
Budd-type wheels
Air brakes standard
8-ft. 6-in.-wide by 24-ft. standard deck
Felling FT-50-3 TAG Trailer
The FT-50-3 TAG has a 62,500-lb. GVWR and has been designed and engineered with the strength and versatility to haul a range of heavy industrial construction equipment, such as excavators, dozers, payloaders, backhoes, etc.
8-ft. 6-in.-wide deck
Overall deck length ranges from 24 ft. with a 5-ft. beavertail to 28-ft. with a 6-ft. beavertail (straight deck also available)
Uni-Mount 8-bolt hub pilot wheels
Stellar 190-24-52 hooklift loader
The 190-24-52 hooklift loader is designed with the heavy hauler in mind.
Lifting capacity of 52,000 lbs.
Can accommodate body lengths from 19 ft. up to 21.5 ft.
Single 8-in. bore lift/dump cylinder design
Low-flow/high-pressure hydraulic system allows for weight savings
Suited for demolition debris, construction applications and hauling dirt and gravel
Enables multiple bed applications with a single truck chassis