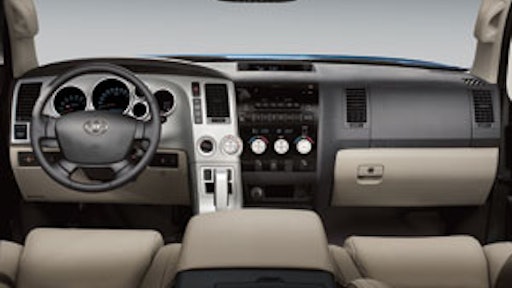 It was anything but business as usual at this year's National Truck Equipment Association (NTEA) Work Truck Show in Atlanta, GA. Several manufacturers introduced products that went beyond complimenting their existing product lines to actually target new market segments.
Toyota unveils heavy-duty pickup
The Toyota Tundra was introduced to the North American market in 1999. "Even though we have sold nearly 700,000 units since then, the current Tundra is not considered big enough for a lot of customers who depend on pickups for their livelihood," says Al Smith, corporate fleet manager, Toyota Motor Sales.
"We sold an all-time high of 125,000 units last year, which was a 13% increase over 2004," says Smith. But this year, the company plans to break through into the work truck segment with a bigger and more capable 2007 model year Tundra.
How serious is Toyota about the work truck market? "We plan to sell somewhere in the neighborhood of 200,000 units its first year on the market," says Smith.
The new full-size Tundra, which will be built exclusively in Princeton, IN, and San Antonio, TX, has been designed with the commercial customer in mind. "When this new Tundra hits the market next year, it will carry a towing capacity in excess of 10,000 lbs.," says Brian Smith, manager of truck operations. "In order to tow over 10,000 lbs., every major component had to be designed for maximum strength, durability and reliability over the long haul."
It starts with the powertrain. Three engine choices will be available: an all-new 5.7-liter iForce V8 built in Alabama, an updated 4.7-liter V8 and a fuel-efficient 4-liter V6. The new 5.7-liter V8 will transmit power to the ground through a six-speed automatic transmission.
Brakes have also been upgraded. Heavy-duty front brakes feature four-piston calipers and rotors that are nearly 1 1/2 in. larger than the previous Tundra. "Standard rear disc brakes are nearly as big as the front," says Smith.
The frame has been strengthened and widened, with 30% higher tensile strength steel. To ensure trouble-free towing, the truck features a rear differential with a 10 1/2-in. ring gear, plus extra-duty cooling and an electrical system to accommodate Class IV towing.
The hitch is not an afterthought with the new Tundra. "We built the trailer hitch right into the frame of the truck for better stability when handling heavy loads," says Smith.
The lockable all-steel tailgate has been designed to open and close using just two fingers. "We have added a damper on that hinge to cushion the tailgate when opening, as well as reduce bouncing when you are driving with it in the open position," Smith explains.
The Tundra will be available in over 30 different models, combining three different engines, three cab configurations, two- or four-wheel drive and three trim levels. "You will start seeing this new truck on the streets early next year," says Smith.
Dodge rolls out chassis cab
Dodge charges into the Class 3 chassis cab market, introducing the 2007 Ram 3500 Chassis Cab. It will be available in two-wheel or four-wheel drive, single-rear wheel or dual-rear wheel and regular cab or Quad cab in Cab-to-Axle (CA) lengths of 60 or 84 in.
Customers will have a choice of a Cummins 6.7-liter diesel engine that pumps out 305 hp and 610 lb.-ft. of torque, or a 5.7-liter HEMI gasoline engine that produces 330 hp and 375 lb.-ft. of torque. A six-speed manual transmission with PTO capability is standard. The Cummins diesel is also available with a six-speed automatic transmission with PTO capability, and the HEMI is available with a five-speed automatic transmission.
This truck was designed as a true chassis cab. It offers a continuous C-channel frame with 34-in. frame rail spacing. The frame is constructed of 50-ksi steel. "It is the first in its class to get all of the chassis components below the top surface of the frame for virtually any upfit application," says Scott Kunselman, chief engineer. This provides completely clean, flat frame-top surfaces. U-bolt access is located every 18 in. along the length of the frame.
Electrical connections are simplified by three fused battery feeds routed into the cab and onto the rear of the chassis. A high-current, 50-amp ground stud is located at the rear of the frame. "Continuing on this clean chassis approach theme, the fuel and brake bundles are routed together down one side of the frame," says Kunselman.
Keeping the truck on the road was also a key consideration. The Cummins-equipped Ram Chassis Cab will have a 7,500-mile oil change interval. In addition, a 52-gal. fuel tank, installed behind the rear axle, comes standard.
Caterpillar displays transmissions
Caterpillar's CX28, CX31 and CX35 automatic transmissions are designed for heavy-duty vocational truck applications. They are matched up to the company's engine offerings.
The CX28 mates up with the Cat C7 and C9 diesel engines. It has six forward speeds with power and torque capabilities up to 350 hp and 1,000 lb.-ft.
The CX31 mates up with the Cat C9, C13 and C15 diesel engines. It has six forward speeds with power and torque capabilities up to 500 hp and 1,550 lb.-ft.
The CX35 is a match for the higher horsepower ratings of the C15 diesel engine. It has eight forward speeds with power and torque capabilities up to 600 hp and 2,150 lb.-ft.
Chelsea offers PTOs for CX Series
Chelsea Products Division of Parker offers a family of 10-bolt rear- and side-mounted power take-off (PTO) units that were developed in conjunction with Caterpillar for operation on Caterpillar's new CX Series automatic transmissions. These PTOs offer up to six internal speed ranges, seven shift options, horsepower ratings from 63.6 to 109.4 and output options to meet your power transfer demands.
Transport option showcased
The Retriever from UP-N-ATOM Inc. is a truck bed for transporting heavy construction equipment. The lightweight, low deck height transport draws its power from the truck's own air system.
Because the deck is curved and hinged, a loading angle of 10.8° to 13.5° can be achieved. The curved deck also eliminates "breakover" when loading tracked equipment.
The Retriever is available in three capacity ratings: 7.5 tons for chassis to 30,000 GVWR; 10 tons for chassis to 33,000 GVWR; and 15 tons for chassis to 54,000 GVWR. All models are available in 18- to 26-ft. lengths in 2-ft. increments.
Miller displays welding generators
The new Trailblazer 302 Diesel and Bobcat 250 Diesel engine-driven welding generators from Miller Electric Mfg. Co. feature Kubota liquid-cooled diesel engines that produce 19 hp at 3,600 rpm. Both feature fully-enclosed cases with "protective armor" on the front panel for increased durability and reliability, while reducing noise levels.
Fuso provides a futuristic glimpse
Mitsubishi Fuso Truck of America displayed a medium-duty hybrid truck, which showcases technology being worked on for the future. The hybrid electric vehicle combines a diesel engine, electric and Li-ion battery power, regenerative braking and a clutch-free automated mechanical transmission (AMT).
An electric motor/generator is located between the automatic clutch and the AMT. It disconnects the engine as the vehicle slows, eliminating friction so that 100% of braking energy is converted to electric energy. The system switches operational modes according to driving situations.
Stahl introduces service trailer
The Stahl Service Trailer (SST) combines the organized side compartment storage of a service body with the full-height interior storage of a trailer. Exterior doors allow access to lower compartments, and tools can be positioned where they are needed.
The large, walk-in interior storage area features both open floor storage and adjustable side shelving. Optional features include compartment lighting and ladder racks.
These trailers are available in 12- and 16-ft. models.
Truck bed solutions
DiamondBack Truck Covers' Commercial Series offers truck bed solutions for any work truck application. The flagship product is the DiamondBack Truck Cover, which is constructed from 1/8-in.-thick aluminum alloy. The top of the cover is a load-bearing surface capable of supporting up to 1,600 lbs.
A unique three-panel design allows for quick installation or removal. Front and rear panels allow access to both ends of the truck bed, while offering the ability to fold back one panel to open a portion of truck bed space for hauling.
The system package includes the DiamondBack Truck Cover, ladder rack, side rails and extension for the ladder rack, cab guard, tailgate protector and two side tool boxes.
Enhanced pickup towing
Valley Industries announces the availability of a new Power Pull Xtreme Series double-pivot fifth-wheel hitch rated for 20,000 lbs. The fully articulating, all-steel hitch features an automatic locking head and wrap-around jaw design to secure the kingpin firmly in place.
A built-in head jaw lockout eliminates side-to-side motion during travel, and an optional glider is available to provide turning clearance for short bed trucks, thus preventing damage to the trailer during tight maneuvers at low speeds. Three-position adjustable uprights make it easier to set the ideal hitch height.
A pop-out indicator signals a secure connection, and the yoke remains concealed for a tidy appearance. The hitch will fit most mid- and full-size pickups.
Capping it off
A.R.E. offers the Deluxe Commercial Unit (DCU) truck caps with more than 200 options, including a variety of door and window configurations, colors, toolboxes, custom ladder racks, interior fabric liners, side panels and overall cap heights. All caps incorporate fully welded aluminum frame construction.
The line comes in five standard baked enamel body colors to accent the look of any truck. An optional DuPont paint finish in any original equipment color code formula is also available.
Sterling enters light-duty market
Sterling Truck Corp. extends its product offering into the light-duty market with the Sterling 360 Class 3 to Class 4 low cab-over-engine truck. The vehicle leverages parent company DaimlerChrysler's heritage with Fuso Trucks and allows Sterling to better meet all of its customers' needs with a comprehensive truck selection.
The Sterling 360 is powered by a 4.9-liter turbo diesel engine with 175 hp at 2,700 rpm and 391 lb.-ft. of torque at 1,600 rpm. This power is transmitted through a six-speed automatic transmission with a final gear reduction ratio of 5.285. The trucks will feature GVWRs of 14,050, 14,500 and 17,995 lbs.
Maneuverability is a key advantage to a low cab-over-engine truck. The Sterling 360 has a 35-ft. curb-to-curb turning radius. In addition, entry and egress is made easier with a 73° door pivot, an 11.75-in. distance from step to cab and a dash-mounted gear shift.
A large cab holds a 90-cu.-ft. volume. Standard features include air conditioning, power steering, a telescoping steering column, ABS, power door locks, daytime running lights, a backup alarm, crush bars in doors, cold weather starting aid, power take-off opening and an AM/FM radio with CD player.
The Sterling 360 will be available at select Sterling dealers across North America. Classes 4 and 5 were rolled out in Spring 2006 and Class 3 will reach dealerships in mid-2007.